tell me about your pet...

Philippines
January 30, 2009 5:52am CST
We used to have a pet dog but then he died already. We love him a lot and we can feel that he loves us too. For now we don't have any pet at home but we want one soon. Maybe a shih tzu dog for our little princess at home. How about you, what is your pet? What characteristic of your pet that you like best? Please share. Thanks a lot and happy mylotting!!!.
3 responses

• United States
5 Feb 09
I have 3 chihuahuas...Their names are Coffee, Gitzy, and Mi-Mi...They are my little girls hahaha...they live better than a lot of humans I know...

• Philippines
6 Feb 09
Wow, your girls got cute names. I bet they are brats. LOL. sounds like.

. Thanks for sharing about your little girls. Hope you could have posted a picture of them here. Happy mylotting!!!

• United States
6 Feb 09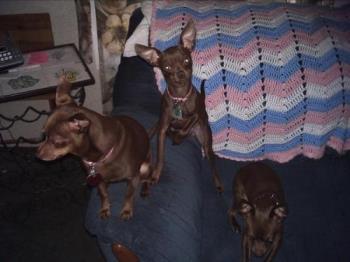 here they are....Coffee is on the left...The other two are puppies from a litter she had. Gitzy is the one in the middle looking right at the camera. Mi-Mi is the one on the right...

• United States
30 Jan 09
Oh my friend, I am not so fond with pets.. Lol yes I admit I am not a pet lover although I like to play with our pet cat but I am not like others who make it as their life. Lol. Not me, I never hare pets but I have no passion to have pets also.. I just love to have them once in while but not my thing.



• Philippines
31 Jan 09
Hi friend, well not everyone love pets so that is okay. LOL. Thanks for sharing.


• Philippines
31 Jan 09
Well it is really different when you are living in a apartment where there are restrictions and a pet in your case is one of the restrictions. is it okay to have an aquarium in your apartment. you can have fishes this time if you really like it. thanks for the response and happy mylotting!!!!