I'm glad we got the big fridge!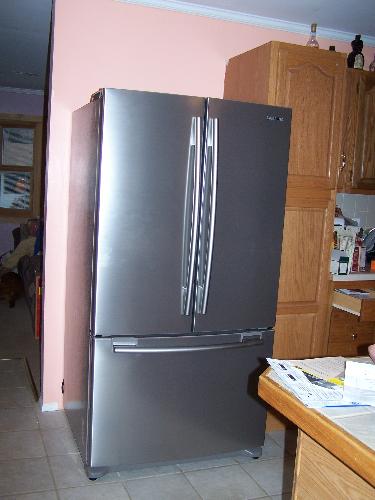 United States
January 31, 2009 4:38pm CST
I love the new fridge! I kept thinking it was going to be way too big and we'd have tons of empty space in it. But once I got all the junk transfered from the old one it seems like it's packed full! I love it though. It's cold in there like it should be and my veggies aren't frozen any more!!!! We haven't put the magnets back up yet, but I think that will happen tomorrow...
6 responses

• United States
31 Jan 09
I like the new fridge, reinydawn. Very nice. I am envious. I need a new one soooooo bad. Woohoo for veggies staying at regular temperature!

• United States
31 Jan 09
I was so tired of throwing milk away after 2 days if it didn't get put right up against the freezer side. And frozen fresh veggies are just gross!! Too much stuff was going in the trash, I think I will save enough money on being able to eat my food now that this will pay for itself in no time!

• Australia
31 Jan 09
Oh wow I would love to have a bigger fridge or at least one with a bigger freezer or if i had the room and money I would like a seperate little freezer but not the ones you could fall into because i reckon I would if i had one of those.

• United States
31 Jan 09
We bought a separate fridge a few years ago - we need it for when my husband hunts and gets some deer meat. I also didn't want the kind you have to bend into because I'd fall right in too!

• United States
31 Jan 09
lol, I thought the same thing reiny when I got mine. I got the biggest one they had and I just love my frig. Every time for the longest time that I went to it and opened it or not, I'd just giggle like a child with a new best toy. lol

• United States
31 Jan 09
Every time I go into the kitchen I just smile at it. Tomorrow is the first time we'll have gone grocery shopping since we've gotten it. It's already full, but we have no food...

• United States
5 Feb 09
We have a large fridge and we fill it. I have something going south in mine I have to clean it out and start pitching stuff. I find things get lost in the back of the fridge.

• United States
5 Feb 09
I try to clean it out every week while I'm making up my grocery list. Most of the perishable stuff we only buy enough for one week. I map out my menus so I don't overbuy. But we have tons of salad dressings, jellys, pickles - all that stuff - taking up space.

• United States
9 Feb 09
We do not have a lot of jellies because we do not eat them we do have a large jar of pickles and we do have pickled green beans,asparagus, olives and such because I can most of the stuff like that.

• Malaysia
1 Feb 09
Wow.....what a big fridge you have and yes if I were you I'd be excited about it as well.....currently there's an elba 3 door fridge in my apartment. It came witht he apartment when we bought it. For now there only my husband and me so theres enough room in the fridge for whatever that needs to be put in there. But I know in future when the baby and babies come along especially when they growing up...we would need a bigger fridge and bigger house as well..............


• United States
2 Feb 09
Today we went grocery shopping and the fridge is totally fulll - for 2 people!!

• United States
31 Jan 09
No fridge is fully clothed until it is wearing its magnets.

I know you will enjoy the efficiency and newness. What kind did you get?

• United States
1 Feb 09
I'll most likely get the magnets up tomorrow - we wasted the whole day today on getting the dryer running...