A.R. Rahman

United States
9 responses

• United States
4 Feb 09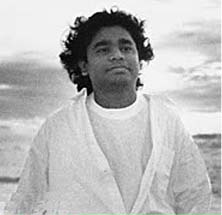 He is a great genius. He has been a gift to the music world. I think he is the best part of TamilNadu and a great representation of India in all world musical events. He has made his country feel proud of him.

I'm very happy that he still loves India and takes pride in saying that he loves India. As he always says "All credits goes to the God", we should thank God for giving us such a great genius.

Let us all wish him all the very best to win the Oscar award

.

• United States
4 Feb 09
thats right... I hope so too..i love his music.

• India
4 Feb 09
I am very proud that ,I too to belong to TAMIL NADU, where A.R.RAHMAN was born and bought up..And I like him very much ,he had been always inspirational to youngsters and also he keeps motivating lotta youngsters in his field ,young music directors like G.V.Praksh are crafted in the workshop of A.R.R...So i wish him to make many more sucesess like this ....

• United States
4 Feb 09
oh you are from TN. Me too.. thanks for responding

• India
4 Feb 09
I refer AR.Rahman as "Madras Mozart", the creative genius. Right from his first movie Rosa till Slumdog Millionaire , he has shown his mettle. No wonder he was nominated to 3 Oscars.

• India
4 Feb 09
I am very happy because i like 2 to 3 kilo meter away from his home and my friend is living in the next road and the next banglow of my friend flat is rahman's sisters banglow and his studio is two building away from his flat. But i never seen him there.

• United States
4 Feb 09
wow... that sounds interesting. where do you live btw?

• India
4 Feb 09
the minute i hear his name .....his music comes to my mind .he is a great music director...i have seen his slumdog millionaire....it a great movie....i eager to meet him... waiting for that chance...happy myloting and have a nice day....

• United States
4 Feb 09
thats right... whenever i hear his name... I only remember his Vande Mataram composition

• India
4 Feb 09
hi there,,, well AR Rehman i sjust superb man,,,,he is a music maestro have you heard his latest album "connections" try it ou,,,and slumdog millionaire was a nice movie,,,it deserves oscar

• United States
4 Feb 09
did you see the movie... we are planning to go this weekend... thanks for the response

• India
4 Feb 09
Well Vidhya right from his debut in Tamil in the movie "Roja", Rahman is excellent in his performance. He has done a great job in Bolly wood ,kollywood and soon he is going to rock Hollywood.Moreover he has done a lot of albums.I can't forget his patrioti"Thaai Manne Vanakkam".If we start to describe his excellence, it may continue for long hours. I wish a good luck to get Oscar on February 22. Thanks for posting Happy mylotting




• Germany
4 Feb 09
he ROCKS..! HE IS THE MAN WHO BROUGHT AN INDIAN MOVIE TO WORLD STAGE.! HE IS A REAL HARD WORKER, FULLY DEDICATED IN COMPOSING MUSIC WHICH HE SINGS TO THE WORLD.. he deserves Oscar's.!

• India
4 Feb 09
I started liking Tamil music after i started to hear A.R rahman. And how well he has remade "vandematharam" !!! his music has got magic and we will automatically get drawned into it! He is such a genius and a proud indian.