haha I scanned my friends face in scanner machine (lol) here is the picture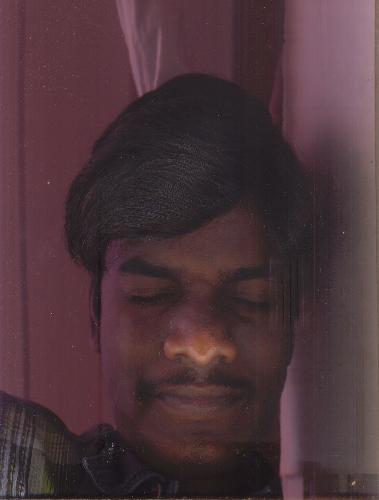 India
February 4, 2009 5:08am CST
for fun sake, i scanned my hand on keeping inside hp scanner 1020. as the image was clear, i forced my friend to scan his face.. haha.. what a comedy.. he refused too much.. finally me and my friends made him to agree for scan.. he closed his eyes during scanning.but the scan pic was clear anyway. i uploaded the pic which was scanned. by, Sridhar the funny man Mylot Comedian!
7 responses

• United States
19 Feb 09
It really is a nice picture. I never would have thought it would come out that good. You and the guys were horsing around at work.(HUH) I would try that but my scanner is very small and I don't think I could do it all by myself. But it was a nice thought.

• India
19 Feb 09
thank you so much for your response.. i am much happy! God bless you!


• India
19 Feb 09
no ya.. he is a coward.. he dont have the guts to play with this lion.. haha..

• Philippines
4 Feb 09
Haha! He shouldn't know myLot or else he would tear you down into pieces. Lol! Happy myLotting!


• India
19 Feb 09
haha.. yes he never knew that i will release the picture worldwide.. he was shocked to see when i showed his pic on mylot.. thanks for your response.. have a nice time!

• India
4 Feb 09
wow The idea is great...and I too wanna try this with some of my friends...THe image is very clear like a photograph.Such funny things can only be done in sweet friends friends circle.I hope you both are nice friends and lemme go noe because I have to keep ready my scanner and search for an nice friend....Happy mylotting

• India
19 Feb 09
ya.. sure u try it 1 day.. dont forget to inform me.. Thanks for your response.. Have a nice time!

• Philippines
4 Feb 09
whahahaha i pity the guy.. too bad for him his the laughing stock in your discussion.. hehehe


• India
19 Feb 09
hi mythili, i know you are kidding.. thanks for yur reponse.. have a nice time!!

• India
4 Feb 09
The face is sideways. How he positioned his head?

• India
4 Feb 09
he faced straightly.. but he shaked his head during scan.then we all beat him severely and made him to keep in 1 position. he crossed his head..