Hi,, everyone use this kind of ipod skin? it's perfect for me . really nice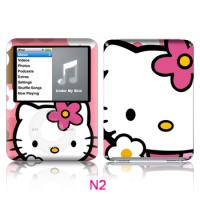 Canada
February 9, 2009 1:02pm CST
Hi I just purchased a perfect ipod skin for my nano on this website: iskin2009.ansmall.com their skin are the greatest one i have ever seen .relly nice and beautiful i just want to let more people use good stuff. hope u guys love it as well. lol
3 responses

• United States
9 Feb 09
That is so cute seems we both have something in common as we both like hello kitty. I think she is such a cute little character. I have thought about getting a tat with her. But then again I am not sure if I like her that much. I do not own a ipod or nano but if I did I would sure have a skin such as yours too! Thanks for sharing and happy mylotting to you as well.

• Canada
9 Feb 09
lol. yup, they aslo have hello kitty skin for laptop . i want to buy one either but i'm poor right now. but i will purchase it later, bcz its really good and perfect.. hope u have one either..

• United States
9 Feb 09
Thank you for the tip. I just bought my husband an Ipod for his b-day and I think I should get him a skin for a "just because" gift!

• Canada
9 Feb 09
yes. i really love hello kitty . but on that website they also have other skin for ipod nano . I love many of them.but i am poor..

• Brazil
23 Apr 09
That skin is so cute!! But my ipod broke, so I need to get a new one, then I'll think about buying the skin, but it is definitely cute, I love it!! I'm a Hello Kitty fan, I wish I had all things with Hello Kitty on it, but money is kind of short right now, but maybe some day I'll be able to buy all this cute Hello Kitty stuff!