Eating disgusting things for staying healthy!?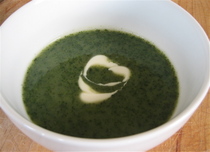 Latvia
5 responses

• United States
12 Feb 09



Nope. There are so many healthy foods that taste great, we do not have to eat things that we do not like. I also take vitamins. If I dont really like it, I do not eat or drink it.lol I think that researching on the internet, you can find so many healthy recipes and they taste good.

• Philippines
13 Feb 09
Well we have our own stories to tell when it comes to natural herbs and natural healings that our granny us to give us. When i was young and i was coughing, they use to get sambong leaves, a very bitter plant and they boil it and i drink the juice of it. Every time i remember it, i really like to puke since it is really really bitter. The smell of it alone makes me want to scream. There is another herbal plant that they wanted me to take when i was young. The oregano. Juice put hot water to it, crush the leaves and sip the greenish concentrated uggghhhhhhhhliest taste since its bitter too, i don't know why during that time they don't like to buy a ready made cough medicine so that life can be much easy heheh!

• United States
13 Feb 09
I have to agree with what has already been mentioned...there are so many great tasting healthy foods, that there is little reason to eat "disgusting healthy foods". We eat a lot of organic fruits and veggies and there is a big difference in the taste compared to the commercial fruits/veggies sold in the store. The apples and bananas we eat as a regular part of our daily diet are so sweet and full of flavor...even my hubby now eats apples on a regualr basis (he says they taste like they did when he was a kid) He's even eating dandelion, beet and cabbage leaves in his salads. He swears his new healthy diet is the only reason that he hasn't become sick for more than a day all winter long. Maybe that old saying is true..."an apple a day keeps the doctor away"

• United States
12 Feb 09
Not at all. The food I eat is mostly healthy, but I try to buy stuff that also tastes good. Of course, healthy food is sometimes not as tasty as food loaded with fat and unnatural flavors, but it still tastes good. To eat disgusting tasting food to stay healthy wouldn't make any sense to me. Having to exercise every day to stay healthy is torture enough for me, thank you!

• Lubbock, Texas
12 Feb 09
You don't have to "torture" yourself to stay healthy. If garlic is required it can be incorporated into your food. Nettle soup isn't necessary to get the benefits of nettle. If nettle is needed, it can be taken in capsule form. I do eat dandelion greens and make syrup and/or pancakes from the dandelion flowers when they are in season because I like them and they are so nutritious. I have acquired a taste for some things, but the main thing to remember about being healthy is to cut out all those harmful chemical additives that are in processed foods and eat fresh veggies and other fresh foods.