I've already gotten 5 giftcards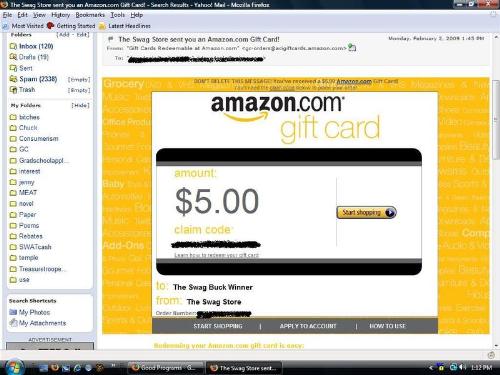 United States
February 19, 2009 1:23pm CST
There are a lot of websites that "pay" you to use a search engine. Now, I have tried most of them and have never gotten paid (and trust me I use search engines all the time). None of them have worked out for me, but I found one that I absolutely love! The search engine itself is great, powered by google...so you always get quality answers when you are trying to search for something. Now, they pay you in "bucks" which you can redeem for many of their prizes like electronics, books, giftcards etc. I prefer to use my "bucks" to get giftcards. I have gotten 5 giftcards already ( all amazon giftcards ). And I added a picture for proof of my latest giftcard. If you are interested the link is located on my profile ( the top link ). Try it out, you won't be disappointed. Good luck!
7 responses

• India
20 Feb 09
Wow! Congtrats! Want to know more about that, What is the limit to redeem? Thank you!

• United States
20 Feb 09
Well it really depends on what you want to get. I just got a zendoo giftcard today for 5 swag bucks. Zendoo is a website for cell phones.

• United States
4 Feb 10
Yup! I use swagbucks, and I've make over $100 in amazon giftcards. Don't you just love the free money? I've basically bought everything for my Nintendo Wii free because of all the bucks I've gotten from swagbucks. If you are interested, I know a couple more sites similar to it where you can get amazon giftcards. I've gotten about $50 from there in a month. Message me or check out my profile.

• Canada
20 Sep 09
This is exactly about swag bucks (I'm already a member by the way) but I have two questions geared more towards amazon. I'm thinking about using my swag bucks to get an amazon e-gift card, but under it there was an amazon e-gift certificate of the same cash value for the same amount of swag bucks. Can someone tell me the difference? My second question is, if you get a bunch of amazon gift cards (all $5 each) can you add them all together to get something bigger?

• Canada
5 May 09
I have been saving up my points there and have not cashed out yet. Some of my friends however have done so, cashing out for Amazon and Starbucks and they say they get everything fast. Highly recommended. You will not get rich, but you do searches anyway.

•
19 Feb 09
Thank you for this tip. I like the look of the site. I'm about to join from your link. It's really encouraging that you've already received your gift cards...I look forward to the same. Thanks again.

• United States
19 Feb 09
I like sites that pay by allowing you to choose gift cards. I personally have two that I am using regularly now to earn points to win gift cards so that I can save some money at Christmas time. My kids like gift cards too so it is an extra bonus as I know that they will like them.

• United States
19 Feb 09
I belong to a couple of sites where payment is in the form of gift cards! To me it's almost better than money. I use my points for gift cards for birthdays and Christmas. Saves me a lot of money. I'll have to check out your link! Thanks