My son has School Bullies...Help Please!!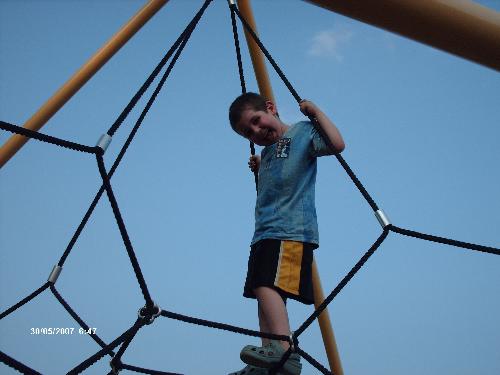 Canada
February 22, 2009 4:28pm CST
Ok so as many of you may already know I have a 6 year old son. He for some reason never like to tell me when someone is bullying him. However I have heard from other parents...becuase there kids have come home and told them....as well as my cousin who is a co-op student at the school...becuase he tells her about it when he see's her. Anyways he has these 4 kids who are in grade 4 and he is only in grade 1. One of them is on his bus...and the other 3 are not. SO once it was brought to my attention..i asked him about it...reluctently he told me all about what has been happening at school. He said he never told me before becuase he would tell a teacher. So he tell me that everyday the one boy makes fun of him on the bus...then when they get off the bus that bully and 3 of his friends will push him into the wall, punch him in his stomche, sit on him and pin him to the ground. As well as many other things. Hearing this both saddens we and makes me angry. I have always taught my son not to fight...there is always a better way to handle things. I am very proud of him for going to a teacher...but with that being said I think that maybe i should start teaching him the difference between defence and fighting or bullying himself. I dont want him to let them punch him and then tell the teacher, but i also dont want him to fight. I am planning on going to the school and talking to his prinicipals and things but what should i tell him to do. My initial reaction is to tell him to hit them back...however i woulnt do that because i dont agree with violence...I dont know what i should tell him to do....what would you all do...what should i tell my son?!
9 responses

• United States
24 Feb 09
Kayla- This is a very serious situation. They are physically abusing your child and need to be held accountable. I'd start by making sure you and the school are on the same page. Though, know that any discipline the bullies get will make them worse before they get better. Bullies thrive on attention and fear. I'm sure you know this because bullies grow up to be bully adults. (Have dealt with a few). My husband teaches martial arts, and even he doesn't condone using violence. He teaches that we only use what is necessary to get away, but we walk away first. Make sense? It is something that you and your husband and your son will have to discuss in depth. You have to decide how much you can live with. I'm not a believer in violence, but if your son is defending himself sometimes standing up to a bully is better then ignoring. I had a bully in my life that confronting and ignoring both failed with. So, sometimes nothing works until the bully just goes away, or you remove yourself. You may need to think about transfering schools. I hope all works out for you and sorry that I just saw this post tonight. Namaste-Anora

• Canada
24 Feb 09
Thank you for your insight and concern. We have since had the convesation with our some the difference between self defence and fighting or being a bully himself. So we have now given him permission to defend himself. The irony is he used to get in trouble for fighting when he started school, so we then started to press the issue of not fighing under any cirsumstance. So now inlight of our new situation...we have withdrawn this rule, and now implied no fighting...but defend yourself! I have also contacted the school, who are taking steps towards helping the situation. With that being said I am going to closely monitor what is going on...I will continue to be in contact with my son regarding the bullies. thank you again for your response.

• United States
24 Feb 09
Kayla- I'm glad you are in contact with the school over this matter. They definately need to put an end to it. Best of luck. Anora

• United States
23 Feb 09
I agree that it's best to try to find a peaceful resolution to any proble but, by insisting that your son not fight, you are setting him up for more abuse in the future. Everyone has the right to defend themself...even the most peaceful person in the world will at some point take steps to defend himself. Your son needs to be taught how to do this...how to talk firmly to these bullies and how to punch. You need to also insist that the school not only do something about the bullying that is going on on school grounds but also on the school bus. The bully on the bus should be made to sit directly behind the driver and he should know that it's punishment for picking on another student. If the school won't address this situation to your satisfaction, go to the Board Of Education. Bullying is a serious issue that can do life long hard to your son.

• Philippines
23 Feb 09
right, spalladino. these bullies must never be tolerated. something must be done in order for them to learn their lesson in life. when i was aware of these bullies in school going unchecked by school authorities, i know that my children who go to school needs ample protection for themselves. from then on, i encrouraged them to attend martial arts classes. martial arts make children develop their physical strength and self confidence, too. my youngest child, at 6 six years old then, can already deal with bullies properly all by himself. when my elder son was in high school, bullies stayed away from him. they know that he knows how to handle them. isn't this great?

• Canada
23 Feb 09
Hello See the main reason we gave my son such strict rules was becuase, when he was younger he would punch other kids. He can fight and defend himself...he is not becuase he knows that is only relults in trouble for himself. However in light of finding out about these bullies, I have gave him a lesson about the difference of fighting...and self defence. I have told him to never hit them first. But if they are holding him against his will...not letting him go to a teacher of anything then it is ok to push them..of whatever he needs to do...to allow himself to get away from the bullies. My son is very strong...and if i told him to beat up these bullies he would do it. So i really have to be careful what i tell him is ok...and what is not ok. Because we dont want him to be bullied, but we also want him to get the most from his education...and that is hard to do with lots of suspensions. So i have told him he is allowed to defend himself...but not fight.... does that make sense?

• Philippines
23 Feb 09
Definitely, no violence. First, you could report the boys either to the teachers or to the Principal. The bus driver's attention can be called, too since you said this happens in the bus. Tell your boy to avoid these bullies as much as he can--meaning to say, that he finds a seat farthest from these bullies. You can even talk to the bus driver. Raise this concern during PTA's so that the teachers can even make a massive campaign against it in cooperation with the parents. I'm sure that by talking to parents, you will be strengthened and assured of more concerted efforts to thwart any forms of violence. Bullies I think in reality are insecure kids, who pick on smaller kids to show their power (or the lack of it). Consider this as a stage of life that kids have to contend with, with your help and other concerned parents and educators. I understand your concern, because your son is only 6, and he just couldn't fight just because he is provoked by some naughty boys. Next time it happens, write an open complaint letter to the school's newsletter, in the hope that other people who share the same problem will come out and condemn the act of the bullies.

• China
23 Feb 09
I am really sorry to heared what thes bullies have done to your child.You should take some actions as soon as possible so that your boy won't get more hurt.The bullies who bullied your child should be punished if possible, they should know bully other people is something should not be done. You may find who bully boy and communicate with their parents or their tecachers, ask them to take actions to make sure that the things what the bully have done to your child won't happen again.On the other hand, have some talk with your child about this incident, teach him some skills to protect himself, tell me what is right and what is wrong, just make him be aware that you care about hime, don't make hime has the feel that he is alone.

• Canada
23 Feb 09
Psyche49f, Thank you for your response. I agree that he shouldnt have to fight...I have contacted the school this morning and talked to the principal...she will be taking steps toward findint out what is happening..and how to stop it. I have also talked to a few other parents...most of which I stay in contact with regarding these problems. However i still need to do something for my son now... We were all kids and we all know that kids are sneaky and they manage do to things behind our backs. So i have now given my child the talk about the difference between self defence...and fighting. My son used to fight all the time. So we taught him how wrong it was...and that it is never ok. Well now 2 years later he has obeyed so well he is letting these bullies hold him down so they can kick him. SO now his new rules is...that if it is for self defence...then yes absolutely defend yourself...as soon as he can...go get a teacher. So i have taught him to defend himself...but not fight...if that makes sence?

• United States
23 Feb 09
When my daughter was being bullied at school I went to her teacher. The teacher refused to do anything. I went to the other parent who made it out like my daughter was lying. Finally the vice principal SAW it happen and stepped in. That only helped for about a week or two, then things went back to normal. You can't fix how the other children will treat your child. You can only give your child the tools to learn to stand up for himself. Trying to fix the other kids actions won't work.

• Canada
24 Feb 09
Unfortunely this is how it is...your absolutely right! I am trying to prevent it, and bring it to the attention of other people. I am aslo trying to give my child all the tools I can give him, physically, mentally and emotionally. Thank you for you response and insight on the situation!

• Chile
23 Feb 09
I respect that you dont like violence or anything, but in this case is self defense. Be very careful, because the most of times when bullys get reported to teachers or principals, they calm down a bit only to attack again but this time more angry, because of the report. Its very sad but its a problem that your kid needs to surpass by himself. You can help him with advise and all. Maybe other solution is to contact the families of this bullies, but sometimes the family is worse the the bully. Damn is a very complex topic. Let me Research a little bit more. Im a psychology student so I think I can help you out.

• Canada
24 Feb 09
Thank you for the cautions...I have considered this. I have also told my son that he is not allowed to fight...but he is aloud to defend himself. I have went to the principal's who called the students down. I am hoping it does not go back to the bullying or get worse. But in the meantime i will teach my son the difference between fighting and defending himself. Thank you for your advice...and anymore information or suggestions you have would be greatly appreciated! Thanks again

• Philippines
23 Feb 09
The teacher should be the best person to discipline these pupils who bully your child. This reminds me of my nephew who was once bullied and just kept it secret to his mom. When my sister confronted his son about this bullying issue, he just cried for fear that his classmates will bully him again. My sister went to my nephews teacher and cautioned her about the bullying and the teacher helped stop the classmates from bullying my nephew.

• Canada
24 Feb 09
I have went to the principal. The bullying is not happening from any of his classmates. It is mostly happening on the playground so there is nothing she can do about it...becuase she is not out there. However the principal has called the boys down to the office, and she is now going to be watching...and have the teachers on yard duties watching more closely for the bullying. I am crossing my fingers and hoping for the best. Thanks for your response.

• Indonesia
23 Feb 09
hello, im feel sorry to hear this kind of thing..Human are being his natural when he want to feel somekind of power and implement it on someone who become the target, just like what provoke war. And what happen to your kid is a small scale of that thing. Those three boys are having the seed of people who love such war and fight, just ask them what kind of movie and mind they always had. I was also experience period just like him, and i also disagree with violence..but what i have seen from the other kid who gets bully, most of them are because they dont even try to fight back, and they just let them do that. So in this case, teach your son some martial art or defend technic, or if he can't learn it, at least told him that they will keep bully him as long he is not fighting back, even he mismatched 1 to 3, bring a spirit to him that better get beaten by fighting back rather than get bully. This world lies lot of unfairness, but as long as we can fight back..we can handle it, rather than stood by and do nothing. Those kids who bully your son, im sure its one affect of the society, maybe their parents dont teach them the good manner. If so, call the parents to the school wont help this bullying to stop. So the last solution is to move your son to fight back and protect himself, it give good for him and also one learning for him to get more grown up. I hope this can help

• Canada
23 Feb 09
Thank you for your response. I have always taught him not to fight back because when he was younger...he was a fighter...always fighting. So we taught him that it was not ok ever. Now I am regretting that. He now has new instructions for when he goes to school. We have taught him the difference between fighting....and self defence. We have told him that he can do what he needs to do for self defence...but once he is able to go tell a teacher to do that. Defend himself and then tell a teacher. We have told him that if he is defending himself then we will stand behind him even if he gets in trouble with the school.

•
22 Feb 09
hey hello and im so sorry as I hear this about your son, as a ,mum I can ralate to your anger and pain, and I know you feel like you must do something about it which is good. One thing, I think really is a good idea to teach your boy to fight, he was strong and brave enough to tell the teacher, but at this point you have seen no results from that so the next step is for you to step into the school and speak to the principal, also talk to his teacher and on the next parents evening stand up and mentione this to parents to be aware, bullying is something that somes from homes, no the kids, they learn that from what they see and allows them to do the same to other kids. also I dont know if this is a good idea but you could ask your boy to point out the kids that are bullying him, you can maybe talk to those kids in good terms or even maybe talk to their parents and make them see what is worrying you, Im sure as parents they might understand it, if they dont you will then see where the problems comes from. Try all the possibles way you can think of and just encourage your kid to be brave and tell everything you but not to fight. best of luck and best wishes!

• Canada
23 Feb 09
I agree with you...and the worst part is it is 4 older boys that pick on him...he has told me 2 will hold him down so the other 2 can kick him in the stomache. This sickens me totally. I teach my son not to fight...although after hearing this i want to tell him to fight. I wont but i want to. I have told him though that if they are holding him against his will. he is allowed to push them..or whate he needs to do to free himself...so he can tell the teacher. I have phoned the school this morning and talked to the principal...she is going to talk to my son to find out who the boys are and she is going to be waiting when they get off the bus...becuase this is when most of it happenes..becuase the older kids are on a different yard then my son...so they bully him when he gets off the bus...and when he passes through thier yard to get to his classroom door. Thank you for all the great advice!

• China
27 Feb 09
Hi, kayla, school bullying is very common nowadays and especially common among young students. Here are some suggestions, hope they will help. Practice role-playing. don't encourage your son to bully or fight with others doesn't mean ask your son to endure all the way. So parents can role play with their children at home, help them learn how to protect themselves. Also, try to make friends with these bad kids. If the bullying is verbal, let them call it and accept it happily, over time, these kids may lose the interest in him and may turn their attention to more challangalbe ones. Ask your son to stay with others, stay with a group, avoid being alone. Or under your assist, catch these kids and make them friends, so later they won't bully your son. you can bribe these kids, easy, let's say, who would send your son home, who would get a small gift or prize money or the privilage to do something within your range.