My Basil Plant Is Growing Like A Weed! (Or Is It A Weed?)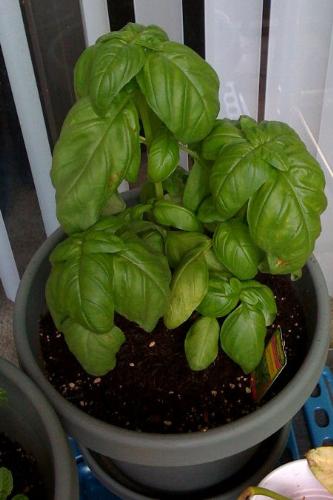 United States
March 16, 2009 7:20am CST
If you read my previous discussion you saw that I bought a Sweet Basil plant and am now growing my very first herb plant! I planted it in Miracle Gro and have been making sure that it stayed watered and got sun and it has just about doubled in size in just 2 weeks!

Yum yum - I can't wait to harvest the leaves! I am planning on making a yummy Margherita Pizza tomorrow with fresh tomatoes and these Basil leaves!

If the plant gets big enough I plan on dividing it and planting more and/or giving some cuttings to friends of mine. I was just reading that it is fairly easy to propagate basil cuttings in water. A friend told me the following steps in order to do just this. As soon as my plant gets just a little bigger I am going to do this. Use a sharp blade to remove a 4-inch long stem of basil. Choose a stem that has not yet flowered. Cut the stem off right below a leaf node; the point where a leaf adjoins the main stem. Fill a clean, small glass container, such as a small glass or a jelly jar, with water and place it in a window sill that gets sunlight. (Use a glass jar so you can see when the roots begin to grow.). Remove leaves from the lower 2 inches of the stem. Then put it into the water. Change the water every couple of days until roots form (this takes about 2 to 4 weeks.). Transplant the basil into a container when the roots grow to a few inches long. To transplant, fill a container that is at least 6 inches wide and deep with potting soil and water the soil in. Then, gently remove the basil from the jar of water and plant it in the center of the pot. Water the cutting in and then place it in a spot that gets at least 6 hours of bright, direct sunlight each day. Also, in addition to Basil being delicious it also is good to ward off mosquitos. Since I live in South Florida that is wonderful news for me! I just can't wait. I also found out that Basil is part of the Mint family - who would have known?!?! Here is a picture so you can see how big it has gotten since the last discussion I started on my Basil plant!
Have a great day and happy myLotting!!!

8 responses


• United States
17 Mar 09
I am out of money too!

Tonight I plan on harvesting some of my plant and making homemade Margherita pizzas. I bought the pizza dough so I all I need to do now is cut up a couple of tomatoes and get my basil leaves and assemble and bake the pizza. Should be a pretty cheap dinner!

Thanks for your comment and have a great day!!


• United States
17 Mar 09
Wow! Your basil plant is really getting big! I remember the other post and it was like half that size! Keep up the good work. And no, I never knew that basil and mint were related.


• United States
20 Mar 09
A ton of herbs have a very weed-like hardyness. Which is great, 'cause if they're hard to kill that means you'll always have alot of great leaves, flowers, seeds, and plants from them that you can do a ton with. Anything in the mint family technically IS a weed. We've catnip out beside our deck among other things, and it's slowly taking over the whole area!

• United States
16 May 10
I had no idea that catnip is in the mint family or that basil was in the mint family either for that matter. I love growing my mint because it is so easy too! I actually have two kinds of mint growing at the moment.
Thanks for your comment and have a great day!!


• United States
20 Mar 09
Hey Schulzie! I lived in Oregon where you can grow anything,and got in to making pesto sauce. It's a green spaghetti sauce or that's what we called it, it's about 3 cups basil leaves 3 cloves garlic,1 cup Parmesan cheese, and (optional) some pine nuts or I used walnuts!put in a blender and add olive oil 1/2 cup? blend til smooth. It is so good you will do it again and again. I got in to it so much I bought seeds from a catalog that had about 6 different kinds of basil, I didn't even know that at the time but there are.LOL! I grew all six types and there is a distinct difference in taste. I made all different types of pesto, and my friends just raved about it! Another tip, stick cloves of garlic in a small pot root side down and they will start to grow like a green onion, as they grow you snip the green leaves off and use as garlic, the plants will keep growing for more!

tdemex

• United States
16 May 10
You just snip the leaves! They aren't like regular leaves they are like green onions! Snip pieces over salads or on steaks before you BBQ them it's a strong garlic flavor! By the way basil is so very easy to grow you dont have to go to all the trouble of dividing it! There are many varities of basil to try! tdemex!

• Germany
25 Mar 09
wow looking nice and the cooking will be complete soon


• United States
16 May 10
That sounds just like me. I love to propagate my plants and share with others. I was reading the other comments here and I think I am going to look into getting the other varities of basil and try them out too!

Thanks for your comment and have a great day!!

Thanks for your comment and have a great day!!


• United States
17 Mar 09
WoW well, good luck to you on replanting and all. and I hope your pizza comes out great your going to have to let us know. Your friend onlydia

• India
17 Nov 10
Here in india we have varios kinds of basil plants, some are too buncy, tall, some are short, some have green leaves some have black!!! We call basil as Tulsi, consider it holy and worship as a goddesses!!! Thank you so much for the details in this discussion.
Professor.
. Cheers have a great day ahead. God bless you. Welcome always.