Filet mignon or lobster?

United States
November 10, 2006 3:43pm CST
Which would you pick if someone else was paying?
3 responses

• United States
15 May 08
I think I would like prime rib, instead. But, that's not one of the choices. I don't really like lobster and even if I did, I'm allergic, so it would have to be filet mignon. But, really, prime rib is a much better choice in meat, so much more tasty and smooth like butter.

• United States
10 Dec 06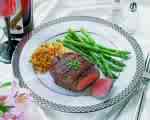 Filet Mignon would be my pick. Lobster is not something I eat. Would not mind trying it however my thing is beef! So filet mignon is it!!

• Beaver Dam, Wisconsin
10 Nov 06
Filet mignon. Lobster is OK but isn't very filling.