Do you clean your utensils till they are squeaky clean?!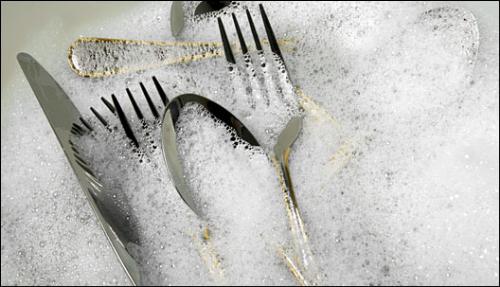 India
April 19, 2009 5:26am CST
I have a maid who does the dishes by hand at home. She's pretty good and I find that most of the dishes are 'squeaky' clean - you rub your wet hand on it and you hear a squeak! It gives a good feeling! Of course some older and rougher vessels don't squeak. Do you chekc if your vessels and utensils are squeaky clean?
5 responses

• Philippines
21 Apr 09
YES. Because for me, squeaky clean means no grease, soap and or whatever. LOL. ITS CLEAN!!! =D

• Boise, Idaho
19 Apr 09
Yes, I like squeaky clean. Hair, utensils, etc. It is a good thing. Yes, I do check to be sure all is clean. Really clean. There is something very good about knowing they are clean before you start using them again. When I was a teen I had a girlfriend who would wash dishes, put them in the rach but not rinse them. Sometimes she would pour a bowl or container of water over them in the rack. It always bugged me.

• Canada
19 Apr 09
I check to see if there are any spots on them, or they feel rough. Sometimes I have to wash things like that, but I am not a fuss budget. I will see if they are clean by looking at them. But the world is not going to end if there is a spot on the bottom of the plate. I do find that if one does the dishes by hand instead of using a dishwashing machine, that the dishes do turn out cleaner.

• India
19 Apr 09
hi pitstop, my dear friend, i have a maid at home to do all sort of utensil cleaning job. i am not so interested in cleaning utensils and neither i have all that time evryday. one dday when she is on an off or some holiday that day i manage and i keep a point to clean the utensil thoroughly, as you say squeaky clean. that squeak has to be their. when my maid washes the utensils , i ask her to keep all of them in a big net basket, so that all the water drips and then i wipe then and keep them in order . then also if i feel there isa scope of washing again, that i do it again. i like cleanliness and maids ae also human beings. they washes but then if the thing is too oily , i have to look that it is cleaned properly or not. i always ask her to do all the oily things with warm watewr, and she do also .

• India
19 Apr 09
well not to that extent i check my utensils, but i just check if it is cleaned properly. i hate it most when i find soap stuck on my utensils , some maids don't clean the utensils properly so i have changed them many a times.so now a days i give my maid liquid soap to wash my dishes so that no soap is left on the utensils.