I've never loved a pet so much until now...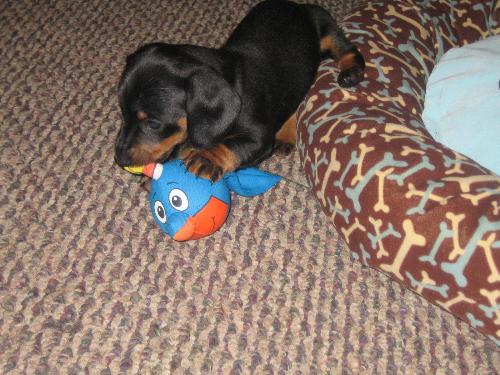 United States
April 22, 2009 1:48pm CST
I'm the kind of person that understands pets can mean so much to people but I never have personally felt love for an animal until just recently. We have 2 dogs of our own but they are really big dogs that stay outside. My husband is always the one that will go and feed them and play with them or walk them. From time to time I'll go and pet them but that's it. Well my brother has a little weenie dog that just had puppies. I think I've grown to really appreciate animals more since visiting him all the time and seeing how much he loves her and how sweet the dog is. Well she had 3 puppies and my brother gave us one. I have fell in love with this dog almost like it's my own child, lol. It's almost like having a baby to a point I guess. He has to be fed, taken outside to play, always wants attention. Now it's made me realize how much more attention I need to give my other dogs. I guess at first I didn't because they are so big and rough. You go outside and they just want to jump on you and they bark very loud. But that's just because they're big dogs but now I really appreciate them more and try and go outside more often to pet them and even asked my husband to let me feed them more often and not just him. Are you a pet lover and if not what are your views on how people are with their animals? Here's a pic of my new puppy. He's about a month and a half and his name is Elvis.
1 response

• United States
26 Apr 09
I could not agree more happymommy3. I have a cat and a dog and they are much a big part of our family as well. My cats name is Mocus, and my dogs name is Pepper. Mocus is a boy and Pepper is a girl. We got them both around the same time two years ago and it is hard sometimes to pay for everything they need but we manage. I love them deeply and so does my girls and their dad. Anyway sweet discussion and happy mylotting as well.


• United States
26 Apr 09
Oh wow, so you have a cat and a dog. I always wondered how both pets could get along, lol. Sounds like such a sweet family you have, pets and all

, thanks so much for responding and happymlotting to you too;)