How to increase the percentage of Poll?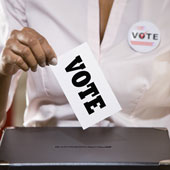 India
April 28, 2009 5:05am CST
Now in India,the parlimentary elections are going on in various phases. But it seems, the people don't have interest to cast their vote. There may be many reasons for that but that should be avoided.Mostly the people who are well educated and highly salaried are not going to the booth and for this these useless fellows are blaming the politicians.But they used to forget their rights to eliminate such politicians. In your view how to bring these people to the voting booth?
6 responses

• India
28 Apr 09
There should be compulsory for all indians to cast their vote but some of them not cast because of number of reasons. some reasons are valid and some is not acceptable. their should be some incentives to cast their vote so that younger people can use their voting rights. their should be thoroughly checking on that day by seeing their finger and if someone not cast their vote then some fine should be imposed so that due to fear, people cast their vote. some types of representative team should be their who ensure that everyone should use their voting right. i think it, by using their types of steps poll percentage should increase. what you say?

• India
28 Apr 09
You are absolutely correct. If those who did not cast their vote are fined and even if some of the fundamental rights are restricted, then they will move to cast their vote. The negligence of such people causes the scam politicians to come into picture.Thanks for your valuable response.

• India
28 Apr 09
ya there is whole list of people who just blames politicians and them self not even bother to vote. The are more on fault then the politicians they talk about. Any one doesn't have any right to speak against any politician or there policies unless he is voting. Also there should be some steps to encourage the voting as mentioned in the above response. Also may be they look to increase the voting time to one hour both in the morning and evening. As also there are people who avoid voting just for the high temperatures during the day.

• India
28 Apr 09
AS of now, there may be high temp, but even in other seasons they are not coming outside of the home and they used to treat that day as a holiday.Also, there will be considerably the poll will be increased if we increase the polling duration at least by one hour as already wee are starting the poll by 7.00 am .

• India
28 Apr 09
Thanks for your suggestion and it seems that your suggestion is under the consideration of ECI,may be implemented in the next election.Again thanks for your responsibility as a citizen.

• India
6 May 09
I take my vote very seriously Vipin…to me, my vote means my support to a particular candidate and my support means my support to his/her every action and ideology and party manifesto. Why should I then vote if I don't support any of the candidates of my constituency or any of the parties? Voting is not just an exercise to go and stamp the ballot paper. It is my right NOT to support any candidate if I don't find any of them worthy of my support. BTW, do you know if the EVMs have an option of 'NONE'? if there is, then I might go and stamp on that symbol.


• India
6 May 09
I don't vote and for this I don't think I am a useless fellow. I am from Bengal and neither highly educated nor highly salaried. I am just a middle-class lady and I am sick and tired of more than 30 years of stagnation in my state AND of no constructive opposition. The entire country knows what happened to the Nano Car project in Bengal…so neither do I want to vote for that opposition which was instrumental in throwing out such a prestigious project from my state nor do I want to vote for the ruling party which has dragged down Bengal to almost the bottom of State lists in India. So, what are my other options? Vote for an independent who either will join some party post election or will not be able to do anything on his/her own?

• India
6 May 09
Well.Many of us don't know the 'other option' and don't know our basic rights. Please read my comment to the previous response to know about what to do, if we don't like to elect all of the candidates. Thanks for your response and also please try consult some election officers nearby to you who worked so in the recent election, if you have any doubt in this. At least in the next election try to make use of your fundamental rights.

• India
7 May 09
See this is the first time I am hearing of this elimination option. So you see how the political parties hold back information which might not be beneficial to them. I think this option should be splashed big on all media so that people like me who don't want to see the same crooks and sycophants being elected, can go out and vote in the hope that they might get eliminated.

• India
4 May 09
see most of the educated people if don't vote, den dey don't blaim politicians... dere is need to awake dose people who doesn't know actually about vote n politics dat means lower class people who votes for some money or on d basis of caste or otherwise. it is mostly affected in U.P. where people's majority votes for mayavati or mulayam singh coz both of dem r 'dalits' even after knowin dat congress or bjp can do much much better than mulayam or mayavati for dem. an educated person knows dat castin or not castin vote does not make welfare for him, he knows dat he himself has to make his way n politicans can't decide his future. so, if an educated person does not vote, den his vote should b counted as usual. yaa but if u criticize on d mark dat educated people shows laziness to caste vote even after havin easy opportunity, den i must say dat dey must perform deir duty. n it will also create awareness among lower class n other people....

• India
4 May 09
Well.They may have some reasons for not electing some candidates or all of them. If you see the percentage of poll recently, it was around 50% only.What about the rest 50%? As per the acts, if the number or the percentage of votes polled against all of the candidates as "Don't like to elect anybody", exceeds the difference of the two highest scorers in that particular constituency, then the elected candidate as well as the all the other candidates who nominated for that particular election. are loosing their rights as candidate and also they can not be a candidate in further elections also.

• India
6 May 09
There is not any such rule if the number peoples saying i don't vote exceeds the number of total votes polled, the election will be canceled. And this one has already discussed.. http://www.mylot.com/w/discussions/1979021.aspx http://www.mylot.com/w/discussions/1964509.aspx


• India
29 Apr 09
Thanks for your response. Unless we make some arrangements to make it compulsory, then then future generation may suffer a lot from our politicians.To get rid of such political people, we must vote. If not interested to elect all the candidates, we should vote against all of them with help of the provisions we are given as 'I do like anybody". Otherwise our votes will be polled by some other else.


• Brisbane, Australia
30 Apr 09
every single person above age of 18 should vote always and spread awareness about voting and human rights.

• India
30 Apr 09
Thanks for your response. But it seems year by year the polling is reduced by about 2-3%. Hope the Election Commission of India will do something to increase the poll.