I Am The Dominant Male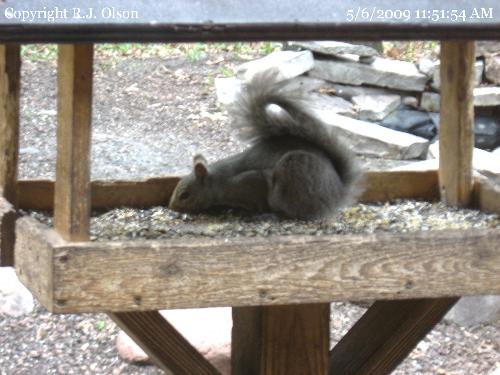 United States
May 7, 2009 1:59pm CST
I sat here eating and one of my relatives came to get a share and I hissed, barked, screeched, and even spat at them and they finally left me to eat by myself. This went on with a few other relatives of mine. They do this everytime I try to eat in peace all alone. This photo shows me finally getting some peace to eat all alone. This feeder is one of various ones of all types for the critters at ther Nature Center I visit. The path is not accesible but it sits in front of a large area ion the indoor area to sit and watch the critters feed and or fight. Do your squirrels in your area hiss, bark and even spit at their relatives? HAPPY POSTINGS FROM GRANDPA BOB!!~
6 responses


• United States
7 May 09
They have taken over my feeder out front, chasing all the birds from it except the big black birds. HAPPY POSTINGS FROM GRANDPA BOB!!~

• United States
10 May 09
We used to have some squirrels come into our yard and feed off of the bird feeder but I have not seen them for a long time. They hadn't made noises to us though, that I am aware of.

•
17 May 09
I only see one squirrel in the garden, at the bird feeders. The birds don't bother him but he winds his body around the feeder so they can't get at him or the nuts. There are two feeders and the birds just opt for the other one. I can't say I blame them! lol. Brightest Blessings.

• United States
8 May 09
oh god.they run their lil' mouths all day long here. all i hear all day is that "kkrrk..REEEEEEEEE" up in the trees. they don't fight so much with their own but with the local blue jays that chase them away from their nests.


•
8 May 09
Hi GRANDPA BOB, I have two squirrels comes round always chaseing each other off for food, but in the end they both gets the fair share. Tamara