Names of Fruit , In alphabetic order

Pakistan
11 responses

• India
27 May 09
Here is my list of fruits Cupid.Most of them are favorite too.

Avocado Black Berry Cantaloupe Durian Elderberry Fig Grapefruit Huckleberry Indian Fig Jambul Kiwi Lychee Mango Nectarine Orange Pear Quince Rambutan Strawberry Tangerine Ugli Fruit Vanilla Bean Watermelon Ximenia caffra frui Yellow Passion Fruit Zuchinni


• United States
26 May 09
I would like to try this challange. A= Apple, Apricot B= Banana, Blueberry C= Cherry, Coconut D= Dates E= Eggfruit F= Fig G= Grapes, Guava H= Horseradish Tree I= Indian Prune J= Juneberry K= Kiwi L= Lemon, Lime M= Mandarine,Mango N= Nectarine O= Orange P= Passionfruit, Peach, Pear, Pineapple, Plum Q= R= Raspberries S= Strawberry T= Tamarind (Indian date), Tangerine U= V= Vanilla W= Watermelon X= Y= Yam Bean Z= I am not able to think of the other letters.. Most of the names I can give you are for rare fruit that is hard to get. Have a great day!

• India
27 May 09
Hi cupie ....looks like you skipped through your son's nursery book last night by chance and today you have decided to harass all mylottians with a tedious assignment...Really cupid this is not fair......I knew all the alphabets and the names of all the fruits,and much more, when my kids were in school...But now I have well passed that stage and I think its a big bother to write out all the alphabets and think of names of fruits for each alphabet......I feel it will be a tedious task to remove all the cobwebs from my brain and hunt for names......So please excuse me...I give up......


.......

• India
27 May 09
Rose, please dont strain yourself so much.....read cupie's responses to the others here....first he asks for names of fruits, and then the pictures.....dont know next....he may ask us to export the fruits to his place!!!!!!! SO BEWARE


• Pakistan
27 May 09
Oh Rose how right u last night i was eating fruit and thinking of names of fruit i knew, so i end up on this discussion. weell its Ok if u dont want to participate in this sure i dont want to remove cobwebs of ur brain as then u might recall some other stuff Too. Mayka, for sure some fruit names are new to me, so i want to see them, i am too busy to search on net ( though i did for few) and trust me i dont mind to taste them as well, if you can be of any help, its GREAT Take care

• India
27 May 09
Hi Mayka thanks for the tip......

..Well looks like dear INNOCENT cupid might innocently ask his mylot friends to not only sent him pictures of fruits,but a sample too from different parts of the world.....What an IDEA sirjee.....!!But I already guessed his intentions and so opted to get my self excused from his discussion..........He cannot take Nari sakthi for a ride so easily.......ha..ha....


• United States
26 May 09
Many have already been mentioned here. Lets see for Q quince, for G gooseberries. Those may be different than some answers already given.

•
26 May 09
Hi Cupid, Now lets see off the top of my head what I can do LOL A apple B banana C clementine D date E ? F Fig G grape H I J K L lemon M melon N nectarine O orange P pear Q Qumquat R S strawberries T tomato U V W water melon X Y Z Stuck on the others for now. Huggles. Ellie :D

• Pakistan
27 May 09
Hi ellie thanks for participating, well u r right some are missing in ur list but so far we have received 25/26, though few are odd name, but sure lot of them are local fruits. lets see if some one come with fruit start with "X" Take care

• Philippines
26 May 09
this could be fun, let me try....here goes.A=avocado, B=black berry, C=Chokeberry (Aronia), D=durian, E=Elephant apple, F=Feijoa, G=Guava, H=Hairless Rambutan, I=Indian almond, J=Jackfruit, K=kiwifruit, L=Lanzones, M=Mandarin, N=nutmeg, O=okra, P=papaya, Q=quandong, R=rambutan, S=star apple, T=tamarind/Tamarillo or Tree Tomato, U=ugli, V=Vanilla, W=Wild Mangosteen, X=this one is missing ????

, Y=yangmei or Chinese Bayberry, Z=Zig Zag Vine there you go, only 1 is missing



• Pakistan
27 May 09
Dear Mayka well, u can see that i again started the discussion, so its fresh start for me Well, Cheating is always allowed, but one thing u have to do it without informing the best i can do is that write all Alphabets for U A B C D E F G H I J K L M N O P Q R S T U V W X Y Z Happy now write fruits name Take care

• India
27 May 09
Thanks for giving the the alphabets in serial order. I am so used to the keyboard now that I thought it is Q W E R T Y U I O P A S D F G H J K L Z X C V B N M Anyway now am too hungry to think of fruit names......may be on a full stomach I would be able to remember some fruits.

• India
27 May 09

...ha..ha... mayka that's a good one......Naming the alphabets in order of qwerty type key board......Now you have really put cupid in a fix......The poor chap had started a very innocent discussion and you have really made things complicated for him..........Poor cupie.....



• United States
21 Jul 09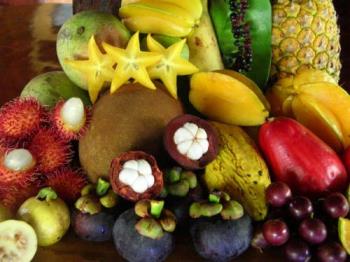 Hello

How are you Cupid? I actually am gonna try and give this post a try, but I think I just may give up, and have the same answers as everyone else . A: Apples, Avacado, Apricot B:Blackberry, Blueberry C:Cantaloupe D:dates E:eggplant? F:Figs G:Grapes, grapefruits H:honey dew I:Iaho Potatoes haha J:Juniper berry K:Kiwi and Kumquat L: Lemon,Lime M: Melon, mango, mulberry,mandarin N:Nectarine O: Orange P:Plums,pineapple Q:Quince? R:Raisin, rhubarb S: Strawberries T:Tangerine,tomato U:Ugli Fruit (Looked that up) V:Valencia Orange W: Watermelon of course;) X:Ximenia (looked up) Y:Vanilla Z:Zucchin There ya go;) Where do you think up these things hehe.

• Singapore
1 Jun 09
Hi cupid, I think that's all I can think of. A= apricot, avocado, B= berries, black currant C= cranberry D= durians E= F= fig G= grapes, grape fruits, guava H= honeydew I= J= jack fruits, jujube K= kiwi L= lemon, lime M= mango, mandarin orange N= O= oranges P= pineapples, pear, peach R= raspberry S= strawberry T= Tangerine V= W= water melon X= Y= Z=

• United States
30 May 09
Heyya cupid! I was missing you..lol..Seems like you have a lot of great responses but let's see.. E: elderberry F: fig G: grapefruit H: honeydew I: ? J: ? K: Kiwi L: lemon M: mango N: nectarine O: orange P: pineapple Q: ? R: ? S: star fruit T: Tomato U: ? V: ? W: Watermelon X: ? Y: Yellow watermelon..lol Z: zucchini Well.. I tried..lol..take care and nice to see you back around.

•
30 May 09
E = Elderberry, F= Fig, G = Gooseberry, H = (None) I = (None), J = Jackfruit, K = Kiwi Fruit, L = Lemon, M = Mango, N = Nectarine, O = Orange, P = Papaya, Q = (None), R = Raspberry, S = Strawberry, T = Tangerine, U = (None), V = (None), W = Watermelon, X = (None), Y = (None) and Z = (None). Sorry, my friend, but there's a lot of gaps there where I couldn't think of a darned thing! lol. Brightest Blessings.