My tomato plant has white spots - what is this? Is it mold or mildew or what?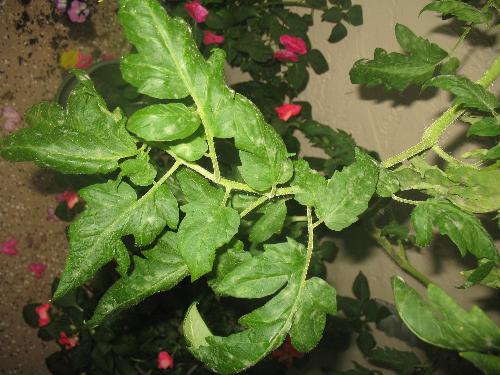 United States
May 28, 2009 12:51pm CST
Hello all, well as you may or may not know last month I bought a topsy turvy planter and a big tomato plant. Well, everything was going great but no flowers ever showed up but the leaves kept coming. It grew nice and big but no flowers. Also, last night I noticed a bunch of white fuzzy spots all over my plant on the leaves. I am posting a picture of these spots on the leaves so you can all see them and maybe let me know what they are and what I did wrong.

I watered my plant so it is not that it did not get enough water. The only thing I can think of is that the plant was on my patio and never got in actual direct sunlight. Is direct sunlight something that is necessary to grow tomatoes? Could this be the reason why these spots appeared?

Any help from you guys that might have previously grown tomatoes would be so helpful. Thanks so much!
Have a great day and happy myLotting!!!

10 responses

• India
28 May 09
I am a medical student and not a tomato gardner. But I had learned many diseases while I was in my 12th Grade. I had to study Botany to write the Medical Entrance. Spotted white areas on new leaves: This should normally mean that it is a fungus. And fungus thrive in shady areas, so the setup suits too. It could be either Powdery Mildews or some stray Blight diseases. I really don't suspect Blight, I have always heard that it affects potatoes more frequently... In Minerals I had learned this similar condition. I think it's due to Iron deficiency; the general symptom, as far as I can remember is: spotted white areas on new leaves and upper parts of stem. Some common solution is to add manure or dried blood(swine or bovine of course!). Sewage sludge might do as well. If it works out. please inform me! Regards, Ajith.

• United States
29 May 09
After seeing the picture, my idea is powdery mildew. I will look up solutions and get back to you.

• India
29 May 09
Yup! Even I thought it was mildews. I had seen that sort of a pic in one of my botany books. Remedy? I think spraying some baking soda and soap mixed with a lot of water would do. That's what I have heard, I am not a professional...

• United States
29 May 09
Thanks so much for your help. I freaked out when I saw the plant and the spots on it. I ended up throwing out the plant as it was right outside my patio sliding glass doors. I was afraid of breathing in mold and that it would spread to my other plants. I really wish I knew for sure what the problem was. [b]
Have a great day!!
[/b]



• Malaysia
28 May 09
Hi friend.Before this i also study at school about gardening and how to garden.I think your tomato plat has a white spot because it lack of vitamin or nutrient.I learnt from my teacher that when the fruit or leave has a spot it maybe because of lack of nutrient.Thank you.

• India
28 May 09
Not a nutrient, it's a mineral. Iron deficiency.

You must have listened to your teacher more attentively, Hanah!

(Yup! The same old 'listen-to-your-teacher' style of your parents)


• United States
28 May 09
I have actually been having the same problem with one of my plants. I was wondering about that myself. It seems to be that there are many problems that tomato plants can have and mildew or fungus just seems to be one of them. I guess there are many things that can cause problems with tomato plants. I think I will add some miracle grow to the soil.

• United States
28 May 09
Hi, schulzie, sorry to hear your tomatoes are having issues. I am sending a link that may be helpful. Best of luck; and may you see blossoms soon. http://www.planetnatural.com/site/xdpy/kb/downy-mildew.html


• United States
29 May 09
Here's a recipe to make your own spray: 1 teaspoon baking soda 1 quart water A few drops of liquid soap Before treating your plants, test the spray on a few leaves to make sure they are not too sensitive. You can spray this on food plants as it will not hurt you

• India
29 May 09
ok..so we got the recipe correct. And good luck to you Lakota.



• United States
29 May 09
It happens when tomato has too much water and not enough sun. As already mentioned, baking soda mixture is going to eliminate the problem... Take care, HUGS

• United States
29 May 09
I looked up a little about powdery mildew. Some of the pictures look just like yours.Said it grows in warm shady places. I have also copied down a spray recipe.

• United States
29 May 09
Not even seeing it, I will guess Mealy bugs. Yes, tomatoes have to have direct sunlight for at least part of the day. Any plant that gets stressed is prone to mealy bugs. You do not want to really poison the plant, because you are raising food from it. If I think it is mealy bugs, I will give you some home remedies.

• United States
30 May 09
My tomato plants have never done that before. But I am sure they can get fungus on the or mildew. Tomato plants do love lots of sun though. I just planted tons of tomato plants in the ground today. The ground here should be plenty wet for them from all the rain we are having.

• United States
29 May 09
You've probably received the correct response to this but I haven't seen it since I'm answering from an email. It sounds like powdery mildew. You can get rid of it by spraying it with a homemade concoction of a gallon of water, tablespoon of baking soda and teaspoon of dish detergent. Some people add some kind of oil to it to help make it stick on the plant but I can't remember what it is, offhand. You don't need it, though. Just reapply the spray each day for a week or two. That should kill the powdery mildew. This happens when there is not enough air circulating around the plant. I had trouble with a lilac bush I had planted in a large pot on my deck many years ago. I thought it was a goner, but managed to eradicate the powdery mildew and it's now planted in our yard and doing great!