My new kitten Gucci -momtrying2makeit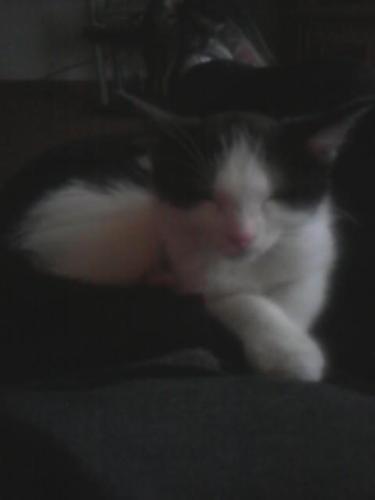 United States
June 7, 2009 11:23am CST
I wanted to add this to mylot to share my new kitten with my friends here. I believe she is female but I am not for sure. I do not normally add pics to mylot but I thought I would give it shot and see where it leads. Feel free to give your thoughts on my kitten Gucci.

5 responses

• United States
7 Jun 09
Yeah she does for sure lol. Gucci had blue eyes but they changed to green. I wonder if yours will change too. I guess you will have to keep me updated on that okay. I plan on adding you as a friend as well happy mylotting to you as well.


• United States
7 Jun 09
Yellow eyes that sounds awesome! Please share a pic of that here I would love to see it:)

• United States
8 Jun 09
I am catching this through my email so I'll have to go the actual discussion to see what the cat looks like. Gucci is a very creative name though! I'll leave a comment on the picture telling you what I think of the cat, lol!


• United States
13 Jun 09
I have commented to you and hope that you have received it! I did check to see and it did indeed post! Hope your having a great day here on mylot, and may you earn a lot of money.

• United States
8 Jun 09
AWWWWW, she is precious & she looks so content!!! A happy little baby!!!

(purrrr)

• United States
8 Jun 09
Yeah shes happy but she is also a little stinker too. I think she is great but once in awhile she likes to bite she still has her baby teeth. I hope that when she gets older that she stops doing that. Take care friend and happy mylotting to you as well.


• United States
8 Jun 09
Then you best teach her that biting is a NO-NO!!! The sooner the better. Or she may grow up still biting.

•
8 Jun 09
That is very nice looking kitten.My cat has had two kittens and they are really nice colours.I would love to comment on your picture so i am going to add you as a friend so that i can comment as there is no other way of doing a comment.Hope that is ok with you.Happy mylotting and have fun with your new kitten.

• United States
9 Jun 09
Hi there I accepted you as a friend. I hope you were able to comment on Gucci now. I think that is great you think she is very nice she is a sweetheart but she has a biting side too. I am still working on that and she has done a lot better since we got her.

Thanks for taking the time to respond to my discussion as well.

• United States
7 Jun 09
Aww

. It's so cute! I once had a kitten who looked similar


• United States
7 Jun 09
Yeah shes a handful let me tell you. I love her though. I feel that she is already a big part of the family and I have only had her for one month. Take care and thanks for taking the time to take a look at my kitty:)