Fresh Picked From My Garden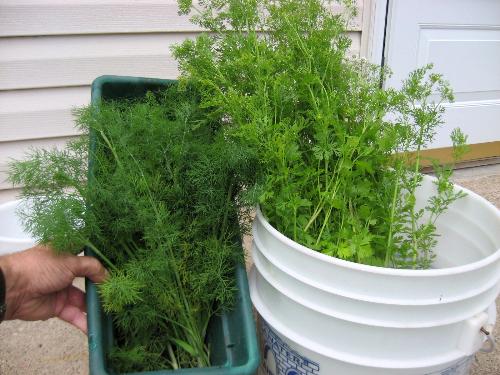 United States
July 5, 2009 5:06pm CST
This photo shows the latest harvest I did. I picked a lot of Cilantro (R) and Dill (L) in the early afternoon. Then I gave it to my wifes restaraunt as they use a lot. I still have more that isn't ripe for my pickling and slasa making later. What all have you picked and or eaten from your gardens so far? HAPPY POSTINGS FROM GRANDPA BOB!!~
7 responses

• United States
6 Jul 09
I love cilantro! You have some yummy looking stuff! I've picked green beans and peas from my garden. The beans were delicious and I'll eat the peas tomorrow. I have to plant more so I'll have some later but I'm running out of space. I didn't know I would need a bigger garden, next year I'll borrow a tiller or something and triple my space. I also picked some lettuce like the kind you have. It was good!

• United States
6 Jul 09
I've some green and yellow beans ripe already as well. Not enough for a meal though so I wait till mid week or the weekend. There will be enough then I'm sure. My peas look about half ripe at this time as well. I counted 32 pods so far with many flowers yet that form the pods as well. HAPPY POSTINGS FROM GRANDPA BOB!!~


• United States
5 Jul 09
Actually, since we bought the house and I started gardening, a lot goes to her work. Tomatoes, cukes, dill, etc etc. They love it as well. HAPPY POSTINGS FROM GRANDPA BOB!!~

• United States
8 Jul 09
I didn't know that you could grow cilantro in Minnesota. That's a new one on me. The only thing that I have picked so far is a roma tomato that is still quite green. My boyfriend said no way was it ready to pick, but I was hoping it would ripen on the windowsill. Everything else I am going to leave to ripen on the vine.

• United States
7 Jul 09
Sounds good.....we have a teeny weeny garden...first one I've ever had in my adult life..my grama always had a huge garden when we were growing up... We have squash, cucumbers, tomatoes, peppers, cauliflower, and I think that is it..oh, and the boys planted cantaloupe seeds...not sure they will grow..... but it was fun to plant and can't wait to eat what it offers...

• United States
7 Jul 09
That's really cool. I think you must make just about everything a person can grow by themselves! And your wife's employers are lucky they are getting such a fresh product. They ought to put down your contributions on the menu. A special asterisk such as *made with Grandpa Bob's special Dill, guaranteed to be dill-iscious!

I know, I know. It was awful.



•
6 Jul 09
Hi GRANDPA BOB, They beauties, lovely and fresh, you've done a great job there, they look delicious. Enjoy. Tamara