Why muslims are still minorities in India?

Japan
July 7, 2009 9:00pm CST
I don't know why Muslims are minorities in India when they accounts to nearly 25% of the total population. It is more than any Muslim country. But still they are minorities in India. I think Indian National Congress party is responsible for this. They are doing just for vote bank politics. If they do this, they will get most of the Muslim votes. Why can't we treat them as just Indians like most of us are treated? Whats the need of allocating so much government money to their holy trip? Don't you think this facility is just a waste of public money? That money can be utilized to educate them. Do you still think it should continue???
9 responses

• India
8 Jul 09
I think this is a very valid point of discussion, something that bothers most of us Hindus since, as said above, we are treated like orphans in our own motherland. First and foremost, with respect to all Indian Muslims, I think immediately after partition, it should have been made mandatory for all Muslims to leave for Pakistan…since the partition was accepted at the cost of us Hindus, purely on religious grounds. It is a well known fact that it was the Muslims who wanted a land of their own, based on their religion…this alone should have disqualified them for staying back. Muslims have had it good in both ways…those who wanted to leave….left and many others stayed back. as a result, most Muslim families have relatives in both India, Pakistan and Bangladesh and they enjoy unhindered movement, unlike the Hindus. Secondly, successive govts. (both at centre and state level) have hurt the Hindu pride time and again by pampering and cajoling these very Muslims and we have just tolerated it for more than 60years, mainly coz Hindus are tolerant by nature. In no other country is the majority treated such shabbily. Thirdly, immediately after independence, the concept of minority was created to protect the Muslims, Christians, Sikhs, Jains and so on. While the other minority communities have quietly accepted whatever the Govt has done for them, it's the Muslims whose wants and demands are never ending and for whom, no Govt can do enough to please them. They are forever creating trouble over everything, bypassing secular rules and norms, demanding and getting special status, practicing polygamy…blackmailing society into accepting their point of view every time, yet having no particular contribution to healthy growth of India. Secular opportunities are there for everybody (as Pres. Kalam will testify)…yet Muslims will go only to their madarsas and mosques, study only religious (and often fanatic) texts, will not open their minds to change yet expect Govt to give them jobs and other opportunities to improve their condition. You want the funds to go towards educating muslims? Why specially them? As I said, the opportunity is there for everybody…for all sections of the society. its for Muslims to come forward and accept it, if they want good jobs and other opportunities. But no, they will languish in their madarsas and become jealous of other communities and their brethren from across the border will poison their minds further by saying how neglected they are in India! They are by nature, fanatic and violent so most people avoid going to any confrontation with them and they take advantage of this into browbeating the administration into accepting their every whims and fancies.

• India
8 Jul 09
yes, but that does not mean that, Indian muslim, the administrative ministry may not be draged for the myLot discussions please. It has been read out in news papers and other media, that Indian muslims were targetted as mujahideen and other terror group, who ever had beared (hair under their chine) and who wear prayer cap were torgetted for all types questions and regarded as enimies, caused much hardship to certain part of country in India. when it has been seen into the Indian history of Great Mogal period, it may be noticed that there were times, they minority muslim community ruled the nation till advent of India by the great British empire. Later due certain weakness and their forgetfullness of their Divine, and lack of mercy of GOD on them, they lost every thing, and they are pleading for reservations to thier community,and so they being become target to powerful present rulers. Please have mercy on them, till the Divine got mercy on that particular community. It has also noticed by students of Indian History that the days were not the same, "time and tide wait for non". those people will be also be regarded as Human usefull community in that particular country.

• Japan
9 Jul 09
Pyarebhai, There is a saying you might have heard. "All Muslims are not terrorists but all terrorists are Muslims". In all the terrorist attack on India, there is native Muslim hand. Many of them have been arrested also. Suppose if you are a cop, won't you question the suspects? Do't you doubt anybody? Thats what is happening. Really, they are creating a mess in India. When normal people see a Muslim with the appearances you said, they get afraid you know. Who's is responsible for this? Who has done like that? And about the GREAT MOGUL period, all the Moguls have tried to destroy not only India but Indians. They destroyed every Hindu Idol they see. Don't you know that? This is there since the Gazni period. What was the need for that? If they have some belief, others have some other belief. Why cant they just live with their own belief? There are thousands of religions in the world, living peacefully, respecting each others belief. Remember, HUMANITY is a great religion. But, as you said, I will wait for the time, those people will also be regarded as HUMAN USEFUL COMMUNITY. At that time, I thank them for what they are.

• India
9 Jul 09
Pyarebhai, I have respect and pity both, for our Muslim brethren. In the present scenario, its not easy being a Muslim and I can feel that. But please, for once think of the Hindus who, for the past 60 years, have felt cheated and deprived and betrayed. I repeat again that immediately after Partition, Muslims should have been made to go to the country of their choice…it's the poisonous legacy of Nehru's policies that we see reflected even to this day in the relations between Hindus and Muslims. Which majority community would embrace with open arms the same minority community which divided their nation on the basis of religion? Yet, Hindus have been forced to do just that…accept the same Muslims to whom religion is above nationality. We have been doing this for 6 decades now but the wounds have not healed…personally I feel that is the reason why innocent Muslims are targeted by the police over any incident of terrorism. AND the wounds would never heal…no matter what the Govt and the NGOs would like us to believe…the majority Hindu can never forget how the Muslims betrayed them and so will always be suspicious of the Muslims. It is always in our subconscious mind that giving too much leverage to the Muslims might create another partition for this country.


• India
9 Jul 09
The Congress party since Mahatma(?) Gandhi is a serious cancer which India has been contracted with. And, most of us Indians are plain dumb to not realize that. But we can't be blamed entirely. We lack alternatives. Remember, the BJP is treacherous too. But still, they can be given a chance. You're right, we should treat Muslims equal as us. But hold on, is there a positive reaction from the other side, the Muslim side? Nopes. In fact a huge NO. Proof? Muslims to date have only been voting for those parties those have promised them a 'special status'. Be it Congress, SP, Left, RJD, NCP, JD(S), DMK and the like, it's only their heavy pro-Muslim and anti-Hindu policies that attracts the Muslim vote even today. And it needs no expert to claim that they always place their religion above our nation. Pity! Spending crores on Haj subsidies is an idiotic attempt since the government should not ideally interfere with such practices. But since it has already jumped into the fire, Hindus have every right in this world to demand similar subsidies. But they don't. Neither do they raise much of a hue and cry about their money of taxes being spent for such stuff. Does it indicate something? Your figure of 25% is not the official figure. The official one is around 14% in 2001. However the reality can go much above 25%, since there are lakhs of illegal Bangladeshi immigrants in Mumbai alone. Imagine the rest; imagine West Bengal, Assam and Kashmir. Muslims, with their high reproduction rates and many other reasons are bound to get close to 50% in the coming decades. The real minorities are Buddhists, Sikhs, Jains, Christians, Zoroastranians etc. In fact the Jains, Sikhs, Zoroastranians and some others deserve the most of minority welfare funds since they are minority not only in India, but the whole world.

• Japan
15 Jul 09
Cannibal, Thank you very much for coming up with so much information regarding this issue. What ever you have said is very much true, to my knowledge. The major evil for this is Castism. Since there are numerous castes in Hindu religion, voters have divided based on castes. They will never unite whatever the situation be. They will never wake-up. There are still so many incidents where lower caste people are treaded badly but considered to past, it has reduced a lot. It is still remaining because of the politicians itself. They are not allowing to get together. They are dividing us based on castes.

• India
19 Jul 09
Hello! The Congress is in power so many years in a Hindu majority India. That too, despite the Congress taking anti-majority stands time and again! I have no qualms in voting for a party if it does well in non-religious terms even if it destroys a Setu or two! But why is this tolerance expected only from our side? Why should religion be the yardstick always? Most Hindus never considered the religion factor while voting (otherwise how do you explain the strength of the congress?) Why is it that Muslims vote for non-deserving parties for a reason as stupid as religion? Besides, it had been proved to an extent that the Babri Masjid was indeed a former temple, by numerous historians!

• India
20 Jul 09
Fine, but now even the Masjid demolition is a passe! Why can't the Muslims get off it? In fact even today they maintain the day of demolition as a black day! Wow!! And what kind of hypocrisy is this that only one side is expected to observe tolerance and to forget the past? In fact, prominent historians allege that almost every mosque in India was a former temple! Imagine: one Babri Masjid against lakhs of temples!

• Mangalore, India
9 Jul 09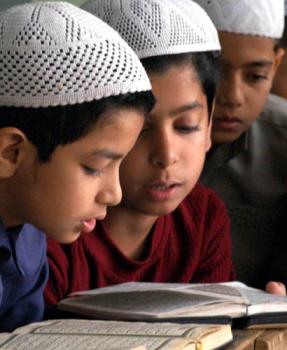 Hi, according to statistics Islam is the most practiced religion in India after Hinduism and India has the second largest population of Muslims in the world.They are also the world's largest minority group in any country.Although officially there are 15% of muslims in India, unofficially their population is close to 20%. There are many reasons for their minority status besides the politics of the country started by the Congress party for its own gains. One can see that more than 60% are economically and educationally backward and need the support of the govt to let them come forward.But how far they are benefited is anybody's guess. I personally feel that an educated Muslim population will be able to counteract terror and live a life of harmony with the majority population. They will have no reason to feel alienated... What is spent on Haj,is a small amount compared to the huge donations the state governments make to the temples and churches....I would agree that money should be well spent in educating them rather than give for any kind of religious issues...

• India
10 Jul 09
Hi Kiran, I must add that no matter how much the govt spends on educating muslims, nothing will be achieved until and unless the muslims themselves feel the need to change from within. Its their continuous fear of losing their 'identity' that's pulling the community back. Any secular intervention...be it in education or law or community development, is regarded as unIslamic and a ploy by 'vested interests' to gradually influence young muslims into becoming less Islamic! Its a contradiction within the community itself and its for them to come out of their shells to take advantage of the many opportunities provided by the Govt for the less privileged sections of the society.

• Mangalore, India
10 Jul 09
Hi sudipta, I agree with all that you say. But I feel that there has to be a deep reason for this kind of unrest within the community. We no doubt have too many negatives around us in neighboring Pakistan actively destabilising India, the unresolved Kashmir issue ( although I fail to understand how it has become a muslim issue over a period of time ? I think it is largely a geographical issue). These issues make the largely uneducated and illiterate Muslims insecure and hit back .Personally , one can only hope for the best. I see a lot of participation these days by the educated muslims in many social issues which is great...I hope things continue to be so..

• India
10 Jul 09
Kiran, I guess I know that deep reason. Muslims have been instructed by 'something' to keep their religion and God intact and close to them and nothing else. They've been asked by that 'something' to make all humans in this world to submit to their 'God and bring them all to His feet. They've been asked to defend their Muslim identity and the 'words' of their God at any costs by that 'something'. Besides, they've been warned of dire consequences (hell) if they don't abide by all that. Can you sense the fear? Now it's your job to guess what this 'something' is all about!


• India
9 Jul 09
Well, gogetitdear, since Muslims are of a sizeable vote bank, none of the political parties are ready to antogonize them. After some time all the Muslims in India will be given free tickets to go on their holy trip. Now, the Government is only subsidising their tickets. In the next election, some party will say, that they will be giving free tickets to Muslims to go to Mecca and Medina and some regional parties, will say, that we will not only give tickets, but we will also give you some money to spend. What to do,we Hindus have to keep quite, because actually we are the minorities in our own country. The Hindus of Kashmir have already become refugees, and in time, Hindus from Kerala, West Bengal and Hyderabad will become minorities in their own state and towns.

• India
10 Jul 09
Hmmm, insightful, Ramesh. Did you know that the funds of the Tirupati temple are showered over the churches? The main culprit is Y Samuel Rajashekhara Reddy, the CM of Andhra Pradesh. This is not hearsay. It's confirmed news. I can only predict some five decades for Hindus staying a majority in India. (Oh, that too if the current India remains undivided till then!) Sorry but honestly we've already lost Kashmir, W.Bengal, Kerala, Assam and almost all the north eastern states!

• India
11 Jul 09
Cannibal, I have also heard about this news( please note, that it is news and not a rumour).Y.S.Rajasekhara Reddy is trying his utmost best to give problems to Hindus who visit Tirupathi and Tirumala. As you rightly mentioned we Hindus may not even have 50 years and it may be less, if there is once again a division of India.


• India
13 Jul 09
So there are people like me who too think that we are headed for another partition, with the way all the political parties are wooing the Muslims? And I think cannibal is right in saying that both the political parties and the media are distinctly anti-Hindu! I really think we need a genuinely secular party in India…even the BJP failed the Hindus by going soft on the Uniform Civil Code…I think if the BJP had really gone ahead with the reforms it promised, Hindus would have voted it back to power! Instead it created another big problem with the Babri Masjid, which was wholly unnecessary and a political sham. Yes, the NE and W. Bengal has been lost to illegal Bangladeshi immigrants and the demography in many border districts has actually changed in favour of Muslims…no political party or the censor will reveal this…these Muslims just cross over and get false Voter Cards and vote for the party which gives them these illegal facilities.

• India
13 Jul 09
Its true that muslims have a sizeable population and still claim minority while there are others who really deserve that tag. Congress party is solely responsible for this state of affairs. Muslims have allowed themselves to be a vote bank of congress party. Corrupt congress party and the equally corrupt nehru/ghandy family are using this to further their dangerous agenda of destroying the nation. all the money spent on muslims is a big waste. they have remained at the ghetto level and seem to like that status. all muslim leaders are puppets of ghandy family. they will do anything to be in the good books of ghandy family. all that they want is mere announcements of welfare schemes and fund allocation for haj. most haj vaccancies are sold to the highest bidder, because for the highest bidder its still very cheap as government foots the bill. muslims can never be educated so long as they root their learning in quran and fancy arabian tales. any money allocated for their welfare is a big waste. so far that is the experience.

• India
14 Jul 09
"All Muslim leaders are puppets of the Gandhi family." I feel it's the converse. The whole Gandhi family since Mahatma(?) Gandhi is at the feet of both, the common Muslim as well as the leaders. Remember Shah Bano case? Know the proximity of the current Gandhi family to the Jamia Masjid and Bukhari?

• India
14 Jul 09
your assumption is right, as that is what most of us are made to believe into. media has tricked everyone into believing that ghandy family is a puppet of muslim community. the muslim leaders on their own do not have any power of their own without the ghandy family. they control both the congress party and the semetic religious followers. just like - all that glitters is not gold, and all that is known about ghandy family is also not true. public perception and truth are two different things.

• India
25 Jul 09
Very interesting discussion indeed! But I have no answers and feel very sad about it all. Its such a delicate subject and needs to be treated with alot of care. I don't want to see another riot of any sort.

• India
9 Jul 09
Yes unofficially the Muslim population in India is about 20% and the Second Highest Muslim Population in the world is in India. Moreover according to the 2001 census, the Muslim Population In India has grown at an exhorbidant rate of 29.3% and I still wonder why they need reservation and other aspects. Congress government, just for its vote bank gain resort to all sort of things like this. All people must be treated equally. Reservations are to be made only on the basis of Financial background and not upon the Religion. This method of reservation based on castism is totally Rubbish.

•
8 Jul 09
I think that the government should treat people the same regardless of their race or religion. This means that they should not be prejudice against a certain religion, but it also means that they should not grant people who practice that relition special favors and let them abide by different rules than anyone else. Anyone who says that they must do something because of their religion should consider moving to a place where the things that they do (such as polygamy) are already allowed, rather than try to change the current society and rules to fit their religion. Treating people differently also forces two separate societies to form. Children who would prefer to live in a secular world are forced to continue the traditions of their ancestors because they are expected to do so. When the government treats people differently it is much more difficult for an open-minded person to change their life.

• India
8 Jul 09
They are given this tag of minority as well as the rights above hindus in hindu country by a particular party which is ruling India for 50 years, to keep there votes intact.. and they are successful in doing so as most of the so called minority population votes for them. They will keep giving rights to muslims over hindus cos they know they can't be in power without that pet vote bank.. and above all the culprit was Mhatma Gandhi who allowed them to stay here even after when they were given there part of land. No problem in calling them minority but they should be treated as minorities are treated in Muslim countries.. not like what they do here just to be in power with help of there votes.