Amber, you're sweet, but....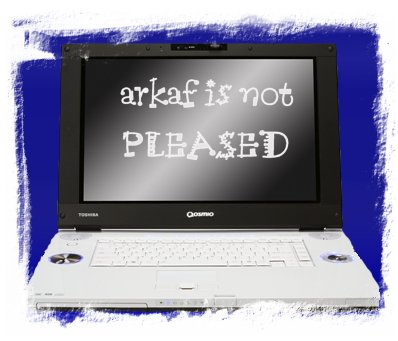 Canada
July 8, 2009 8:45pm CST
I kind of expect more from technical support than just sweetness - band aid solutions don't count either;) My last laptop lasted 6 years and it's still not exactly beaten, it's just that it has no use as laptop anymore since the screen died. But it's ok as another desktop LOL. Hubby got me a new one. This one is a Toshiba. I have never got any from toshiba and wasn't sure of what to think, but the price was right, and it had what I wanted - and also what I didn't: VISTA! -. I am having a problem so I called toshiba. That's where Amber comes in. I explained that upon waking it up from being asleep, I loose my wireless internet connection although sometimes I am able to get it back without restarting, most times it does need a restart for me to get it back. Sweet Amber told me she would help me to fix it and that she would go trough the steps with me. As she starts by telling me to click start I feel bad that maybe the manual she's reading from has very tiny letters because she is having trouble reading the next step:control panel... - hmmmm one would think that at least those first steps could have been memorized.- So I go with her trough control panel, then power management, and to the surprising solution: Set your computer so it won't go to sleep. Wow.... I wonder why I didn't think about it myself???? Maybe because I would prefer a fix rather than a band aid. Maybe I do like my computer to go to sleep occasionally - I like to take a nap or two myself. But regardless of me liking it or not, I was surely expecting another solution - something different from " Dr. when I sleep I sometimes snore" " Don't worry, I can fix it. I can cure your snoring. Here are my instructions: #1 Do not sleep...." - How satisfied are you with your last contact with tech support, costumer service, or any call that is supposed to help you and find a solution?
5 responses

• United States
9 Jul 09
I bought a Toshiba something or other a very long time ago and had a problem with it and got such a crummy poor excuse for customer service that I gave up and never got it fixed and never bought another Toshiba product since. But in this case, it sounds like it is Vista that is jerking you around. Always when we change to a new operating system there is confusion. But I thing that overall you will grow to like Vista. I did, and I was underwhelmed with all the hype and prepared not to like it a bit. Hang in there!

• Canada
10 Jul 09
Yeah, I don't think I will be buying another toshiba notebook anytime soon. Although I had a toshiba tv and it worked like a charm. I think that in time people will get used to everything - even really better operating systems LOL. I will say that vista has some positive things, but it to me it seems that it was rushed to come out and that it has many things/bugs that should have been worked out before coming out. Of course there are other things that really bother me in it as well, but slowly I am finding ways around them. Still....for now I don't like it LOL

• United States
10 Jul 09
They really count on the customer base to debug it. I remember someone telling me that XP was awful about the time I got it.

• United States
9 Jul 09
i actually used to work in staples before, i was usually the one to pick up the phone when i worked, so i got some strange questions. one time a customer called to ask how to insert a CD into a computer... i found it so funny that i thought i should make others laugh too, so i called a guy who worked in the department where they sell computers to answer this question... as for Vista, i really hate it... i bought the laptop i have now only because it was XP and not Vista lol... but you might want to try getting ubuntu, it's free and takes very little space. you can have both vista and ubuntu. start ubuntu and see if you like how it works. it's very similar to windows, so it's not hard to work.

• Canada
9 Jul 09
Don't even start me on Vista LOL I really don't care how many people like it, I find it the most horrible OS I have found so far, not even millennium was this bad grrrr WHen we bought this one I did ask if they had any with XP but the answer was no. Although sweet Amber told me that I could have asked if I could "downgrade" at the time I bought this one - they call it downgrade to XP, I'd call it complete upgrage LOL As for ubuntu I've been thinking about it. We've been giving it a try in another one of our computers and so far, it's great.

• United Kingdom
9 Jul 09
Hi there Twin, I think that is suppose to happen but not sure, as mine went of the connection to I have turned mine of as well so mine after a while just locks if I leave it on and away from it to long I have to admit they are not to bad here with that sort of thing but I would have rang my Internet provider as I think they know a lot more lol It does sound though like she was not sure what she was doing Here we also have something called Technical Support who are very good But yes I have come across a lot of Bad Customer Services and it is very frustrating to deal with

• Philippines
9 Jul 09
hey,,i have a laptop dell brand..it was given to me from a friend as a gift..after 2 months from using my battery stop working..its already useless,,it hurts me a lot..what would be the possible problem for that?

• Canada
10 Jul 09
Hi twin dear :):):) I actually like the sleep function, and it always worked perfectly on my other laptop. I guess Toshiba doesn't like to sleep LOL This girl was supposed to be tech support, and if this is a known issue with Toshiba they should have found a way to fix it at the factory level, but as tech support she didn't show like she knew much....oh well, she was sweet hehehehe

• Canada
10 Jul 09
bonito_ejo, I have heard about other people complaining about dell and batteries.Actually a few years back dell recalled a lot of units because of battery issues. So the computer is only 2 months? Did you try taking out the battery and inserting it back again? Batteries seem to be quite sensitive to power fluctuations,and even temperature or humidity. If there is a surge they sometimes get damaged. If the computer/battery was older, I would say that the battery might have run its course, but at 2 months that shouldn't be the issue.

• United States
10 Jul 09


Did you ask her where is her office. Yeas ago I used to pay for tech support that I found was from Pakistan. I didn't understand one word and help desk was supposed to go over instructions step by step, making people feel like total idiots... But Amber is right, sleep function in Toshiba is the problem, I have the same issue...


• Canada
10 Jul 09
I did not ask where she was. But I'm assuming that somewhere where Toshiba would have to pay the least possible - pretty soon probably on Mars LOL I did read about Toshiba's sleep function problem. But hey, that should have been fixed once it became apparent that it was a problem.( of course the blame is on us, the consumers that continue to buy the darn things ) I was just in hopes that there was something to fix it, since I do like my laptop to

every once in a while.What's the point on having a function that doesn't work ? I actually have other issues but for those I might have to look beyond Toshiba - like after being on firefox for sometime without typing anything then I can't go into a new page, it just says done but does nothing, or says stopped. I can close firefox, but it will still be on processes in task manager and there is no way to stop that process.Eventually I can't even turn down the stupid computer and have to turn off with the button. Not nice, and never happened with my other laptop - but then again the other one had XP

• United States
10 Jul 09
...they replaced my screen twice already for free...after I requested someone who is in USA...not in Pakistan or Guatemala...but I can not turn it of for last 6 months... Also, screen is black when computer is in prolonged sleep option on its own....

I guess I make it tired...

.......

• United States
9 Jul 09
I make my hubby stay home and make those calls. Actually my son is in town and he is pretty good tech support. He can even speak English without an accent, which is nice. At least Amber is a real live person, and not some automated press one, then press three type program.