I Try Real Hard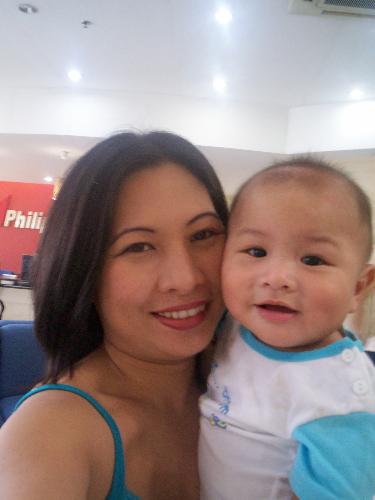 Philippines
July 19, 2009 9:23pm CST
[i]to be a Dad aside from being a Mom to my son... but could my "ex-friend" said about single Moms are true? She actually posted on her blog that women who think they can be both a Mom and a Dad to their illegitimate child are living in pretensions. That is after she realized I am happy being a Mom and that I endeavor to be a Mom and a Dad to my son. She became an ex-friend because I find it hard to accept that a supposed friend who should be there to support me when I'm down and be happy with me when I am up there. She has always been jealous of me and I can hear her heart clapping when I got pregnant and the baby's dad abandoned me. She was then full of sympathy, giving me advice, telling me I am really down and that I need help. But when I told the world (on my blog) that I am happy being a single Mom and that I think I can make it, she was rather indignant about it and posted on her blog that "It dismays me that some women think their children don't need a father. No mother- no matter how good or bad she is- can replace a father's role in her kids' life." And I thought she wanted to support me in my endeavor to become a good Mom to my son... I am bitter, I won't deny that. Why? I considered her my best friend... I should have known better.[/i]
10 responses

• Singapore
21 Jul 09
Hello maple_kisses, I am sad to hear that your friend is so mean, perhaps she is jealous that you remain happy, remain beautiful and have a cute little child after all those things happened. She cannot handle. Perhaps you still have everything that she is seeking. Do not have to try to hard to be a father, something you would never be able to replace, just play, be with your child. I think he would appreciate much more.

• Philippines
21 Jul 09
She's always been insecure of me and she admitted that on her blog. I imagine her happiness when I had problems again and now she's talking behind me again... She wants a son and still cannot conceive after 3 years of marriage, I guess it's karma or maybe she's not just equipped to be a Mom. Whatever it is, I don't care anymore, she's out of my life and I'm happy about it. I'll concentrate on trying my very best to be a good Mom to my son.. happy mylotting


• United States
20 Jul 09
bless your heart, u have the hardest time, i'm sorry. I am here to tell u , u can raise nico by yourself, been there done that. it's sad but true a mother can do anything she has to raise her child & I KNOW U WILL DO THIS IN A FINE WAY & HE'LL TURN OUT TO BE JUST FINE. AS FOR THE "LADY" THAT WAS SUPPOSE TO BE YOUR FRIEND FORGET HER, SHE IS NOT YOUR FRIEND. Quit trying to please everyone & just look after yourself & nico & to hell w/everybody trying to make u feel bad. GIVE NICO A HUG FOR ME.

• Philippines
21 Jul 09
Hi sweet Jo, thanks for the encouragement dear, I really appreciate friends like you. I realized she has never been a friend to me all this time. It's really true that it isn't the length but the quality of time you spend together... I am letting go of her ugly so-called friendship, I realized she just used me

and now that she have someone else to use (her foreigner husband), I'm not needed anymore. I will try my best to be a good Mom to Nico. I know it will be hard but in the future, I hope he will come to appreciate the things I do for him. Hugs and kisses to you.... Thanks for the love and support


• United States
21 Jul 09
I know u will be a good mom to nico, how could u not w/his little sweet self. U will eventually get your feet on the ground & learn to cull out these people who come into your life that u don't need. I think u are just trying too hard to find love. Right now just let you & nico's life be good together. U will find out that u don't have to have someone to make your life complete. happiness is a state of mind,& u have alot to be happy about w/that precious little boy. HUGS TO U BOTH.

• Canada
20 Jul 09
well now you know who she really is her sympathy was a lie she probably think you are lying when you said you are happy being single mom which is weird single parents are not uncommon status at all you're way better than your son's dad or did she think he is affectionate? LOL good riddance

• Philippines
21 Jul 09
For now, I really don't care about what she thinks anymore, I bid her good riddance and I hope I won't see her again, ever... Have a great day..

• United States
20 Jul 09
Does she have kids? If not, maybe she's jealous of you. People often do things like that when they're jealous. She also sounds bored and unhappy in her life. You're better off not dealing with people like that. They will only try to make you as miserable as they are.

• Philippines
21 Jul 09
She has been wanting a son for 3 years now. Her husband is getting frustrated that she can't bear a child. I remember her reaction when I told her that I'm gonna name my son "Nicholas". She said "But that's the name of my future son! Find another name!" But my mind was made up and so she was upset that my son took the name as if it was patented for her. She made my life miserable alright. I guess I was better off if I haven't met her at all. Thanks for dropping by...

• United States
20 Jul 09
My best friend was raised only by his mom. Granted his dad didn't abandoned them, he passed away in a car accident before he was born. His mother also didn't remarry or anything like that and she raised her son by herself. Let me tell you, he is one of the best men I know to this day. His mom did make sure he had some male role models. He still had his grandfather around so that helped a little but he was raised by mainly by his mother. For your ex-friend to say that, I would definitely say she needs a life. She needs to be there to support you and not criticize you. I would be bitter if I was you as well. Try to surround yourself with people that are only supportive of you raising your son by yourself and I wish you all the luck in the world :-)

• Philippines
21 Jul 09
I admire your friend's Mom for having the strength and willpower in raising her son. I hope I can do the things she dis for her son as well... Well, the ex-friend has been my destructive critic for more than 10 years. She loves to see me down, feeling that it will make her look better than me. I'm done with her. I have enough of her games. I will definitely find people who sincerely cares... I have my wonderful family, cousins, aunts, and friends to support me. Thanks for your response. have a nice day..

• United States
20 Jul 09
I do not want to upset you but there are things that a single parent just cannot compensate for. From either side if a child is missing a mother or a father which ever there is something missing. This of coarse doesn't mean you cannot raise a happy healthy son. Do not take what other people say to much to heart just love your son and do the best you can.

• Philippines
21 Jul 09
I know nobody can be a perfect parent, even couples cannot be perfect parents to their children. I was just hoping my friend would see my effort and support me on my endeavor to be a good Mom and not bring me down like that. I vow to raise my kid as a good person and I'll do the best I can to give him all he needed... Thanks for the response.

• United States
20 Jul 09
I know you feel betrayed by a friend! That's hard to swallow. It's better if she said it to you even if it hurt than to go around another way to express her views. I was a dual-role mom. You just have to play both roles sometimes when you are raising children alone. People do not always understand that. I never tried to be "a dad" too, because I am a mom. But I was the best mom I could be. Since they had no father figure, I tightened up on things like discipline and helping them learn how to help me! I knew I couldn't be a dad... but I had to fill in those gaps. Then one year, my daughter after she was grown sent me a text for Father's Day. It said, "Happy Father's Day mom" ... I texted back and told her I wasn't a father... and she said, "it's for those times you had to be both." It made my day that she realized I carried a double load! It isn't like being married where you can bounce thoughts off someone else or have someone help you balance it all out. You just gotta do it all yourself! And that takes guts!

• Philippines
20 Jul 09
Wow! You're a wonderful Mom! And it showed when your child sent you that wonderful message. I hope I can be as tough and responsible as you. I know I can never be a Dad, it's just impossible but I hope one day my son would come to realize as well (just like your daughter) that I tried my best... God bless...

• Canada
20 Jul 09
That person needs to get a life. I grew up with "A mommy, and a daddy, and a big sister" all in the same house, and it was h3ll!! No one got alone!!!! Now Mom and Dad are divorced and living separately with new spouses of their own, and we are all very happy. My sister lives in a town she likes better than our hometown, but we still see eachother. I saw her just last week, as a matter of fact, when she came to have coffee with me in Guelph!! children don't necessarily need a Mommy and a Daddy, they just need to be loved!!!

• Philippines
20 Jul 09
Thanks for the enlightenment gurl... I was confident I can do this until my supposed friend toppled on my spirit... I'm glad everything went fine with you and your family... Thanks for the response again...


•
21 Jul 09
How could she done that to you?I think she is not your real true friend, she maybe pretend to be your friend, and happy to see you down, but fight her, people who have bad motives in thier heart will not going to sucess. If you're not trying hard, to be a dad and mum at the same time, who else will gonna do that to your baby? It's only you who going to stand as a father at the same time as a mother, He is your whole responsibility. Some of the woman they have husband, thier kids have a daddy, but it's only in the name not in deeds, some daddy doesn't care to help thier wives to look after the kids, don't bothered to play with thier kids. I knew someone, he don't like changing his baby's nappy lolz. Most of the time, it's his wife looking after the baby, even it's a shared responsibility. I know your a great mum and dad. Happy myloting.