Who Should It Go To...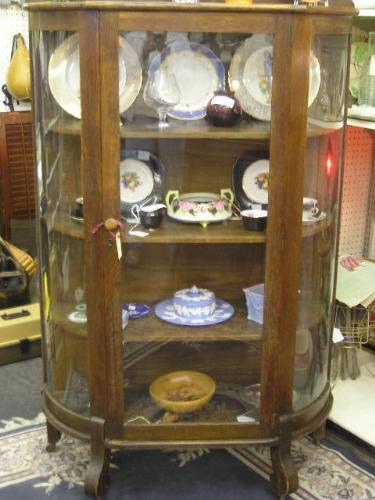 United States
July 25, 2009 8:29am CST
Most families have family heirlooms that get passed down from parent to child. Sometimes though you have one heirloom and two kids so how do you decide who gets it. A friend of mine has two older kids and one antique china cabinet that has been handed down for three generations. Now both kids would like the china cabinet to be handed down to them. The parent has decided that whichever one wants to buy the cabinet for $500 can have it. Her reasoning is that if they have to pay for it, they'll take better care of it. One child feels it should go to them b/c they are the oldest, the other thinks it should go to them b/c they are the more responsible of the two. I'm siding with the responsible one b/c I think something that old should be with someone who is going to take care of it. I'm also not sure how I feel about them having to pay for it… BTW, this isn't a picture of it but it looks just like this...this one is just from the net. How would you decide who gets it? Would you make them pay for it to ensure that they will take better care of it? Who will get your heirlooms and how will you decide? [b]**AT PEACE WITHIN** ~~STAND STRONG IN YOUR BELIEFS~~[/b]
8 responses

• India
26 Jul 09
If both are going to desire it then it si a tough decision.I would suggest another thing.The parent should get a carpenter to make a similar cabinet and share the crockery pieces between the two.There is no choice.tHGE SIBLINGS CAN THEN Look for some remotely matching piees and complete it in the decent manner possible. If both want it the parent has no other choice.

• Philippines
26 Jul 09
Hi there!

If I'm going to decide to whom a heirloom should be passed on, it should be the eldest child but it would depend on the child's gender. For example, the heirloom is primarily for a woman's use then the eldest daughter should have it. If the piece are for boys, then it's the eldest son. I think this way it's fair enough. And for sure I would not be letting my children pay for a family heirloom. It should be passed down and not bought. Hope that helps. Ciao!


• United States
25 Jul 09
seeing as both want is than maybe she is right to tell them that they can buy it for $500 dollars. she could put the $500 in the bank let it drawn interest and it would go to the one who did not get the cabinet. Her 2 children need to think of their mom and not themselves and stop fighting about who should get the heirlooms cabinet. they are putting alot of stress on their mom and to me that is just wrong.

• United States
25 Jul 09
I'm an only child, and things like this make me only want to have child. (I've never had the desire to have more than two children, though). A lot of time family heirlooms, and properties, cause huge problems and rifts between families and siblings. Personally, I would give it to the older child. That's the standard and traditional way. I also think when you say you're going with tradition rather saying "So and so got it, because you'll just break it" hurts less feelings. I don't see how the parents could charge their own kids. Seems a little tacky to me, especially since we're in a recession. I wouldn't buy it on principle alone.

• United States
25 Jul 09
I would make my children buy it if they were going to fight over it. Obviously if their mom chooses one over the other there will be problems and so she is being reasonable as far as I am concerned. In my family there are 3 of us girls and we each have very different tastes and likes. I do not know if this has made it easier on Mom to give us the heirlooms she has given us but she has always been fair about it as far as I know. She knows that I do nat wear jewlry so it will go to another sister. Both of my sisters have dining room tables, one from her husbands family and the other bought the one she wanted, and so I will get the table that has been in use in our family for over a hundred years. We are more practical about it than some people are. Mom has instructed us that when the time comes we can have a garage sale to get rid of what we do not want. At the same time we got almost all of our fighting and bickering done with as children and so we generally get along now as adults. (If I tried to pull the "I'm the oldest" bull on my sisters they would laugh at me and then ensure that I did not get what ever it was to teach me a lesson. It would be deserved.)

• United States
26 Jul 09
That is a tough one. I have a couple of things that I am going to leave to my children. In the case of something like that..I may give it to the one that marries first. For their home when they get one. That would give a possible heads up that they would show responsibility too. That's not always the case but at least that way it would be given to one that is somewhat settled and hopefully won't be moving around a lot.

• Canada
26 Jul 09
All right was your friend the oldest child, the youngest or one in the middle? If for instance the cabinet was handed down to her because she was either the oldest, youngest, or whatever, it should be handed down in the same manner to her oldest child. It really does not matter whether one will take better care of it and appreciate it, or one is a nicer person, or whether one wants to buy the cabinet. It depends on how it was handed down in the past. Now if the mother got it from her mother because she could better take care of it and if her grandmother got it from her mother because she could take better care of it, and if they were in different birth orders, then it would be okay. As for making the one who is to get it to pay for it, it is an inheritance. Of course if the one who gets it says "well we live in a small apartment," or "I never liked this old thing," she or he could sell it to their sibling, but only after the mother passed.

• Singapore
26 Jul 09
twoey68, I just do not understand why the fight and tussle at your friend's family. Don't they have an established custom? In our custom, the heirloom which is a symbol of continued heritage is naturally passed on to the eldest son on the condition he gets married and has a son in his family. Failing which the second in line will then receive it. Also, there would be an heirloom from each generation as there will be bound to have different number of offsprings in each. So, there is very little tussles within when our grandparents and parents have made us aware of the family's tradition and that we are to carry on with observing it. I hope that their issue will be resolved and I will definitely not be adopting what your friend had done here with my family's heirloom.