Did some stranger tell you to be careful not to be addicted getting online?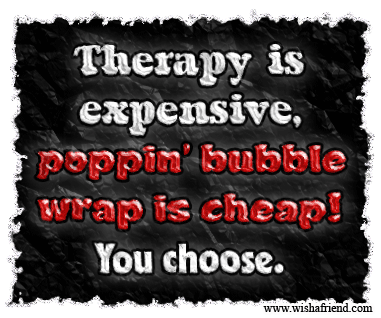 Philippines
July 28, 2009 4:16pm CST
I am active on social network sites and to some paid to post sites such as Mylot. But my attention is focused in Mylot when it comes to voicing out my ideas and thoughts. I never knew that someone i added as a friend, surely a stranger to me, would be telling me to be careful of not getting too much online???? He said this "Very surprisingly, whenever i enter the site u will be there. How? Don't get addicted friend. upset? SORRY". And my response was this "What sites do u mean that you see me? of course I am active, i would never be upset if i am earning online. If to you that is addiction, for me this is my income since i am a stay at home working online wife and i have no regret since I am happy with what i do." Is that guy being sarcastic or what? Did I do something wrong that he sees me every time on a site he goes to? I never upset anyone, but for him he was saying sorry to me? What is your opinion guys

.
9 responses

• United States
28 Jul 09
If this was a close friend, then I would think they were just worried about you. But this was a stranger?? How odd! I'm not really sure if he was being sarcastic or just felt like posting something random. I wouldn't get too worried about it, though. You get all kinds of people on the Internet, and it might have been totally innocent concern. Happy Mylotting!

• Philippines
29 Jul 09
yes, i don't know the guy. When will you say a person is an addict? that's what I am saying. Yes, I know, i do encounter a lot of different kinds of people online, even this one is so strange.

• India
28 Jul 09
I guess if he was a 'friend', he was just telling you to be careful not to reveal too much about your personal self through your discussions or responses. Maybe too much information to outside people is harmful and can be used in a negative way and so he was asking you to be careful. But hey, I guess ultimately this is a forum to discuss things, so whatever you write give it your best.

• Philippines
29 Jul 09
But how can he say that, he was just a newbie on the site to where he left that comment. Besides, if what he claims is true, i should have seen his face too because of his photos on his profile, which is, I don't even know him at all. And as I said, only Mylot is the site where I voiced out my opinions, not personal issues of my life.

• United States
28 Jul 09
That is a very weird comment! I don't quite understand his reasoning... If he sees you online all the time, isn't he on the same amount of time you are, if not more? So why would he warn you about getting addicted if he's doing exactly what you are? That's just weird... If he had just left it at "Don't get addicted friend." I would take it as he was being cute and joking. But then he said "Upset? SORRY" which just makes it seem like he's being serious and he thought he may have offended you... That is so bizarre!! I don't know what to make of it!

• Philippines
29 Jul 09
Yes you are right Trickiwoo, it was really weird and strange thing to say since he is a stranger to me. Anyway, we all meet different types and kinds of people every day


• Nigeria
29 Jul 09
Ignor. Keep doing what you so much believe in

• Malaysia
29 Jul 09
oh.. if he is in the same site as you, is he be said as addictive as you? Isn't he calling the kettle calling the other kettle black? I am sorry if I have hit the other person, no doubt I don't know who is he, however what I am saying here is you have your ever right to enter any sites, and make friends. Why is human being so difficult, can't we live everyone in peace? Have you intrude his privacy or making his earning less by entering the same site? In such a case, then we should all get back to the "monopoly" world, where only the strongest survived? We can't share?


• Philippines
30 Jul 09
yeah you are right. I don't know why is he questioning me about me going into sites that he is also. Although i don't see his face on sites I am really into. Even if he claims that, it is still strange that he says the word "addicted". When he does not even know me at all. Thanks for responding.

• United States
29 Jul 09
Online is an addiction. I do agree if someone warns you on that. Sometimes I'll be spending lots of time online without knowing what time it is and it can effect my sleep. I would be online late at night and when it is time to sleep i'm sleep unaware what time it is and when I finally sleep it is extremely late. And then I get less sleep. Addiction to online is a serious issue just like how people are addicted to televisions. I would take the person serious instead of thinking it was sarcasim. Unless it is a friend then it doesn't even matter if they were serious or not. They would support your choice regularless just because you guys are friends. But strangers i doubt they were joking since they probably dont know how much time you spend online. Now crazy people blabber stuff out of their mouths and if he was doing that then maybe he was just repeating what someone try to start a roomer about. The whole telephone effect. myLot is very addict and it is based ONLINE which can cause an addictional vice to the whole effect of the online business. It does keep me up but not like other earning programs. myLot i usually do because i just feel I need to help out so that other people that believe in myLot will still have a community to come to. I in the other hand like to just post here and there and making money isn't really my goal because you don't really earn more than if I was on the side begging or asked a friend for 10 cent. If I asked 3 friends I'll earn more money than myLot in on day and it would of only took me just encountering my friends which only probably take only one minute. So myLot addicts its just the addict not the money you earn. Unless you've figured out a way to liquidate myLots money to go into your pocket then congratz because myLot might go down because of "fake" stuff being spreaded around. I conclude that it is true that addict is possible for "online". God bless everyone

• Philippines
29 Jul 09
Well i take that word you said " Crazy people blabber stuff". This happens here too, people would pull down the site. I am already aware that if a certain tree bares a lot of fruit, people would be throwing a lot to get that fruit. If there is no progress in Mylot, nobody will attack it. So i beg to disagree about Mylot to go down because it has been for many years. Addicted according to online definition is compulsively or physiologically dependent on something habit-forming. Let me borrow what wikipedia speaks about addiction. The term addiction is also sometimes applied to compulsions that are not substance-related, such as problem gambling and computer addiction. In these kinds of common usages, the term addiction is used to describe a recurring compulsion by an individual to engage in some specific activity, despite "harmful consequences", as deemed by the user himself to his or her individual health, mental state or social life. Anyway thanks for your honest response. I appreciate it.

• China
29 Jul 09
Thanks anyways for responding. Happy mylotting!

• Philippines
29 Jul 09
what's this??? wrong post? are you the thread starter to say thanks for responding


• United States
29 Jul 09
That is really weird that a stranger would send you a message like that. Of course it is true that you can become addicted to being online. Still, it is very weird how that person told you.

• Philippines
29 Jul 09
yes I know, it is too weird. Anyone who calls you addicted to something? which is very odd and opposite. I don't know him and neither is he a close friend to me. Anyway, i will just ignore the guy.

•
29 Jul 09
That is so weird.. I bet he's some stalker trying to intimidate you. If he has a problem with you being online then obviously he's a sad case and a joke. Girl you stay online for as long as you want! He doesn't pay your internet bill neither does he pay you to be here. Ignore him and tell him to bugger off!


• Philippines
29 Jul 09
You are right Jellymonty. I don't know the guy and yet he calls me an addict

. It's so nice of him to pass a comment such as that.