Do you encourage your kids to watch NEWS on TV?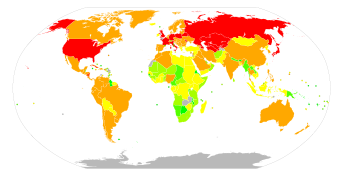 Malaysia
August 2, 2009 11:26pm CST
MY kid (aged 14) like to watch news on TV. While watching news, he has so many questions (including what is rape, gay,etc ).Sometimes I am unable to answer these questions. When encounter these questions, how do you answer your kids?

Please discuss!
8 responses

• Canada
3 Aug 09
Hi curious, My children are all grown with families of their own now, but when they were growing up I just gave them honest answers. Since your child is aged 14, I'm surprised that he doesn't already know the answers to such questions, in any case I think you have a great opportunity to give him truthful answers. Blessings.

• China
12 Aug 09
i'm not married and no kid right now, but i know that take care of a kid is a big progrem, especially on education, i think for those question, give a honest answer is a good way because you kid aged 14 is too old to accept those matters.watch news on TV is very popular to got some useful thing. good luck and have a nice day!

• China
3 Aug 09

Both my son and I love to watch news on TV as it is vivid and live. We watch TV news every day so long as it is turned on. I also encourage my son to read news on the newspaper we have booked for him, which is called Reference, a good newspaper for knowing more of the world. My teen son seldom asks me about those questions. I am wondering how I will be able to answer if I am asked about them...

• United States
9 Aug 09
It's hard when they ask you questions about the news. There are so many terrible things going on and the only thing we want to do is protect them. My suggestion would be to answer them as honestly as possible without being to graphic. If it's a killer or a rapist..I always answer with..Sometimes people have problems in their head. They are sick and very dangerous. That's why we don't talk to strangers even if they look normal. I try to use some of the things we see to help them stay safe in the future.

• Malaysia
12 Aug 09
Thanks for sharing your views . I think this is one of the ways that works. Happy mylotting.

• United States
3 Aug 09
My children are all adults now, but when they were young and had questions about anything, i always answered honestly, but i only gave enough information that i thought that they could understand, according to what age they were. I think that keeping the communication open like that will help when they are older and it will help with them coming to you with things when they are older.

• India
3 Aug 09
yeah, these days kids are much more curious and ask a lot more questions than we did. it sometimes gets really difficult to answer them. i think we should answer them accordingly based on how useful it is to him at that age. otherwise, they will not be able to differentiate between what they should know and what they should not.

• Malaysia
12 Aug 09
I agree with you that we should answer them according to the age and usefulness to them. Thanks for sharing !

• United States
3 Aug 09
I encourage my daughter to wath the news sometimes but not all fo the time. She usually does not watch it on her own though. She is 17 years old and really does not ask me much about it. I encourage her to watch the important things, especially locally.

• United States
3 Aug 09
When i was a child, i didn't really have much choice but to watch the news on a daily basis, as that is what my parents often had on the tv. I think it was good for me, as it taught me to pay attention to the world and what is going on around me. I don't have children, but if i did i would encourage them to watch the news with me as i think it is important for children to know what is going on in society. I can see how this might bring up some interesting questions and discussions. I supose depending upon the ages of my children i would give simplistic aswers. if the question is "what is rape" and my child was quite young, iwoudln't go into all the gory details, i would simple stay something to the effect of "rape is something that bad people do to other people that hurts them" or something like that. If the child were older, and knows about the "birds and the bees" already, i would go into slightly more detail, and mmake sure to impress upon them that it is illegal, harmful and wrong.