Nice and refreshing:):)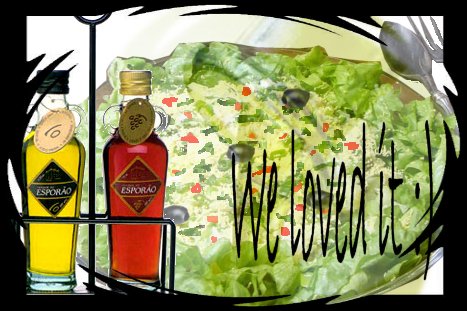 Canada
August 5, 2009 2:04pm CST
During the summer it's usually too hot for me to want to eat heavy food - I guess this happens to everyone. I tend to do a lot of salads and foods that don't have to be served hot. One of the favorites in our home is potato salad. We eat that one a lot during the summer. We try to keep the mayo to a minimum, but it's still mayo LOL Yesterday I was talking to a friend from back home and she reminded me of a different way to make potato salad - kind of Portuguese potato salad hehe, and that's what I did. It was delicious and everyone wanted seconds - which might not be all that wise but certainly hits the spot. This is something that apparently people used to do a lot in the villages, using the things that they had at hand. After cooking the potatoes we need to smash them with a fork, not nice and creamy like the mashed potatoes we usually make, it's suppose to have bits and pieces not mashed. Then we let it cool while we cut the lettuce - julienne type - cube tomatoes and cucumber. After the salad is done we dress it with only olive oil and vinegar - whine vinegar is better, or if not better is the one that I['m used to, so to me it tastes better LOL In a bowl, mix the salad and the potatoes -it's supposed to do with our hands but I tend to cheat:) Check to see if it needs more salt or vinegar.Use some olives to garnish( we like the Portuguese black olives ). It's nice, refreshing and doesn't have as many calories as the regular potato salad.We can eat it just like that or as a side for steak, grilled fish, etc. I'm planning on making some more for one of our meal in the weekend. Have you ever heard of this potato salad or made it yourself? Are you a big fan of potato salad? What other ways have you used to reduce the calories of the potato salad ( if you thought about it at all )?
8 responses

• United States
5 Aug 09
I like the black olives in my potato salad, and lots of egg, but rather than cutting back on the calories, I just eat a smaller portion, as I treasure the creamy texture and taste. What I do, however, is add more celery and onions and bits of other vegetables to healthy it up. I have heard of using olive oil or yogurt instead of mayo, but although I like yogurt by itself, I didn't care for it in the potato salad. When making pasta salad or potato salad, I use cooked carrots, again to keep the texture creamy.

• Canada
5 Aug 09
I love it with lots of egg too. And I know what you mean about the creamy texture.I usually put cooked carrots, peas, onions, cucumber diced very small, and then just for the extra protein, shrimp or king crab, yummy LOL But from now on, I will be making this other one as well. I roasted peppers and ate them with the potato salad. Of course it helps if one likes the vinegary taste. I do LOL

• United States
6 Aug 09
I am very much like Drannhh, liking the creamy texture and extra crisp vegetables. I have had potato salad made with sour cream but it does not lessen the calories, unless you use fat free.


• United States
6 Aug 09
I do not make potato salad, I used to get it as a side order for a chicken family meal that I used to get from Stater Brothers, it turns out I made my kid sick with it (no literally tho) and that it seems no ones misses it but me, so I guess the way I could make it more fattening or less fattening how by how much I ate


• Canada
6 Aug 09
LOL I had that happen with the creamed spinach. I love it and it used to go well with lots of things so I kept making it. But after a while they didn't want it anymore. Now I just do it for myself, but it's not the same thing hehe I'm always trying to find ways to get everyone here to eat more vegetables and it really takes a lot of creativity. Andre is ok with vegetables but hubby and katt are not, I always have to disguise them, dress them up, etc. etc. etc.

• United States
6 Aug 09
I know what you mean, it becomes harder as they become older, I do not believe my kid likes my cooking anymore (she is 18) I am considering buying things for her to cook for herself and to limit myself to cook for Frank and me only but then again I do not want to start drama either, so it is a lose-lose situation for me.

• Canada
12 Aug 09
Yes, kids often decide they don't like our food that much anymore. My daughter sometimes comes over my shoulder when I'm cooking telling me that I'm not following the recipe LOL She sometimes buys stuff that she likes but usually just eats what everyone else is eating or cooks something herself. She's a good cook so it's great when she decided to treat us :)

• Regina, Saskatchewan
6 Aug 09
Being Irish, potatoes of all kinds are kinda my thing, but I've never heard of this potato salad. You betcha I'll be adding it to my roster though. Sounds yummy. Now here's a HOT potato salad that's great for the winter. Cut up your potatoes into bite size pieces and then cook them, being sure to take them off the heat just before they get really soft. A little firmness is ok. Drain them, put them in a bowl and add plain yogurt, or sour cream (which is really good once in awhile if your watching calories). Mix them up and add some chopped scallions or green onions, some garlic powder (NOT garlic salt), some celery seed (optional) ground pepper and top off after serving with shredded mozza cheese. Except for the cheese, all the other ingredients can be premixed while the potatoes are cooking so the salad is still hot when dinner is served. TOOOOOO yummy and can be served with anything. If you add chopped bacon or ham, you can eat it as a meal all by itself! LOL

• Regina, Saskatchewan
6 Aug 09
Enjoy. We eat a lot of boiled potatoes here in Canada. I usually boil them and just before they go soft I take them out and brown them in butter. More yummy! lol

• United States
5 Aug 09
That sounds like an interesting way to make potato salad.I never thought about putting lettuce tomatoes or cucumbers in it. It is usually eggs celery and I have put in radishes for a bit of bite and some carrots or other crisp vegetables. I usually use a potato masher to mash the potatoes because I don't like the cubed potatoes. I usually put in some mayo and mustard but I'm going to try it your way this week. my grandson eats it up pretty good.

• Canada
5 Aug 09
If you try it, don't forget to let the potatoes cool after cooking and mashing, or else they will cook the lettuce. It really depends if people like the taste of the olive oil and vinegar or not. Personally since it's the salad dressing the we use the most in our home - thankfully not spending money on the zillions of salad dressings out there LOL - it's something we all like in our home.

• Garden Grove, California
6 Aug 09
hi arkaf I havent heard of this recipe but sounds really good and a bit less caloric, I love potato salad with black olives chopped in it and cooked crisp bacon crumbled into it to, and celery cut realy thin for a crispy crunch, and i always used fat free ranch dressing preferally hidden valley, so there is more calories saved. we have potato salad here at god crest at least once a week and its realy quite good too for a wonder. I really dig the stuff hatgley here

• Canada
12 Aug 09
Yes, it is really tasty, at least for people that like vinegar. I don't usually make it for the lower calories, just because we really like it, but I know of some people that choose it to add in their diets.Some even put much more salad than potato in it. I have never tried it with ranch dressing, but I will probably like it because I like that dressing. I still make the other kind often, but I"m including this one too now that I remembered about it :) Have a great day :)


• Canada
12 Aug 09
You know what twin, I just entered that for the benefit of healthy conscious people. I couldn't care less about the calories LOL THe fact is that I eat it because I like it, but I might have a huge milkshake right beside it hehehehe In any case, I have to conceded that it is healthy and probably healthier than the ones made with mayo:)

• Malaysia
6 Aug 09
Hi arkaf, seems that it's really delicious to take the potato salad as meal during hot summer days. Here we don't have summer season. I think it might be similar to the hot sunny day weather here. Yeah, during the scorching weather kids don't have any appetite to take the hot dishes served. I usually would prepare vegetable porridge for lunch. But my son loves mashed potato very much. So most of the time we take the mashed potato together with fresh pickle. It's prepared from slices of cucumber, pineapple, carrot and onion. After mixing the ingredients with the required amount of brown sugar, salt and apple cider, I then place the big bowl of mixture in the fridge. It could be served together with the mashed potato after two hours or so in the fridge. They are really yummy!

the dishes will finished entirely. Happy posting


• United States
6 Aug 09
I do not really try to reduce the calories. I mix mustard and mayo. I know that German Potato salad has less mayo, or at least I think it does. There is one that is often served hot. Your Portuguese potato salad sounds really good.

• Canada
6 Aug 09
Yes German potato salad is supposed to have less mayo, at least the way my mom used to make it. We also used to have russian potato salad. We were very international even back then LOL I like the one I made because I really like the taste of vinegar in certain things and it all goes well together. It's a change from the regular potato salad, which is good too :)