what do u knw abt ozone?`

India
November 13, 2006 2:19pm CST
5 responses

• India
13 Nov 06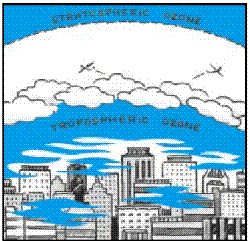 vaguely i would say its like a shield around the earth atmosphere..that blocks the harmful UV rays from the sun to enter earth atmosphere...

• India
22 Dec 06
The ozone layer, or ozonosphere layer (rarely used term), is the part of the Earth's atmosphere which contains relatively high concentrations of ozone (O3). "Relatively high" means a few parts per million - much higher than the concentrations in the lower atmosphere but still small compared to the main components of the atmosphere. The ozone layer was discovered in 1913 by the French physicists Charles Fabry and Henri Buisson. Its properties were explored in detail by the British meteorologist G. M. B. Dobson, who developed a simple spectrophotometer that could be used to measure stratospheric ozone from the ground. Between 1928 and 1958 Dobson established a worldwide network of ozone monitoring stations which continues to operate today. The "Dobson unit", a convenient measure of the total amount of ozone in a column overhead, is named in his honor.

• India
26 Feb 07
Ozone (O3) is a triatomic molecule, consisting of three oxygen atoms. It is an allotrope of oxygen that is much less stable than the diatomic species O2. Ozone in the upper atmosphere protects living organisms by preventing damaging ultraviolet light from reaching the Earth's surface. It is present in low concentrations throughout the Earth's atmosphere. It has many industrial and consumer applications as well as being used in ozone therapy. (wikipedia)

• India
16 Feb 07
Ozone is a protective layer of O(3). It protects us from harmful radiation that comes from the sun. There days ozone is depleating and this is very harmful. Depletion of ozone is due to CFS used in electronic products like refrigerators.. Help protect this layer. Its for our good.

• United States
16 Feb 07
Ozone is the tri-atomic form or oxygen. A GOOD gas, it gets confused with smog for some reason. Seems as if everyone here is refering to the ozone LAYER. Ozone is also used in water treatment, air treatment and health issues. Oxygen therapies are use through out Europe. Some good info here: http://educate-yourself.org/ozone