Am I the Only One that Finds it Creepy...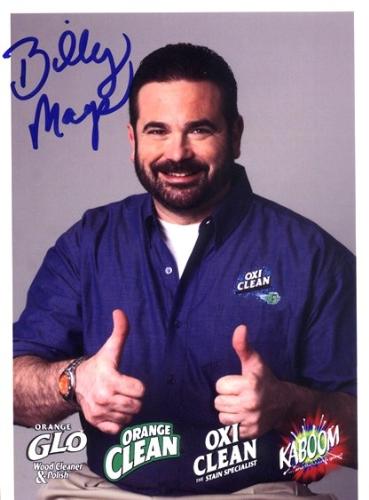 United States
September 4, 2009 6:55pm CST
That they're STILL showing the Billy Mays commercials? I know he died very suddenly, right after we heard about Michael Jackson, so when I continued to see the commercials a week or two later, I didn't think much of it. But they're still playing them!!! Isn't this some type of disrespect? Out of all the endorsements he was doing, did no one think to make even some tentative plans about final expenses? Was he in debt that bad? Or is the family just that greedy? I don't know what it is, but this just doesn't sit right with me that Billy Mays is still selling products from beyond the grave*shudders* What do you guys think? Am I over reacting, or is there something just seriously wrong about this?
9 responses

• Canada
4 Sep 09
oddly enough, i was thinking the same thing just this week when i saw one of his commercials. these companies should be good enough to pull his commercials and let him rest in peace. his poor family! imagine if they see one of his commercials on tv?!

• United States
5 Sep 09
Well, that could go both ways. It could be devastating for the family to still see him in the commercials, or it could be a celebration of his life to them. There are all sorts of possibilities; however I'm just weirded out by still seeing him on TV knowing he is gone lol.

• United States
5 Sep 09
It is downright creepy....YUCKERS!!! Is this how his wife is paying for his funernal costs?

• United States
9 Sep 09
Before I get sued for slander lol, I don't know if that is the case or not. That was just one question that came to mind when I saw the commercial right before posting this.

• United States
19 Sep 09
I too find it creepy. As I saw a commercial the other week for a new gizmo with him pitching it. I suppose the company/person trying to market the product figured they paid for the commercial they better run it. Ya know due to contractual obligations but still kinda creepy.

• United States
5 Sep 09
in a way i think it is kind of strange they are still showing them. i guess they should really reshoot the commercials and find a new spokesperson as it would be in much better taste than showing someone who is deceased. it is really not in good taste i think.


• United States
14 Sep 09
I guess maybe the other side of it may think that these shows actually honor Billy Mays as maybe that was one of the things he loved doing the most. It's what we are always going to remember him for.


• United States
7 Sep 09
they..
really
should film some new ones. i saw one the other day that started with "billy mays,back again"

i thought,man..that's a neat trick.

• United States
5 Sep 09
Yeah I feel that maybe they should stop showing them. But maybe the family still recevies something from it or they might have been a contract or something. I guess it is like a rerun they will keep showing them because they are commercials. In the end I really do not know but I do find it a little disrespectful. Take care and thanks for sharing that.