'Green' roofs help reduce global warming


India
October 8, 2009 1:40am CST
Hello everyone here Ji,
This morning I got following mail in my mail-box from my DIL, which I wish to share and contribute, whatever we can do to our planet as a whole. Please do come with some more suggestions and experiences. Source: IANS and India Syndicate"'Green' roofs help reduce global warming Roofs full of green plants could help fight global warming, say scientists Kristin Getter, Michigan State University (MSU) horticulturist and colleagues, who conducted the study point out that green roofs are multi-functional. They found that green roofing an urban area of one million people would capture more than 55,000 tons of carbon. That's an amount "similar to removing more than 10,000 mid-sized SUVs or trucks off the road a year," their research stated. Green roofs reduce heating and air conditioning costs, retain and detain storm water. Green roofs also absorb carbon dioxide, a major greenhouse gas that contributes to global warming, but nobody has measured the impact until now. The scientists measured carbon levels in plant and soil samples collected from 13 green roofs in Michigan and Maryland over a two-year period. Their study is slated for publication in the October issue of Environmental Science & Technology. Here are some facts and tips on green roof:Green roofs last longer than conventional roofs, reduce energy costs with natural insulation. They absorb storm water, potentially lessening the need for complex and expensive drainage systems. Green roofs improve air quality and help reduce the urban heat island effect. About 15% of heat in a building can come through roof, which can be eliminated by having a green roof. Green roof technology extends roof life and is effective for sound insulation in the building. Many green buildings in India are also adopting such roof-tops dens. GBC building in Hyderabad is among them."May God bless yOu and have a great time.

4 responses

• Australia
8 Oct 09
Since most roofs here in Australia are made of iron and rust is already a problem, I would think that growing plants on the roof would soon rot the roof. How would the plants be watered? It hardly ever rains.

• India
8 Oct 09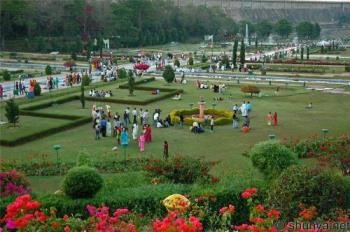 Hello my friend cloudwatcher Ji,
So nice of you for your immediate participation in my discussion. I would suggest to grow some creeper variety of plants which would spread all over roof top and make your house green, you may select some spices having flowers or even grow some vegetables like bottle-gourd/snake gourd any variety. For watering you have to make at roots on the ground. Painting will cost more and may not reduce that maount of temperature like plants. May God bless You and have a great time.


• Australia
8 Oct 09
A vine would still make the roof rust - and I'd have to keep it away from the solar panels. I think I'll pass on that one, but it is probably a very good idea in some countries.

• India
12 Oct 09
Hello my dear cloudwatcher Ji,
Still, I think you can find out some ways to make roof green. That will be great success. May god bless You and have a great time.


• United States
8 Oct 09
This all sounds so nice but we get very littel rain here and the temps would kill the plants as I would have no way to get up there very often to water them but does sound lie a good deal I do see the casinos around here do put out alot of greenery around the casino!

• India
12 Oct 09
Hello my friend Lakota12 Ji,
I undersatnd that though you are keen to do the work, but nature comes in between as less/no rain in the area. But some solutions have to be developed to full-fill the goal. May god bless You and have a great time.


• United States
14 Oct 09
Yes, pal! Every tree or plant we add into our environment will help in a small way in reducing co2 in our atmosphere. Apart from driving less and depend on electric energy derive from renewable/green source for our transportation and electricity need, like having electric car, E.train or E.bus which practically give out no greenhouse gases to increase global warming, we should need to have more green around us to help in removing the existing excess CO2 in our atmosphere. Having a green roof sure is another good way toward reducing G.warming .


• India
14 Oct 09
Hello my friend lampar Ji,
So nice of you for your participation in my discussion. Greenish view always soothan our eye-sight as well. We leave cities having concrete Jungles to visit country side due tyo this reason only. So let's try our best efforts to reduce Global Warming. May God bless You and have a great time.


• India
10 Oct 09
thanks for this useful information you have provided,i leave in a building,so there is no scope for green roofs but i do love potted plants and have them in plenty in my village home.

• India
12 Oct 09
Hello my friend riyasam Ji,
So nice of you for ypur active participation. I live in bangalore and keep viisting Delhi. I have observed many sky-creepers having plants at each lobby/utility area giving sense of greenish. We can plant something looking green. Even small plant will help make living conditions beteer. May god bless You and have a great time.