Using the lipsticks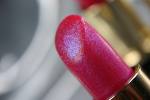 India
October 19, 2009 12:00am CST
The skin tone must be another factor which needs to be considered while buying lipsticks. Woman who are fair should use lipstick of dark or bright shades. The can even use dramatic shades which will garnish their fair color
6 responses

• Philippines
19 Oct 09
I can't remember the last time i bought lipsticks. They just come for free all the time. Like my mom has lots of lipstick on her dresser and they seem like they are making babies and just increases every month. lol So when i want one, i try on a few and wipe off with tissue paper. Then get the one that fits me best. Then the next week i put it back and take another one. lol

•
28 Oct 09
my last time to buy a lipstick was last weekend when I poped over to boots at bromley. I was in harry and I was not keen to buy it. so when the staff of the boots suggested me a few to try i just take one and paid out. because i don't have many experiences of shopping lipsticks and i rarely use it at my daily life, so my skills about using it is very limited. i should be back to the topic more to see if i can get more useful skills from mylotters.

• Philippines
23 Nov 09
Aside from skin tone, the color of the clothes you are wearing must also be taken into consideration

When wearing clothes in warm color, the lipstick must also be in warm color. And so with cool colors. Warm colors are based on yellows, oranges, browns, yellowish greens, orangish reds, and the like. Cool colors, on the other hand, are based on blues, greens, pinks, purples, blue-greens, magentas, and blue-based reds. Have a nice day!


• China
20 Oct 09
I have some garnish lipsticks, which are dark or bright. I'm fair and the bright ones may make my skin tone much more white and make me much more bright.But I use lipstick seldomly.


• United States
19 Oct 09
Hi Swezib, If you are fair skinned and want to wear a lighter shade of lipstick you could use a darker shade of liplinner. This will help define you lips and give them a smooth shape. Did you know that your teeth can appear whiter when you wear a certain color lipstick? Chosing a lipstick with blue undertones can brighten your smile!

• United States
19 Oct 09
That's good because I am very fair and I use some very deep-colored lipsticks. :) Of course, I have more neutral shades as well because I like to mix it up, but my more preferred lipsticks are usually a bit bolder. I don't have any really garish ones, though, as I think *super* bright lipstick looks a bit ridiculous. I have a pretty nice array, though.