My kitty has gone completely blind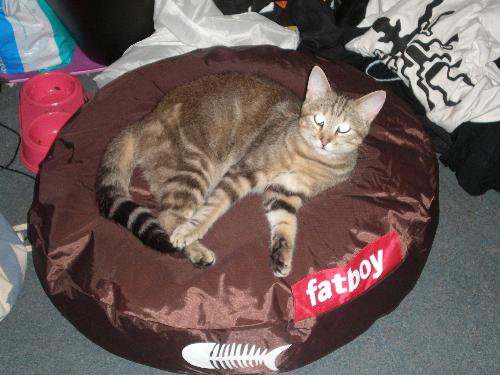 Netherlands
October 28, 2009 9:01am CST
I haven't been around for a while but those of you that know might have read a part of this story before. I have two kittens, they are now a little over a year old, that I got from my neighbour. I attended their birth and have been visiting their every day untill they came to live with me. Since 4 weeks me and my boyfriend have moved into our own appartment. One of our kitties is allmost blind so he needed a little time to adjust and off course he bumped into a lot of things. But in about a day and a half he was adjusted and we were happy that he had found his place. Last week all of the sudden he seemed scared, he jumped up, and we couldn't touch him. He was in panic. I have had cats all my life and this is the most affectionate cat I have ever had, so something had to be seriously wrong. We decided to give him some time to calm down. Later the next day everything seemed to be back to normal, but we wanted the vet to have a look to be sure that he didn't have any brain damage or a virus and to have a check up on his sight. The vet did several check ups and blood results showed there is no virus involved and he's healthy. Allthough, he did loose his sight completely which caused the panic. At first he could see shadows and the difference between day and night, now everything is completely black to him. This might sound harsh, but I am thankfull this happened after we moved into our new apartment. At least he knows where everything is and me and my boyfriend agreed not to move any furniture anymore. That way he will be able to move around freely without getting confused of his whereabouts. He is his cuddly self again and manages himself without a fuzz. Have you ever experienced an incident with a pet? What did you do about it and how did it end?
7 responses

• United States
29 Oct 09
my first cat had a degenerative eye condition that eventually left him blind. he did learn his surroundings after awhile,it just took him a little bit. i would put him in my room at night with me to keep tabs on him,i was afraid he'd hurt himself while i was sleeping. funny thing,his great grandson which i also owned had the same problem,he eventually started going blind as well. he saw shadows and would hiss if you didn't address him when you walked in the room. if you said his name and he could identify you,he was ok tho. i would try to teach him sound cues (like tapping on something) and definetly don't move anything.

• Netherlands
29 Oct 09
Those are some very good tips scarlet_woman. We do address him before we go anywhere near him and my boyfriend kind of instinctivly gave him a sound cue (which I know realise) by running his nails on the couch. When he hears that, he comes up to the couch to cuddle or rest. I copied this and he responds well to it. When we serve them their dinner we tap on the can of catfood (we allways did this even though all our cats are indoor cats) so he was used to this aswell. Small things can really help. And yes, we will keep everything in place. Thank you so much, I am going to denote you best response.

• United States
29 Oct 09
thank you:) oh and another thing that might help-if the kitty has one of those pet beds (or a fave place to sleep), sprinkle catnip there so they can use it as sort of a navigation beacon. helped mine quite a bit when he was re-learning.

• United States
28 Oct 09
I've never had a cat go blind, but my client's cat is blind in one eye, and the vet thinks she had an injury that caused it. My client thinks she's losing vision in the good eye, but I haven't noticed that, just that she's become less secure in her jumping, I suspect that its because she's missing a few jumps. Now, we used to have a GREAT cat who seemed to have a problem with depth perception, but she could still make her jumps, she just had to work a bit harder to get the distance.

• Netherlands
29 Oct 09
I hope that your client's cat will become more secure jumping and moving around. There are a lot of ways a cat can loose it's sight, injury is indeed one of them. The thing that caused my kitty to go blind is because he has a genetic disorder that causes him to have no blood vessels connected to his eye (I am not sure how to translate and desribe it, this is the easiest way). When the vet looked for them they were absent, very weird. I haven't had an experience with pets with depth perception yet, but I do know when you loose your sight in just one eye you get trouble with depth perception aswell. A former co-student of mine had one eye and she had trouble getting a drivers license because she didn't have any depth perception. She told me that was because she lost one of her eyes. Do you know what caused your kitty to have depth perception? The most important thing is that she sounds like a lovely, happy kitty

.

• United States
29 Oct 09
no idea why she had the problem with depth perception, just that she really worked to make sure she didn't miss a jump - even if just up on a bed my client's cat really doesn't NEED to jump so its not that big an issue - were she to go blind in both eyes then she'd really have to stay inside all the time, now she'll make breaks outside, but she used to be a "parking lot cat" before my client was able to officially adopt her

• United States
23 Nov 09
Don't worry, he does not know he is blind unless you now tell him. Humans have more of a hard time acepting such illness. I think the cat will be fine. I have seen this before, and I have had a pug that went blind. Puggy did just fine, just bumped her head on the coffee table a few times and then learned. As long as no one moves anything sharp or big, your kitty will adjust.

• Netherlands
23 Nov 09
You are right, he is doing just fine. It just broke my heart when he got so aggitated and bumped into everything and we weren't able to comfort him. Now he is doing just fine and I don't care whether he is blind, deaf or has whatever disability as long as he seems happy and at peace. He is playing again, purring and cuddling so he seems just fine. Thanks for responding!

• United States
28 Oct 09
My mini Dachshund, Katie, went totally blind a few months ago. She is doing fine and the other animals have stepped in and are taking care of her. Both Monica and Little Bit (my other two mini's) act as guide dogs. Even the four cats lead Katie around acting as guardian angels and guide cats. It never ceases to amaze me how well our animals can adjust to their disabilities- sometimes even better than humans. Give your special kittens a huge hug from my brood and me.

• Netherlands
29 Oct 09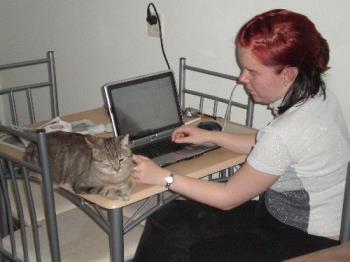 I am sorry to hear about Katies sightloss, but happy to hear how she is doing now. Bollie seems well adjusted by now. You couldn't call it an advantage, but because he had little sight to start off with he was used to finding his way through sound and touch. It's indeed amazing how animals can support each other. His sister Karma has become very protective of him and she bathes him a lot (to Bollie's frustration as he's being pinned down to the couch or floor by his much thinner and smaller sister

). I've also heard my other cats (I have 6 in total) meow when he was trying to find his way. I truely believe they did this to help him locate them. I'll give him a big hug, give your kitties and doggies a big hug from us

.

• United Kingdom
28 Oct 09
Awh thats pretty sad. Pet-wise i had a hamster that my dog attacked. (Don't ask) Nipped his eye and the vets said it was kinder to put him down, well, he could have gone on living half blind but i was only young at the time and my mother didn't want to frighten me and my brother having a half eyed hamster. :s My nan's cat went blind, but he dealt with it okay. Knew where everything was. Cat's are pretty smart when they lose their sight eh?

• Netherlands
29 Oct 09
Very true. Domestic cats seem to handle themselves pretty well even if they are visually challenged. I heard similar stories about deaf cats. That gives me good hope for him. He is lively, cuddly and playfull, runs around the house like all other cats do and seems perfectly happy. Sometimes I am surprised at how fast and agile he is without bumping into things! [em]happy[/me]. Sorry about your hamster. I am sure your mother did what she believed was best for you and your brother. At least your hamster is at peace now. All the best and thanks for responding.


• Netherlands
29 Oct 09
I surely will give him just as much love as I did before, and extra attention when neccesairy. Thank you for responding!

• United States
15 Jul 16
I just posted a story about my son's cat that was born without any eyes. This cat is amazing. He just caught a hummingbird. My son said he brought the bird to him in the yard and dropped it at his feet and the bird flew away unharmed. This cat also knows his way around the house. They do learn how to do that, but I'm sure they get scared when they hear strange noises or feel threatened.