Update for those who remember the bottle babies...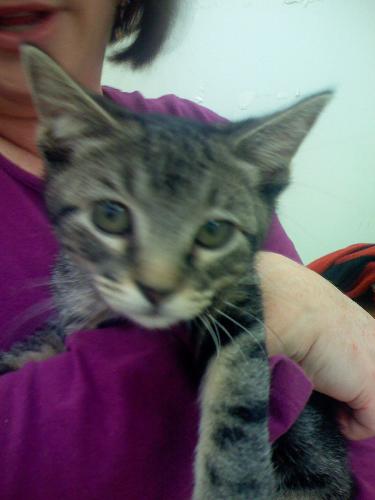 United States
November 20, 2009 6:57pm CST
Not actually about the bottle babies, tho they turned 2 last October, but about their mother. Now, I think I mentioned that the mother was a long haired, feral cat at my client's apartment complex. 2 years ago, I saw a big kitten (who rather looked like Sox did) wandering around the complex. Well, the other day I was walking over to get the mail and I spotted the mother. I haven't seen any kittens this year or last year, so I don't know if she didn't have any or they died in the extreme heat. I talked to her and she glared at me (well, it seems that is the ONLY look a feral cat will give a human). I leaned over and tried to see if her ear was "notched". I didn't see it, so I don't know, but rather doubt, that she has been spayed. But while I used to see her often 2 years ago when the babies were found, I have only seen her seldom for the last year. I know she's got to be over 3 years old, since before the 2 yr old bottle babies there was the older kitten. I do know that the single kitten was probably the ONLY one who survived that litter, so that out of the kittens that were found we raised, having 4 survive was good. I hope that the mom hasn't been having and losing litters of kittens, but at least she is alive and not looking in too bad a condition. So, when I see her, I think of those babies. I bet Ari is as big and fluffy as his mother, and Sox (now Mia) is a sweet fluffy big girl. And Skippy is still a handsome tabby fellow and Blaze is an adorable bold boy.
5 responses

•
21 Nov 09
Hi Elic, I think that is was really great to see the mother can again and still living, I really hope that if she had other kittens, thay have survived, you never know, you do a wonderful job with your passion for cats. Take a bow. Tamara

• United Kingdom
21 Nov 09
It is good that she looks good which might mean that she is not loosing Kittens as I know that would make her look sick I had to get my Scruffy done which was one of my Cats because she was having Litter after Litter and the 4th Pregnancy on the row she was looking in bad shape so I said that is enough and had her spayed, she loved being a Mum that much when my other Cat Lucky had Kittens Scruffy looked after them when Lucky was not about lol

• United States
21 Nov 09
Yeah, Zu was a good mom, and helped raise the kittens we took in even after we got her spayed. She was a wonderful cat. I don't know if she lost them before she got very far along, I do know that last summer she looked pretty ratty, and this year she may have gotten her winter coat in - I'm sure she's one big mat since she is a long haired cat.

• United States
21 Nov 09
You know Elic, if she is having litters of kittens and they're dying, as sad as it is, it's really for the best because of the over population of cats we have today. I mean, I'd much rather her NOT have any kittens but if she is, and they're dying, it is for the best because it's such a mean mean world out there and God only knows what happens when so low life gets a hold of them.

• United States
21 Nov 09
it is a mean world, but she's so feral that if her kittens (the bottle babies I mean) hadn't come to us at 10 days old, within another week to 10 days they probably would be well on the road to being feral instead of sweet pets. I do agree that there are too many feral and stray cats out there, but I hate to think of what her body is going thru with all those pregnancies (if she is having them.)

• Australia
21 Nov 09
You are so kind to the felines around you, taking them in and caring for them. I love that you recognised this momma cat and I'm glad she is still alive and looks well. I also love that you have given all the cats you found identities by naming them so carefully. You are a special person. I wish I could do what you do and take more cats but four pets is my limit if I want to keep my husband! (LOL)

• United States
21 Nov 09
we didn't name these kittens carefully, we sort of tagged them with handles so we could sort which ones had been feed and pooed... and probably Skippy was the "luckiest" because I was going to call him Bait... But momma cat, well, she's the only fluffy black cat around and 2 years ago she was the only cat the toms hung around...

• United States
21 Nov 09
I remember them. It is hard not to want to adopt every stray that comes our way.