Finally, I have my notebook back!....and more:)

Philippines
November 22, 2009 3:04am CST
Today, I am so happy that finally, I have my Asus Notebook re-installed after getting some kind of spyware and virus last week. I was so sad that I was not able to visit mylot for almost a week, although I still check the site through my phone and office.... I still missed what's going on in here.. hehehe...

What makes my day so bright is that I have a new laptop!!!!

I just got it last night. It is not that fancy but i love it!:) I have Compaq from HP and it is 14.1" with Vista OS... it has 5 in 1 digital media reader and got great features that I need to explore.. Now, I became more aware of the possible viruses that my computer can get. Before, I don't really care going to different sites and downloading different kinds of application. It is very expensive to have your pc re-installed and to get some new applications...

Choosing the best anti-virus software is important too. Have you experienced getting some virus or spyware on your pc? How was it? Have a nice day!
7 responses

• Philippines
30 Nov 09
But just a word of advice though, you should only install one anti-virus package in a PC. So you better make a choice between the many great anti-virus softwares out there. Reason for is to not have conflicts between two antiviruses that can freeze your computer right after booting up. Their real-time scanning is on by default and before you have the chance to switch the function to manual to avoid conflict, it would be too late, because the two anti-viruses started their real time virus scanning right after you reboot after their installation and only a format or an operating system back-up from a CD can undo the thing. The Norton Internet Security and AVG are both great anti-viruses that can detect many advanced viruses and trojans of our time. You might also want to try BitDefender 2010, It proved to me after 2 years of use that its a very versatile and one of the most potent anti-virus today. Just consult the leading anti-virus reviews and you'll get the overall picture about that anti-virus. It suits me well primarily because it only uses minimal system resources from my computer. Lots of anti-viruses from two years ago are bulky and can cause frequent system crashes to PCs both High-ends and Low-ends, but thanks to its several pioneering features, anti-viruses such as Norton 360, Kaspersky and several had their antivirus packages streamlined as well and became more system friendly. But still its Bitdefender thats best for me as of now, since I've experienced almost all established antiviruses brands out there since the last decade and all either crippled my PC at one time because mainly because of system resource hogging especially if you're running multiple apps, or you are multitasking. You can use with your laptop one antivirus suite and one or two antispyware app provided the latter has its real-time spyware scanning disabled once you installed it so it would not interfere with your main antivirus real time/live scanning, and ultimately not cause crash problems that may arise as you use your PC/laptop. But you may not need any separate antispyware app to be installed anymore as almost all antiviruses package today have antispyware detection included in its features. Just look for Internet Suite or Internet Security prefixed to the antivirus brand name and you'll now its an all-around virus/malware hunter kit. A complementary antispyware that is safe for bundling with your choice antivirus is Spybot Search&Destroy because it mainly operates its scanning duties manually and you will not have problems with it interefering with your antivirus software. Although it also have real time scanning, but thankfully after install, it is default for a manual scan and can be installed after you've installed an antivirus package. Best of all its free to be downloaded from the net and recommended and an editor's choice by leading computer mags such as PC Magazine and PC World.

• Philippines
30 Nov 09
hi glazed, Oh yes, I have thought of that too....I have now only one anti-virus running on my pc. Never heard of Bitdefender, sounds that it was very helpful to you. I will check that out.

Thanks for your awesome response! you are a great help to me!


• Philippines
22 Nov 09
I am using asus eee pc with pre installed linux as it's OS. Luckily, it is not prone to virus. I have been using it for 2 and 1/2 years already and it's still working out fine. And take note of it, I am connected to the net almost 24/7. It's really worth it.

• Philippines
22 Nov 09
hi Ldel, That's great! Me too... I am using Asus eee pc for about a year and a half. It's my favorite pc because I could bring it anywhere I like and it is really light weight and easy to navigate. I have the white eee pc. Yes, it is worth having. Now, I just have it rested..hahaha.. I have been using it too much that it need some rest... I am so happy that it is in good condition now..after getting some virus.. I am currently using compaq which is great too!! I went to cyberzone in megamall and saw it last night... I just can't take my eyes of it since it was on sale and it was my Christmas Bonus..hehehe! Thanks for your wonderful response!

•
22 Nov 09
We had always used the frree anti virus as that used to be great that was AGV,but now we use Norton as we got that half price when we got the computer.The norton anti virus can be put on 3pcs so that was handy as the children are always down loading things on their pcs.

• United States
23 Nov 09
I've always used a free anti-virus.. Haven't got a nasty yet lol.

• Philippines
23 Nov 09
hi jugs, I am currently using AVG and spyware doctor. I also have another anti-virus disk (mc afee)that I got from my broadband provider. I still need to install it. I saw norton anti virus features and I think it is great!

• Philippines
23 Nov 09
hi jugs, I am currently using AVG and spyware doctor. I also have another anti-virus disk (mc afee)that I got from my broadband provider. I still need to install it. I saw norton anti virus features and I think it is great!

• Boston, Massachusetts
22 Nov 09
Hi Danitykane, Welcome back and i can relate with you..for being happy now that your notebook is back. I was so upset then when we're having problem with our broadband connection. Now anytime i can be on mylot and respond in as many discussions in one sitting.

• Philippines
23 Nov 09
exactly!

i got so bored easily and surfing the net is one of the things i love to do. oh! i got problem with my broadband too, most of the time I got slow connection.

• Boston, Massachusetts
23 Nov 09
It's really so irritating when our connection is acting up and we are in the mood to write and respond to more discussions and surfing/researching for our kids assignment. Cheers you have a life now ...a life with your notebook! Hurray.

• Canada
22 Nov 09
Yes, I have experienced the bad part of getting a computer virus and spyware. I don't really know how I could have gotten it. I guess they stay hidden in the stuff I download or the web pages I visited. Good thing my friend is a computer whiz and helped me with that problem and installed some anti-virus applications on my computer.

• Philippines
22 Nov 09
hi there! that's nice! good thing you have a friend who can do that for you... I guess it was free of charge, right?

I'm actually a bit paranoid to check on some videos...haha.. because that is where I got that virus. Thanks!


• United States
22 Nov 09
good to hear danitykane! compaq is my favorite kind of computer! I had a compaq laptop until I went to microsofts windows updates website.I downloaded the updates and got a virus that so wrecked my computer that it is now a paperweight!microsoft and their dumb update site! I'll never use windows updates ever again! oh, and remember, you need a powerful firewall too.I use comodo firewall pro and it is fantastic.

• Philippines
22 Nov 09
oh really! thanks a lot! comodo firewall? I have it checked online... and yes, it is crazy...

oh no.. you mean to say that you cannot use that laptop anymore? whow... That's sad. Yeah, I will take your advice and I am so cautious in downloading stuff from the net.


• China
23 Nov 09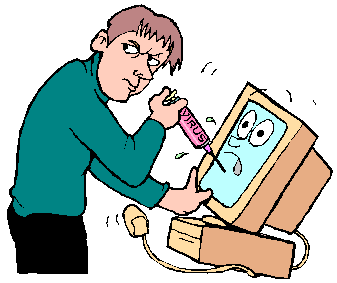 Yeah, I guess most people who often surf on the Internet may have met such a boring situation before. In the world of the Internet, there are full of various unknown viruses and apywares. It is very easy that we get some viruses or spywares on pur computers, but it is difficult for us to delete these annoying virus applications and files. Sometimes, we may have to re-install the computers in order to make them work well again. In my eyes, a good anti-virus software is a necessity for us to protect our computers from dangers, but we really should realize of the risks when we are enjoy a good time on the Internet.