My dog has dreams

Philippines
December 2, 2009 9:41am CST
One night, while my lotting, my dog 'Bok' was sleeping near me, under the chair. It was normal for him to fall asleep at that time. After a few minutes I was surprised to hear soft barking, I thought Bok woke up, but he is not awake haha. He has his eyes closed, but was still softly barking. Then while lying on his side, he was moving his legs like he was running haha. Softly barking and running like gestures, yes, he was totally in doggie dream land haha. My father then asked, "Do dog dreams include humans or just dogs?" haha.
8 responses

• United States
24 Dec 09
We've caught our dog doing that frequently. She'll twitch and sometimes bark in her sleep. We always say she's having "puppy dreams." It just the cutest thing.

• United States
18 Dec 09
My dog has nightmares! she'll bark real loud and kick me in the middle of the night(she sleeps in my bed with me). And when I wake her she whines and will crawl up in a little ball in my arms and just want cuddled! It's cute and funny all at the same time.

• India
4 Dec 09

Yes. They do dream. My dog's limbs move fast while asleep - obviously he is running somewhere!!

• Philippines
4 Dec 09
Haha...that made me laugh. I hope he doesn't dream of fighting with another dog when he sleeps beside you.

• Philippines
3 Dec 09
That happens to our dog too =) And it's really cute. It's fascinating that dreams don't happen to humans alone. I wonder what their dreams are like. Sometimes though I worry, because the whimpers get louder, maybe they're having nightmares. When that happens, I wake her up.

• United States
2 Dec 09
Our dog will do the same thing. Moving around as if he were running and kind of barking in a whisper. The other night my husband made the comment,"he's chasing rabbits" He's never seen a rabbit. I would love to be able to see in his head for a day. I've always kind of thought that our animals were watching us and laughing at us.

• Philippines
2 Dec 09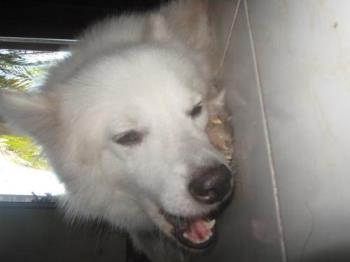 wow.. I like this question.. I also think of it whether dogs dream too, and what are their dreams all about?... anyway, my dog sometimes dream too.. I saw her one night waggling her tail and she's like smiling but she is asleep. It take 5 seconds for my dog in that state of dreaming. He was probably dreaming of something that makes her happy... hope she dream of me... ahahahah..

• United States
2 Dec 09
Both of my dogs do that occasionally. I always bring out the video recorder because its just too darn cute and funny. One of my Shih-Tzus, Ringo, was running so hard that I guess he ran into something in his dream because he suddenly shot up and looked like he was totally out of it for over a minute. We were all laughing at him until I took pity on him and took him for a real walk. :D