Meaning of the song Twelve Days of Christmas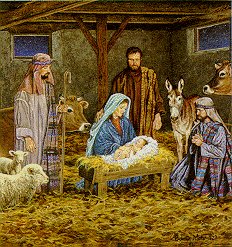 Philippines
December 8, 2009 10:56pm CST
Hi Everyone,I just want to share this knowledge that I found interesting, it was also shared with me by a special friend. Have you ever wondered in the Christmas Carol 12 days of Christmas, what in the world do french hens, turtles and doves, and a lot of animals and things have to do with Christmas?... It was found that sometime in the year of 1558 to 1829, the Roman Catholic in England were not permitted to practice their faith openly. Thus, someone wrote the 12 days of Christmas as a Children Christmas Carol but it has two meanings, the surface meaning of the song and its hidden meaning about the Catholic faith. Each animals, person, and things mentioned in the song has a code that the children could remember. And here it is: 1.Partridge in a pear tree - Jesus Christ 2.Two turtle doves - the two testament of the bible, the old and the new testament 3.Three french hens - stood for faith, hope, and love. 4.Four calling birds - the four gospel of Mathew, Mark, Luke, and John 5.Five golden rings - recalled the law, the first five books of the old testament 6.Six geese a-laying - stood for six days of creation 7.Seven swans a-swimming - represents the seven fold gifts of the holy spirit (Prophecy, Serving, Teaching, Exhortation, Contribution, Leadership, and Mercy) 8.Eight maids a-milking - represents the seven beatitudes 9.Nine ladies dancing - the nine fruits of the holy spirit (Love, Joy, Peace, Patience, Kindness, Goodness, Faithfulness, Gentleness, and Self-Control. 10.Ten lords a-leaping - the Ten Commandments 11.Eleven pipers pipping - the eleven faithful disciple coz the 12th one is Judas 12.Twelve drummers drumming - symbolized the twelve points in the Apostle's Creed So there it is... One of the Catholic Faith History. Merry Christmas to All... God bless Everyone...
10 responses

• Philippines
10 Dec 09
hello krystalheart! it's nice that you posted this song, 12 days of Christmas and the meaning of it. the meaning of this song was explained to us by our religion teacher in college until then i didn't know the meaning, i thought those were just plane gifts. Merry Christmas!

• Philippines
12 Dec 09
Merry Christmas to you my friend, its is really nice to share this song and its meaning especially in this time of the year, when we celebrate the birth of our Savior Jesus Christ. God bless.

• Philippines
9 Dec 09
Thanks Krystalheart, I never knew about the meaning of 12th Days of Christmas. I sing it and even memorized when I was young because we sing this song during Christmas caroling. Thanks for sharing. I am asking your permission because I want to copy paste your post. Is that ok? let me know please.

• Philippines
9 Dec 09
Hi there my friends, thanks you also for responding. Yes you can copy paste this post. It was also shared with me by one of my special friend. God bless. Merry Christmas.

• Philippines
9 Dec 09
hi there krystalheart........thanks for reminding us of the meaning of this undying song of Christmas carol..i know everyone sings it but never knew the real meaning behind this composition.it does not only represents the 12 months of the year but it goes with a biblical meaning.....I'm sure for those who will sing this again and again reflects on the 12 meanings as we keep ourselves preparing and being vigilant for the coming or visit of the King of Kings....... God bless and have a fruitful Christmass

• Philippines
9 Dec 09
My older sister explained this to me when i was in highschool and i have somewhat forgotten about it. Nice for you to remind each and everyone of us of its true meaning. i'm sure a lot of members don't know what each animal represents. Cheers!


• Philippines
12 Dec 09
Hi there my friend, it is a good thing to share especially if it's about our Lord and Savior. Merry Christmas to you. God bless.

• Shingle Springs, California
9 Dec 09
Somebody e-mailed that to me the other day and I also found it very interesting. Merry Christmas to you too!

• Philippines
9 Dec 09
...this was also shared with me by one of my special friends. Merry Christmas too.


• Boise, Idaho
10 Dec 09
How interesting! I wondered if there was a hidden meaning with this but never really cared all that much to do any research on it. Being pagan I didn't need to know. Most religion and secret societies have their hidden meanings and ceremonies only the select few would know or care anything about. Interesting though.