Table Manners!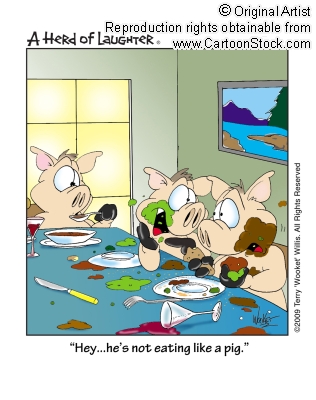 India
December 15, 2009 8:48pm CST

Would you rather sit alone and have your meal so that you can throw your table manners 'to the wind' and enjoy your food slurping, chewing, licking your fingers, not worrying about whether you are holding your fork in the right or left hand, whether you have folded your napkin properly, whether you are bending on your food, reaching for items running around the table........ I like it that way sometimes specially when I have crabs for dinner. One cannot enjoy them without making any noise

5 responses

• India
16 Dec 09
Do'nt tell anyone, keep it to yourself, I do like to eat as I want, not bothering about table manners. My daughter scolds me if I make noise while eating or drinking anything. If I keep it in the mouth and talk, then also I get from her. So I want to eat when she has gone upstairs. My husband is cho chweet, never says anything. So in his presence, I do not mind eating or drinking coffee.

• India
17 Dec 09
I will remember this and provide you with a separate room so that you can enjoy your meal to your heart's content with all the slurping, burping,


• China
17 Dec 09
Everyday go back home, i need to prepare dinner for myself. I've got a habit for cook the meal and then go for bath that I can hv a relax dinner after hv a bath. In which way to release presure after a whole day work.So i am not care about the table manners when I am alone for meals.

• United States
17 Dec 09
I want to be comfortable while taking meal. So, I don't like very formal dinning rules in everywhere. At home I eat and talk, and I enjoy the meal the way I want to. In formal parties or at home having guest I follow the table manners though :).

• China
16 Dec 09
Haha...allknowing, it's quite interesting! But I don't pay so much attention on it! I think people are not so strict on table manners these days, except some formal situation! In China, there is old sayings, Eating and sleeping should not speak. But as you see, when I sleep, of course, it's easy. But we always make talk while meals.

I seldom have meal without talk. I think if it's not so excessive, people won't care! But yes, eating crab is a hard work, but lucky, I'm skilled on it.

Anyway, nothing will be obstacle when I enjoy my meals!

• United States
16 Dec 09
There are certainly times when it is nice to eat alone, like eating cereal in the morning or when you are really, really hungry and you just want to get down to eating and forget all the formalities and pleasantries and just eat. Of couse mose of the time it is nice to eat with others, but there certainly can be great pleasure in just eating without having to worry about offending someone else.