Works of art!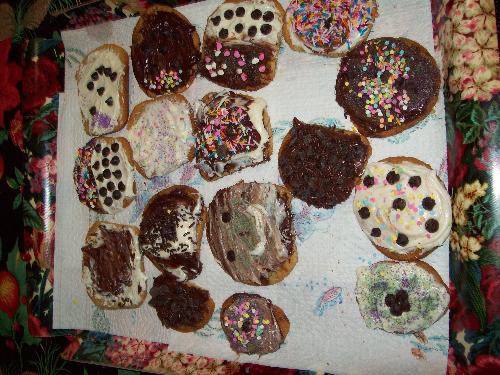 United States
December 30, 2009 8:45pm CST
Holidays mean a visit with my grandkids. They live in another state so I don't see them often. They grow up SO fast!This week I supervised my seven and nine years old granddaughters while they made cookies. What a treat! The older one sliced the dough and the younger placed them on the cookie sheet. I put them in and out of the oven. Then I gave them free rein to decorate them. These are their works of art.
4 responses

• United States
31 Dec 09
That sounds like fun. Our grandchildren live nearby, but their parents are divorced. They are with our daughter about half the time, and we only get to see them when they are at her house. Their dad won't give up any of his time with them and won't let them visit us during his visitation time. So we only got to see them during the first half of their Chrismas vacation. It's sad when the parents are so bitter. But at least they live close by and we see the grandchildren a lot during the summer.

• United States
12 Jan 10
Divorce can be very hard for the children to understand. And all to often one or both of the parties has caused hurt of the other. Then interacting becomes defensive, angry, manipulative. These are all behaviors we DON'T want to teach our children!


• United States
12 Jan 10
I feel for you Wilbet.I am not yet a grandparent. I dont think Im ready they still act like babies themselves. lol but seriously I agree with You dont that Divorce is an awful thing that Im afraid people use to often. When my dad and mom got separated you would have thought it was happening to my grandparents. Especially my grandmother (maternal). They kept trying to talk to my mother. She was the one that pushed the separation. In my 30's they finally got divorced. It killed me even then. What really upsets me is when you have done so much with and for your grandchildren then a divorce comes up and now everyone is enemies. Nine out of ten times the grandparents are the ones that get hurt the most. Im rooting for you Wilbet! Keep the faith! Maybe they will realize how much the kids are losing without having you around. I wish I had a grandparent like you for my kids. Unfortunately my parents havent turned out to be like their parents. dl

• United States
12 Jan 10
I agree that divorce is hard on the kids, even when they are adults. In fact it is hard on the entire family, even grandparents, especially if they were very close before the divorce. We are finally, after 3 years, getting to the point that we can talk to some of my former son-in law's family again. They would not speak to us for a long time after the divorce, but it looks like things are slowly getting better.

• United States
31 Dec 09
The innocence of a child can change everything. My daughter is 14 and she still likes to do that. They will keep these memories with them forever. My grandmother has alzheimers and doesnt even know who I am. However, I have all the memories we shared together. It doesnt make it better but it helps a little. My grandma was/is the best. She made me the woman I am today. You are inspiring these little girls to be great women. After all they have you as a role model. Happy New Year! dl


• United States
12 Jan 10
What a nice tribute to your grandmother. My kid's grandmother on their dad's side was such a blessing. My mom was in her own way, but grandma Vi came and visited when I did childcare and was just a grandma to everyone. My sister in law thought she was a busy body, but I loved having her visit. She would drive an hour and stay for one or two nights.

• United States
12 Jan 10
Grandmothers have a lot of influence on the future of our world. We can teach the grandchildren so many important lessons - respect, trust, money management, interpersonal communication,persistence, patience, and so much more. I wonder why grandparents [elders] aren't as respected in our culture as in many others?



• United States
31 Dec 09
Oh, I bet that was fun. It is good that you took pictures so you can always remember how much fun you had.

• United States
12 Jan 10
Yes, these are good memories. And the cookies tasted great - with lots and lots of chocolate. They disappeared pretty quickly. And now I think of baking cookies but it's not so much fun to do it without the girls.


• United States
31 Dec 09
well, in my day my mom would've had to make the dough and the icing, but she'd've let us decorate them, if we didn't make too big a mess - after all, she had to clean it up too! honestly tho, we'd've had shapes cut out of the dough...

• United States
12 Jan 10
Maybe by next year they will be ready to do the mixing and everything. And they will have to clean up their own mess. That is part of the baking lesson!