what's your favorite FOOD?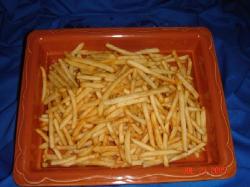 Puerto Rico
November 15, 2006 5:54am CST
mine is french fries... tell my your's!!
5 responses


• India
15 Nov 06
my favourite is piza and burger

• Italy
5 Mar 07
Me too I like french fries, they are very good and tasty. I like fried food, even if, unfortunately, it isn't good for our health. I'm Italian, my country is full of faults, but Italian kitchen is really special! My favourite dish is "Parmigiana", a typical Italian dish with plant egg, mozzarella (a typical Italian kind of cheese) and tomato. Another kind of food that I love very much is pizza. Obviously.