What is the healthier way to prepare chicken?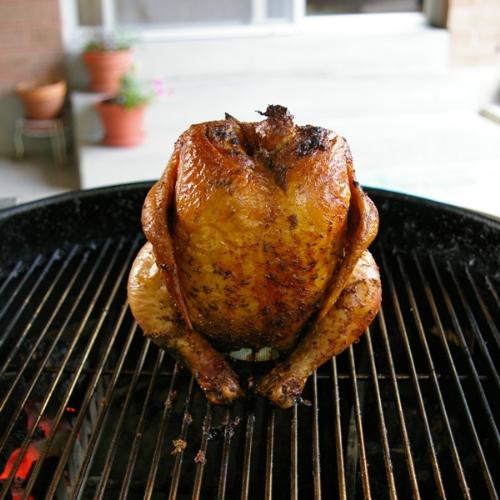 Latvia
January 14, 2010 10:42am CST
Hello! What is the healthier way to prepare chicken? I like chicken meat and I always try to prepare it variously sticking to the healthy

Probably boiling is the best, because you don't have to add oil or butter and it is less fatty then

What is your experience with cooking healthy chicken? Do you like healthy prepared food or you prefer ftty ones?

7 responses

• India
24 Nov 10
Hi I feel boiling the chicken is the best and healthy option. Here is my favourite boiled chicken recipe. Ingredients: Boiled chicken – 300 gm Olive oil – 1 Tsp Black olives – 5 Roasted cumin powder – 1 Tsp Cucumber – 1 Basil, chopped – 1 Tbsp Green bell pepper – 1 Cherry tomato – 50 gm Red chili powder – ¼ Tsp Roasted cashew nuts – 5 pieces Lime juice – 1 Tbsp Sugar – ½ Tsp Salt to taste Method of preparation: 1. Shred the chicken. 2. Take olive oil, lime juice, salt and sugar in a bowl, blend well. 3. Add cumin and red chili powder to it. 4. Chop the bell peppers. 5. Peel and chop the cucumbers and remove the seeds. 6. Now mix everything – bell pepper, chicken, cucumber, adding the olive oil dressing. Crush the roasted cashew nuts. 7. Toss the cherry tomatoes. Add basil leaves and olive to it. 8. Add cashew nut and toss it well and serve. Serves: 3-4

• Latvia
7 Dec 10
Thank you!!! I will try it one day!!!Sounds delicious!!! Happy mylotting!


• India
27 Feb 10
I have been a vegetarian for almost 22 years, but now I am trying to incorporate chicken and maybe fish into my diet. Since I've never made it I'm scared I will undercook it. What's the easiest way to start?

• Latvia
7 Dec 10
Undercook?

You can try with boiling but if you have that special turbo bowl or how is it called (please read above) I would suggest to try that one. Boil it some 30 min or till it is the same colour inside as it is outside. It will turn light pink...Happy meal!!!


• United States
17 Feb 10
I like them both, to be honest. The healthiest ways to prepare any meat remain: bake, boil, broil and grill. All of those methods allow the fat to come away from the meat and don't require added fat in the cooking process. I'd also like to add rotisserie to that list. The fat drips away in the cooking process and leaves you with something delicious and juicy (if you don't over cook it, of course). I've even made "fried" chicken in my rotisserie by dipping it in egg and bread crumbs, putting it in the basket and putthing it in the rotisserie. The outside got nice and crispy and golden and no added fat. It was fantastic. It works great with wings especially.

• Latvia
7 Dec 10
Hello and thank you for your suggestions on healthy prepared chicken!!! Have a great day!


• Chile
14 Jan 10
I also like a roasted chicken. If you put it on a rack (so that the fat doesn´t stay in the bird) and you just use salt and lemon ljuice it will be healthier than a boiled chicken. But I must tell you that I don´t think any home prepared dish is unhealthy if you don´t overeat. I use good oil, take out the excesive grease etc. Happy posting!

• Latvia
7 Dec 10
Hello and thanks for your comment! I agree about cooking on the rack, it sounds either as healthy as eatable

...about overeating, I think it could be a problem for me...Have a great day!!!


• Philippines
14 Jan 10
If you're familiar with a Turbo Broiler which heat is like in a convection oven which will just surround the whole bowl then the chicken is placed on a round rack inside just like when you are grilling it, only that there's no charcoal. The oil would just drip and you will really love it's crips on the outside part but so soft meat with flavor just intact and absorbed because no evaporation happens. But of course you need to remove the skin when you eat it from whatever way you have cooked it because of the saturated fat the skin contains.

• Latvia
7 Dec 10
Hello, thank you for your comment! I don't have Turbo boiler and i have never heard of it

but I love that you have to make it without any oil and grilled chicken tastes really good

mmmmmmmmm

• Philippines
25 Feb 10
chicken itself is healthy if there is no added fat. just try to cook it ina way that you wouldn't have to add oil in it like in the case of friend chicken, maybe you could steam it or something but i dont thing it will taste as good as when you prepare it using oil and other dairy products

• Latvia
7 Dec 10
I love grilled chicken in summer time, when we are having a picnic outside home then sometimes we put in a marinade chicken legs or wings and then we grill them on grill using stick so you don't have to use oil. Even at home sometimes I put chicken legs in a marinade and put in a special bag and then in oven - again no oil adding...results are great! And I love smoked chicken...that I love from my childhood, you cannot imagine what kind of smoked chickens you can get in my country mmmmmmmmm

Hapy mylotting!

• United States
14 Jan 10
The healthiest way to prepare chicken is to either cook it on a grill or bake it, with just a little low sodium seasonings, or baked with vegetables like peppers, and onions or tomato sauce. Also removing the skin makes it healthier and lower in fat as well. I make a wonderful baked chicken, where I rub a little olive oil all over the chicken and season it with Soul Seasoning, then I bake the entire chicken for an our and a half, it turns out amazing every time. I leave the skin on when I cook it, but remove it before I eat it.

• Latvia
7 Dec 10
Sounds great. I do the same - leave on the skin when I bake it and remove when eating. I like to cook it in soja sauce as well and eat with salad. It comes out as well every time good, I like Caesar salad together with vegetables and chicken...tastes great!