Knew It Was Coming!!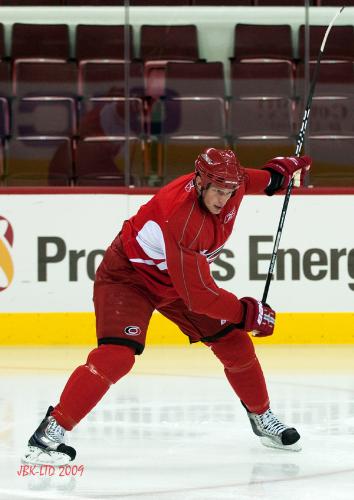 United States
January 20, 2010 1:08pm CST
Today the Carolina Hurricanes named Eric Staal our new Captain. Let me preface this by saying that I am not an Eric Staal fan but I believe this was a good call. I think it is time for Rod Brind'Amour to step aside. He has been struggling for 2 years and his contributions has been whittled down to maybe 10 mins. on the fourth line. Still, I am sad for Rod since I too know what it is like to age and have to change course. I think Rod Brind'Amour has been a great player and a great Captain for our team. I'm so happy he won his only Stanley Cup with us. Its a bittersweet day. Now Staal will see what kind of backbone you need to be a good Captain. I hope he is ready for the challenge. Its time to leave the "boy" behind and for the "man" to step up.
2 responses

• United States
21 Jan 10
Congrads, I think. I'm happy Staal gets the C but I'm sad for Rod. He is a great player. I remember fearing him when he played for the Flyers? I least I think it was the Flyers. anyway I hope the best for your Canes, well up until a point. I still will root hard for my Caps.

• United States
22 Jan 10
Jewels to tell the truth , it is now a tie. Once it was Red wings and then The caps but three things have happened. One, Shanny retired, Two Ovie is a cap and thre. The caps started playing like a true team , just the way the Wings play.So I must confess , it is a tie . I love them both equally!


• Canada
21 Jan 10
Well that is good news! :) Even though I am not a Hurricanes fan necessarily, I still am a Eric Staal fan I must say. So good for him! And he is also from Ontario, Canada like me. From Thunder Bay I believe, which is way on the other side of Ontario but still pretty cool. Im sure everyone from Thunder Bay is very proud of his accomplishments! And I think Eric will do good on Team Canada when the Winter Olympics come around.

• United States
21 Jan 10
I am very sure that people in Thunder Bay are very proud of him!! He's a good kid. He just needs some time to develop. I like the whole Staal family. They are good people. So nice to have someone from Canada participating in the hockey talks! Welcome!!

• Canada
22 Jan 10
Yeah thats true, they are all good people :) And thank you, always nice to talk to Canadians in general haha.