Bakugan! The latest children craze in my area.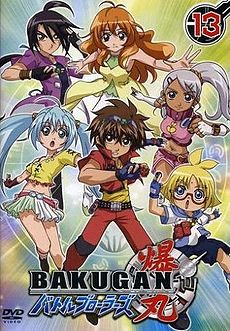 Malta
February 15, 2010 12:16pm CST
Bakugan is the latest children craze in my area. Bakugan Battle Brawlers is a Japanese action adventure anime television series. The story centers on the lives of creatures called Bakugan and the battle brawlers who possess them. Kids in my area are fanatic about these card games and it seems that they are not cheap. Eventually the bakugan hysteria hit my child too who has begged me several times to buy this toy. Eventually you have to succumb. So what is the latest kids craze in your area?
7 responses

• United States
15 Feb 10
We have some bakugan obsession going on in our house too. The eight year old splits his time and interest between that and Pokemon. Pokemon was a little easier on his allowance because he was able to inherit lots of the cards and toys from older kids in the family that had out grown them. So far he has only managed to acquire a few of those bakugan balls and a couple packs of the cards. I secretly am hoping that this phase is short-lived..I have a hard enough time keeping the pokemon guys straight.

• Malta
15 Feb 10
at least i am not alone suffering from my son's nagging about this latest craze :)

• United States
16 Feb 10
Worse than Pokemon and worse than Yu-Gi-Oh, trust me on this. My boyfriend used to test card games and games from Japan, and Bakugan was one of them, and being that I used to play Pokemon back in middle school, I asked him how the two games compared, and he said that Pokemon and Yu-Gi-Oh were far superior games to Bakugan. Personally, my favorites are, and will forever be: Magic the Gathering, Marvel & DC Vs., and Kingdom Hearts. I think that those games have a lot to teach children and the characters in the games are characters that you can relate to. Bakugan is also a serious waste of money. Compared to all of the other games I have mentioned, you spend way more on Bakugan than you would any other card game or game period. Do your best to get your children into games that are cheap, but at the same time have teaching value.

• Malta
8 Mar 10
Thanks for your detailed answer. You have updated me with the latest gaming trend with school children.

• Australia
16 Feb 10
My son was into them about 2 years ago and yes one stupid little ball figurine is about $10 and then he would take them to school and forget them somewhere. lucky they were on tv before he left for school every morning so he got his bakugan fix for the day and there was no more talk about them all day. Right now I dont know see the school year just started so nothing major so far

• Malta
17 Feb 10
the school administration in which my son attends has banned pokemon cards because there were cases of children demanding money for a particular cards. So they were banned altogehter.I am hoping that the latest craze will be banned as well and save parents quite a few bucks because they are a bit pricy.


• Malta
15 Feb 10
my 9 yr old son bought his first bakugan game today... so he is still eager playing with it

• United States
26 Mar 10
I have heard of Bakugans and it is like the new form of Pokemon and Yugioh that is going around the world now,and I have seen all the different Bakugan toys that they have at Wal Mart when I am going through the toy section to do a carryout for a customer and I think it is the new craze in my area,and I think that they even have a television show,or a movie or something and it does seem kinda of cool,and if I was younger I might would succumb to the craze.

• India
19 Feb 10
In my place also its popular, but here one more is famous and that is Ben10 .....my son is very much crazy about Ben10, he always keeps sketching the characters of it and also has ordered the book from his school sale, he wanted the book so badly that he told his father that he wants to purchase one book, he took him to the shop, but he didnt get it there, then when he saw the book in his school sale form, he told and requested me very lovingly, he said...mummy this book is a bit costly, but its my dream to have it and i will be very happy if i get it, so i granted him the permission, and now he is eagerly waiting for the arrival of the book....



• Singapore
17 Feb 10
I dunno about the latest craze now.. haha =D THose kids i'm in touch with are quite sensible of late.. lol =D To me, toys and kids are all the same.. They only care about having fun, and being able to blend in with their friends.. lol =D PLus, it's not difficult to know, what the kids want, and especially the trend too.. hehe ^_^ PLaying cards will always be popular, even to adults.. lol =D