Auto accident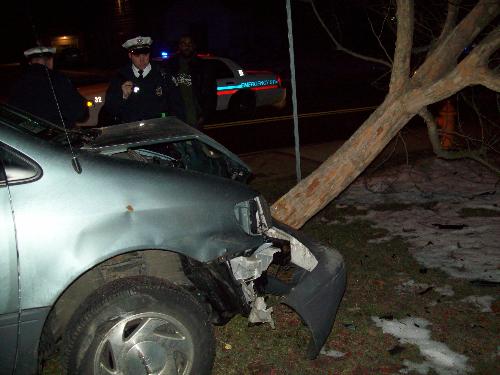 United States
March 2, 2010 5:28pm CST
Last night a driver ran another car off the road and into our yard and into our tree. She didn't even have the chance to put her brakes on. The tree stopped her from running into the house next door. Thankfully she had only minor injuries because of her seat belt and air bags. But she was pretty shaken up and the car will probably be totaled. Now we are wondering who will pay for our tree? Has anything like this happened to you? What did you do? Should we expect her auto insurance to pay or our home owners insurance? Thanks for any tips you might have.

3 responses

• United States
3 Mar 10
I'm guessing the other car kept on going? If not, then they should at least pay for a tree guy to come check on the tree, if the tree has been destroyed, then they should replace it. Sadly, when a car - TWICE drove across our yard and destroyed 2 trees, they didn't stop - killed the tree and tore up the yard both times!

if you don't have him, then her insurance should do so

• United States
4 Mar 10
Yep, they kept on going. I was focused on the condition of the driver and not the tree. And I didn't get the driver's name and contact info. I'm hoping the police department will give me some info to use to contact her insurance. Our home owners insurance will pay for part. It is expensive to replace a tree with more than a seedling. And I'm not young enough to wait for a seedling to give me shade!


• United States
3 Mar 10
Based on some experiences of a friend I would say that the first recourse is the insurer of the car that hit the tree. If they refuse to pay or if the person who hit the tree had no insurance then you would go to your homeowners insurance for replacing the tree.

• United States
4 Mar 10
It looks like I may have to file a claim on my home owners insurance for the tree. Don't imagine I'll get much though. There is probably a deductible. Ah, well, life happens. Thanks for sharing your experience.


• Canada
2 Mar 10
Hello Youdontsay! Glad nobody was hurt. As for your tree, yes your home insurance will cover it. If not, you'll need to sue the woman. There was a similar incident in my area over the weekend. The car landed on a retired couple's property and since it wasnt the first time, they went out to help the people in the car. While next to the car, another car hit the black ice and hit the couple, killing them. So you're lucky nobody was hurt.

• United States
4 Mar 10
Home insurance company says the driver should pay first. I don't even have her name or contact info. I've put a query into the police for information but am not holding my breath. The home insurance have "limited coverage" they said. I will file a claim when we have a written estimate from the tree service for replacing the tree. I imagine we will get friends to help us cut up and haul away the damaged tree. Sure hate to see it go, though. That was the tree that a hawk sometimes sat in and was close enough to the house to get a really good look at him. In fact, he visited just the week before. Maybe he knew and was saying goodbye.