Can you hear the orchestra?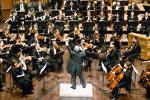 Canada
March 13, 2010 3:48pm CST
If you're fond of watching movies, then you are certainly familiar with scenes near the end where the orchestra starts playing. It is when you know that everything will be all right. That whatever problems the lead characters were going through, it wouldn't bother them anymore. When life gets you down, and you feel like everything is against you, don't you just wish you could start hearing the orchestra playing? That all your problems are over, and that you could start living happily ever after? Have you heard your orchestra? Or are you just like me? Still waiting for the first note to strike?
10 responses

• Philippines
15 Mar 10
I'm still waiting for the orchestra. I haven't heard it for the longest time. Hopefully, I'll hear it this Friday. :-) You know, this discussion reminded me of the feeling that I get sometimes. You see, sometimes I feel that my life is like one of those soap operas, with sudden twists and turns and the occasional villains. :-p

• United States
15 Mar 10
The closer we get to graduation the more I hear it, it is at times nostalgic and it keeps choking me up. I'm sure for the kds it is running the gamut of the closing score and the opening notes, as they close this chapter and begin the next leg of their lives.I just hope it doesn't end up being my swan song!

• Canada
16 Mar 10
I think that was also the last time I heard the orchestra, when I graduated from high school. I was leaving a small town and going to study in a big university, in a big city. So, the music was really load and distinct. Don't worry about the music being your swan song J. I'm sure that even if you hear it now, there'll be bigger symphonies at the next stage of their lives. And you'll be there conducting it.

• Australia
14 Mar 10
Nice thought. I have only heard the orchestra briefly, then it starts playing unbearably out of tune. It is more usual for me to hear the "dmm, dmm, dmm, dmm" of the shark coming, as in Jaws.

• United States
14 Mar 10
Before recently I did even see the instruments yet alone hear the orchestra. Now whenever things look as though they will get me down, I just talk to my guy and the orchestra plays a symphony!

• United States
15 Mar 10
Would you believe me if I said luck had some to do with it but it is mostly being open to it. My heart was open enough to let him in and now I'm very happy. Does this make sense?

• Los Angeles, California
13 Jun 10
Ha ha! Yah, I'd like to see some film composer like John Williams create a music score for my life - ha! I think my life plot is somewhere in the middle, so I'm not anywhere near the ending credits yet! I will say that at the end of the day, when hubby and kids are sleeping, and I can just FINALLY relax for a wee bit, I can "sometimes" hear that orchestra. Sort of feels like you vaguely hear that favorite song on the radio you haven't heard in a long time . . . you reach out to turn up the volume . . . but then - wahhhhhhhhhhh. Baby cries and the music comes to a halt. Ha ha.

• Los Angeles, California
14 Jun 10
I have a long ways before the kids leave the roost - hee hee! But that's ok - I'm enjoying it for the most part . . . the current part of the score is that frantic mood music. And hey, it would be nice if our life music could get an Oscar for best score . . . that would top it off - hee hee!

• Shingle Springs, California
15 Mar 10
Waiting for the orchestra. But I think I need to get closer to the symphony hall first....

• Pamplona, Spain
3 Aug 10
Okay bounce, I hope you have already heard the first note strike and if not hope it will strike soon the note I mean. Here´s to that.


• Pamplona, Spain
3 Aug 10
Hiya bounce, Can I hear the orchestra? Not at the moment I can´t hear anything at all. But I have heard it other times I can´t say that I have´nt. I don´t know whether to call it a complete orchestra with everything throw in. One thing I got rid of was the Violin playing People (grin). I mean the violin players in my life you know the moaners and the groaners. Sometimes it´s been a bit like "Jaws" dun dun dun and the Darth Vader march too but then other times it´s sounded like the music from Mozart´s Symphonies. I don´t know the names off hand and other times it´s sounded like "Greensleeve´s " Pastoral Symphony the one Ralph Vaughn Williams plays it´s been part of my life for as long as I can remember. Last but not least the very beautiful music from "Braveheart" has been going away there in the Background too. I have always welcomed the Band Players, The Guitar Players and the ones who can play the Fiddle and make us all dance with happiness. Oh yes and that goes for all those Singers out there too. Hope everyone else get´s to hear plenty of nice Orchestras too we all need them oh yes do we need them.



• Canada
11 Aug 10
Hello lovinangelsinstead21. Thanks for the response. Nice view on the violin players. Never thought of it that way. And now that you've mentioned it, I do find a lot of violinists(?) around. Not so much the darth vader march song, but I also do hear the jaws team a lot. Specially when I am about to be hit by life's curve ball.

• United States
13 Mar 10
I am a musician and I find that lots of music rattles around in my brain all the time. It does make life a bit more soothing. I was reading somewhere that this part of the brain in singers is vastly developed, allowing them to "hear" all kinds of music. Kind of interesting I thought.