which do you prefer to swim: in a swimming pool or beach

Philippines
April 27, 2010 1:39am CST
Its summer once again and it is likely the best time for vacation and go out for swimming. Have you gone for swimming already? If you say yes, then which do you prefer to go for swimming, do you prefer in a swimming pool or in a beach? for me i prefer in a beach because i could experience the bouncing of the waves and i can go as far as i can because it is not limited in area. how about you?
9 responses

• India
27 Apr 10
I don't know the swimming. But will prefer to go to beach (not for swimming) for enjoying.

• Philippines
28 Apr 10
yes walking along the sea shore can be a good form exercise and one of the best forms of relaxation. It is good for the health also because you can breath fresh air. Definitely, the beach is more relaxing place for unwinding. In the ebach you can have the option to swim or not depending on your mood of the day. thanks for sharing your idea. have a great day.

• India
28 Apr 10
Hi rosey, yes exactly you described the almost everything in two lines. Have a wonderful day to you too.


• Philippines
5 Jun 10
I like to swim in both swimming pool and white sand beach.

• United States
13 May 10
I love swimming in the ocean the best because it is so alive. We have two coasts where I live...one has larger waves than the other. I've always enjoyed swimming around the area where the waves are developing and either riding them as they rise and fall or diving through them if they're about to break on my head. I think the ocean smells better than a swimming pool, too.

• Philippines
7 May 10
The beach is a two-hour drive away from us, and you would have to spend a full day to enjoy it. There's a local pool just a few minutes where we live, so we go there often. I like pools because I can open my eyes underwater without hurting them. Also, when I accidentaly get some water in my mouth or eyes, it's not salty and it doesn't hurt as much. Pools can also make me feel safer because there's no animal somewhere and you just have to stay away from the deeper end if you don't know how to swim. Beaches, for me, are really fun except when just a few steps from the shore you're already near the deep end. It's scary. Or when there are creatures lurking under the sand, or when the beach is just dirty and rocky. The waves can also be scary and sometimes there are garbage washed ashore. It's fun to play in the sand though and watch fishes swim and maybe feed them.

• Philippines
27 Apr 10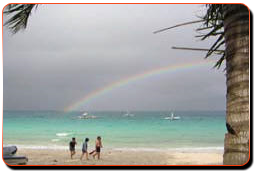 i really never learned how to swim.but i do love enjoying bonding moments with friends at resorts,which most of the time,swimming pool area.we love games especially throwing big ball inside the pool is so much fun,we also do that with our relatives.or sometimes playing tag in the pool.so much fun! but i've also experienced swimming at the beach.i can say you can easily burn up in the beach rather than the pool area.i also love beach because of its environment.sands that stick to you whenever you run,sit and just play with it. i can say it's very much exciting when it comes too beaches,not like swimming pool.too much chlorine in pool is i think will have bad effect on you. in beach,its a natural thing for it to be salty.as you've said waves are the wonderful thing in a beach.though now,there were also resorts that provide waves to their pools. recently,my sister and her friends go tripping at the beach located at zambales here in the philippines.they really enjoyed the environment there.they go night swimming and hop to an island just near the resort.they ride a boat to get to the island.i haven't took a ride on a boat,imagine how deep it is.really scares me but i think even if i'm scared,i'll also be excited when i experience it.my sister really is nervous that time they're in a boat,and she's the one seated in front.you can see the boat where is coming.the waves of the water,the island is so nice!they also do organize games were they played and it's really fun playing in the sand.they have different types of games which they enjoyed.they put blankets on sands in slept there for a night.i can say,it's really a wonderful experience.they also enjoyed watching sunsets and to witness the rainbow is such a lovely experience!oh,they also massaged each other before going to sleep! so,it's really exciting when it comes to beach rather than swimming pools. sadly,we have not enough money to travel to go to the beach,we really do want our family to enjoy the beach again!hopefully!

• Philippines
28 Apr 10
It is really a good way of bonding with our family when we go to the beach wherein we can release the stress that we flt inside. I also go for the beach because it has a wider place wherein you can we can run, play and swim as far as we can. We can see the beauty of nature and we will be able to feel and hear the sounds of the wives bumping into our body and children most especially likes to play on the waves. So it is worth satisfying if we go to the beach whether for swimming or just by relaxing. thanks for sharing your great experienced in the beach.

• Philippines
28 Apr 10
I'd feel safer if it were in the pool. There are boundaries that limit the person from going beyond the height he/she could go. Most especially now that the City I'm in have an ordinance limiting the pool creators 5 feet as the deepest. I think I'd probably prefer deeper because I know how to swim, but still with these uncertainties, I'd prefer the pool.

• United States
28 Apr 10
I would always prefer going to the beach instead of a swimming pool. It is a more natural experience. You can be one with the ocean. In a swimming pool, you are just one with concrete walls and the smell of chlorine. The beach is definitely more soothing to the spirit as well.

• Philippines
30 Apr 10
It depends. If it's just swimming, I'd rather go to a pool. I don't particularly enjoy getting sand out of my clothes and having sand stuck all over me and my hair when I go to the beach. But If I had something to do in the beach like go surfing, then I would most definitely go to the beach!