Sad Dog Story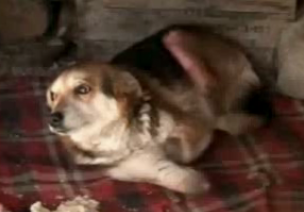 Bulgaria
May 3, 2010 4:08pm CST
Hello, mylotters! I just want to share my feelings with you. I want to tell you a story about a freak here. Pardon me if you think that this is too brutal for you, but that's the way it is! It's all about a female dog called Mima. An unknown sadistic freak from a local village here in Bulgaria cut off the legs of the poor dog with a axe. Nobody knows what's the exact reason. This was just a normal home dog, guarding a house. The dog's owner says that nobody ever had a problem with Mima. But, whatever, I'm just asking - why? What a person can do such thing? And the worse thing is - nobody's doing nothing about it! I mean, just like in America, this freak should go to prison! The good news are - there's a facebook group with more 200k members; it was a great support to the dog. Now Mima is in Germany - the doctors there will make prosthesises(implants) for her legs. Hopefully, she'll be able to walk again. I'm posting a picture of the poor dog. There are other pics, more clear than this one. I have one showing the pain in the dog's eyes. There were blood on her legs and I decided not to post it, because I thought it was too brutal for here. But that's what it is!!! I hope God will judge this freak!
8 responses

• South Africa
4 May 10

Hi sweetie. You know people can be very sadistic. And we don't know why. Why don't you go look for that freaking idiot and bring him too me, please. I

know exactly how to work with idiots like that. Wonder if he really needs his legs?? TATA.


• Los Angeles, California
4 May 10
That is such a sad story. I just did a search for that Facebook group just out of curiosity. Poor Mima . . . what sick person can do such a thing to a dog - let alone any animal! If they ever find that person, how about an eye for an eye as they say . . . chop off his legs with an axe!!


• India
4 May 10
How the dog owner can keep mum when his mima was chopped!!! if it is a stray dog, no one would ask( here some selfish people even poison stray dogs), but I think the owner can take legal action including compensation claim.

• Boise, Idaho
4 May 10
That is sad. I hope the freak gets what is coming to him. Facebook has a lot of creepy profiles of people who seem to enjoy torturing animals. I am glad I believe in Karma or I would come unglued at some of the things I hear about. Some people are just no good. Sociopathic wart hogs.

• United States
7 May 10
Oh my gosh, how can there be a person alive that would be able to do that to another living being. Even worse than that, the fact that the criminal that did this to Mima isn't being prosecuted for the crime. Yes, here in the states these kind of people would be prosecuted to the fullest extent of the law. I'm glad to hear that there are still people that have hope for her and that the vets are working to assure that Mima will still have a decent quality of life.


• Australia
4 May 10
What a sad and terrible story. I can't understand people who hurt animals, and I hope they can charge and convict the person responsible.

• Shingle Springs, California
5 May 10
That's awful. If they catch the guy, will the law do anything?


• Shingle Springs, California
5 May 10
There's a very good chance he would get jail time here. But anyway, there's a special place in hell for people who abuse animals, I do believe.