what if GOD gives you three wishes........??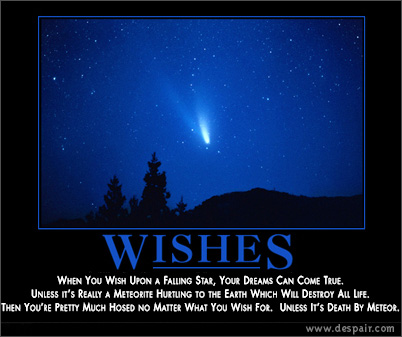 India
May 8, 2010 12:26pm CST
hey guyz how are you all , well if GOD gives me three wishes then my first wish will be loads of money second will be the biggest palace ........and the third will be to give me my love of life............. because i am still searching for the love of my life........... so what are your wishes............
10 responses

• Thailand
12 May 10
What a QUESTION! That one requires some real thought. Like Arabian Knights story of Aladdin and the lamp huh; only much more serious. Wellll.The FIRST thing I Would wish for would be for the world to learn to live in PEACE and HARMONY and stop killing eachother. As a former Viet Nam combat vet I have seen what we humans are capable of. The second wish would be to somehow go back in time and erase all the transgressions I was a part of in my life and replace them with GOOD DEEDS. And of course being human I would wish for wealth. With this wealth I would do my best to help OTHERS less fortunate than me. And too I would like to find the love of my life and as the story books say "Live Happily Ever after". Even at my somewhat advanced age I feel I still have that one more romance in me. How about you out there?


• India
9 May 10
cool i believe you will rob GOD like this way......for every left wish oh GOD please give me three more wishes.......


• Singapore
9 May 10
Well, you might be in for a regret cos you didn't wish for health to enjoy your wishes heeheehee. Me, 1st wish is also money that is enough to sustain a luxurious life for 3 generations.2nd is to have a good healthy life to enjoy the 1st. 3rd is to be in a very good and happy relationship with my husband and children and family so all of us are enjoying together. :D

• Philippines
9 May 10
Hi himanshuorange! Hope your wishes will come true... It is so hard to ask from God especially if we don't know to handle or we are not capable to manage those things we asked. He sees our capacity. But thank God, He gives us a previlige to ask things through prayer. As He said, Ask and it shall be given, Seek and you shall find, Knock and it shall be opened. I believe like what your wishes are will be given to me if I ask Him. But I would like to ask God like King Solomon asked from Him. He was the richest King on earth. It was only two things. King Solomon asked God: 1. To give Him knowledge and wisdom. 2. To discern good and bad. I believe if you have this tools like King Solomon have you will possibly come up with all your wishes. Because God will not give all this to you by just one command, like you are asking from a genie in a bottle. So for me, If I have knowledge and wisdom, I will know all the way to make money and buy the things I want. If I have discernment for good and bad, I will know what is the best to put my money and I would know if it is good or bad to put my investment in that particular business. So the result would be an accomplishment of my wishes.

• India
9 May 10
this is the best response i have ever got for this post great job ...........i wish GOD fulfills all your wishes......keep njoying life and keep mylotting.......

• India
9 May 10
Three Wishes mmm... 1. To find out my true love.. 2. To have lots of money.. 3. To make the world peacefull

• India
9 May 10
all the wishes are cool nice bro prateek........

• Latvia
8 May 10
Hello! If God gave me three wishes I would wish: 1. Good health for me and my dear people; 2. To be happy with my love till the end of our lives; 3. To have a skill with just blinking an eye- make money. Although money is not the most important thing in the life, it makes life much easier and more fun

I hope I didn't forget anything! Happy mylotting!


• India
9 May 10
cool that eye blinking idea is very cool ..hahahah ..........keep rocking.......

• United States
8 May 10
himanshuorange that is a good question what if i had three wishes hmmmm well first i would spend it on good health for my family and my future wifes family then it would have to be make a good living online last but not least have a good life and karma goes away from me because usually i do stupid stuff that i regret in the future due to karma xD

• India
9 May 10
thats great man .......all the three made wishes by you are cool i like them really ..........take care.........

• Puerto Rico
8 May 10
If GOD was to grant me three wishes they would be 1. That my house is sold soon so I can go and visit my parents for a couple of weeks in Florida. I haven't seen them in two years. This is the longest time that I have not seen them. 2. That I could win alot of money so I can help my family from my parents to my two daughters. Plus donate to certain charities that I believe in and have enough not to worry about money ever again. 3. I would ask GOD for Peace on Earth for all. No more wars with countless kids being killed.

• India
8 May 10
good man reall i appreciate the love you are having towards your parents i also love my parents very much.........ok by by take care..........


• India
8 May 10
hey thanks i really like the way you say TATA.........thanks for your response take care.........keep rocking........and yes keep mylotting.........

• Indonesia
10 May 10
HI Himan! If God give me 3 wishes ( its sound like Aladdin ) I will ask any thing that my little hand can not do. I will ask : No war on this beautiful earth, So no woman and children have to suffer. No disease in this world, so I will lost every one I love when they grow old. Every love each other and every one feel loved.