Hoe many hours a week do you spend in the gym?

Bulgaria
May 8, 2010 1:26pm CST
Do you often go to the gym and do you have a programme prepared for you by a specialist.I don't have enough time to go regularly in the gym but I try as hard as I can to practice various kinds of sports as swimming,running,walking,riding a bike and so on.Which is your favourite sport and how many hours per week do you have for your training?
3 responses

• Pasay, Philippines
5 Sep 10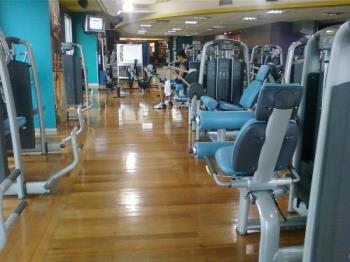 I was able to spend my time in working out in gyms since my sister in law gave me the coupon that includes the free membership for 1 month. So usually I spend 5 hours but of course I am not exercising straight. Sometimes I could have rest. It depends on my routine but I usually doing the weights and join the group exercise.

• Canada
20 May 10
is been a year now since i signed-up my membership in one of our local gym/fitness in our city, i started from stratch, until i finally perfect my routine, well, spending time in the gym really depends with your goal you want, for me i'm bulking up my muscles in natural way so i spend only 25-45 min. of impecable workout and well planned diet..


• Philippines
8 May 10
wow, you are fortunate enough to have time to go to the gym. as for me, i got none. i don't have the finances to be there. the gym here in the Philippines is so expensive. and i am only going to a badminton gym. at there, i am spending 2 to 3 hours.. hehe..