Levitating glass bead proves Einstein wrong..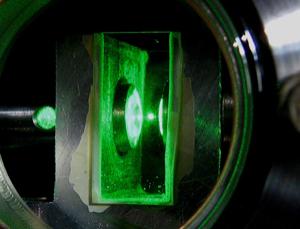 India
May 23, 2010 1:50pm CST
Albert Einstein said it couldn't be done, but now the velocity of a microscopic particle as it zigzags through air has been directly measured.Einstein studied this motion in nineteen hundred and seven, he predicted that microscopic particle's kinetic energy-and thus the square of its velocity-should be proportional to the temperature of its surroundings.But directly testing this idea, which is called the equipartition theorem , is difficult to do for Brownian particles,That's because the many collisions experienced by the particle cause it to change speed and direction extremely quickly..
5 responses

• United States
23 May 10
I think my brain is going to implode in it's attempt to comprehend everything written there lol I'm not surprised that he was proved wrong though. It's nothing against Einstein because, clearly, the man was a genius. It's just that as technology changes it's going to enable us to see the world on a scientific level more accurately. Einstein was making his theory with the tools he had available to him at the time.

• Atlantic City, New Jersey
23 May 10
I agree....couldn't have said it better myself!

• India
24 May 10
I am agree with you but this discussion is for them who are having blind faith in something...Of course Einstein was great..!

• India
24 May 10
It is indeed complicated stuff. And to think Einstein thought of it in those days when the technology at his disposal was simply inadequate. Moreover, ordinary people like me do not think beyond simple things like cooking and earning to make those mortgage payments and plan for retirement. :) Great man. Imagine had he said it is possible. We would have wasted a lot of effort in that direction, without the necessary technology, and in process lost so much of resources. :) Everything happens for our good. It is god who directs from up above, or wherever he is. :)

• India
24 May 10
Phew! I actually read it and tried to understand it! What was disappointing was it spoke about stars and white dwarfs, not about my electricity bill! That is why Einstein was great, he could relate to stars whereas we are stuck with power bills!

• India
24 May 10
ok code of universe, correct me if I am wrong. :) You take a glass of water pour in some non soluble particles. Theoretically, if they are too heavy they should move downards and settle at the bottom of the glass. But there are lighter particles that continue to move - as they float and collide radomly. Their movement is aided by the heat in water. The greater the heat, more will these particles move, and collide. The potential energy they have is what comes when they settle at the bottom. The kinetic energy is what they have when they are moving about in water. Einstein said calculating this energy is not feasible? So!? May be! It still doesnt prove his theory of relativity wrong!

• India
24 May 10
Thanks for your nice comments, but i some times i also feels that Wrong in some aspects e.g.speed of light is constant in vacuum..but he never says what is initial speed of light if light is created in vacuum...is it not strange?I had written about this some days before..I am not going to prove that he was completely wrong..but only some aspects of his considerations of that time..

• Philippines
24 May 10
Please pardon my limited knowledge on this aspect. Its really hard to comprehend what you are talking about. But I have the same comment with those above. Einstein was a genius during his time. Up until now his theories and formulas are being utilize and have proven to be useful. But considering the advent of technology, some people now may be able to do more that Einstein could not do.


• India
24 May 10
I am agree but i just started discussion about single aspect of his study...not about his complete research of course Einstein is cant be compared to other scientist.



• India
24 May 10
yes only truth is that "Nothing is true for permanent"..u r talking about what techniques?