Bird in a Tree (2)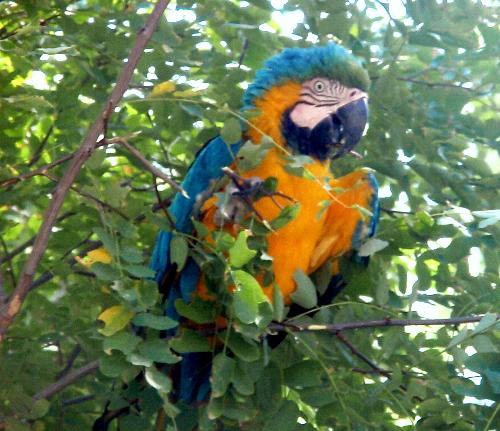 United States
June 26, 2010 4:01pm CST
So a while ago I started a discussion showing you guys a photo I took of a little brown bird in a tree. I asked you guys what you thought; some of you said you liked it (thank you) and some gave me some good constructive criticism about it (thank you). Well now I have another photo of a 'bird in a tree' that I would like you guys to critique! I think this one will be much more appeasing to some of you, but I want complete honesty! Thanks guys!
9 responses


• United States
27 Jun 10
No! It would definitely be hard to miss him! lol Thank you very much, I'm glad you like it!


• Gold Coast, Australia
28 Jun 10
Wow, that is an amazing looking bird. I love the colours on it.

I don't think you can go too wrong with taking nature photos of creatures that are extremely colourful. How is the zoo work going? Are you enjoying it as much as you thought you would?

• United States
28 Jun 10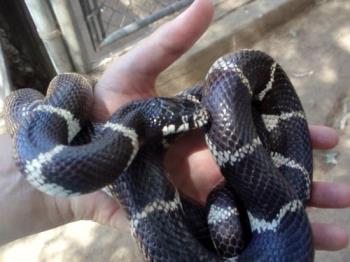 Thank you Bill! I am enjoying it, I like the animals I get to hold and work with. I've held snakes, fennec fox, baby alligator, baby spur tortoises for our wild shows. I'll add a picture of me holding a beautiful King Snake named Minnie!

• Gold Coast, Australia
29 Jun 10
Cool, are King Snakes venomous at all? My son loves snakes and has held quite a few, but I have never been brave enough to hold them. I have touched them though.

• United States
29 Jun 10
No King Snakes aren't venomous (although I DID hold a venomous snake before too

but it was very docile and it would have to bite a certain way to poison me)...but King Snakes are called that because they can eat venomous snakes. Don't be afraid of snakes!!!

They're awesome! And tame ones are very friendly!

I would own one if I didn't have to feed them mice! lol


• United States
27 Jun 10
I came. I saw. I commented, as requested! Nice shot! Maggiepie "A democracy cannot exist as a permanent form of government. It can only exist until the voters discover they can vote themselves largess from the public treasury. From that moment on, the majority always votes for the candidates promising the most benefits from the public treasury, with the result that a democracy always collapses over loose fiscal policy, & is always followed by a dictatorship." The above statement does not come from one of our Founding Fathers (although I'm sure that, to a man, they would agree with its warning). No, it was written long after our revolution, by a Scottish historian named Alexander Fraser Tytler. By the way, he wasn't predicting the collapse of our republic; he was talking about what happened to the Athenian democracy 2,000 years ago.

• United States
28 Jun 10



Hmm... Well...thank you Maggie! lol For the [history lesson?] and the positive comment on my pic

• United States
28 Jun 10

Ah...yes. The really lengthy sig. I usually try to keep those brief...well, at least briefer than my reply! I just couldn't find anything to cut! It was all of a piece, you see. I went to your gray background one & left a comment there, as well. I love it that you're playing with the image--but I'm not sure I like the second try better. I do agree with another poster that there might be some way to really pop the parrot a bit more. I'm not a pro photographer, though. I'll leave that techie stuff to you! It's a very nice basic image, though, all the more fun to play with. Have you attempted solarization? With those colors, it should be a real wow! Maggiepie "Necessity is the plea for every infringement of human freedom. It is the argument of tyrants. It is the creed of slaves." ~ William Pitt

• United States
28 Jun 10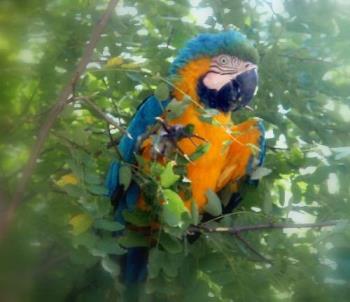 Thank you! I don't know what solarization is

Is that bad? lol I've been playing with it some more and I blurred the leaves a bitnot sure how much it did for the picture.


• United States
27 Jun 10
oh nice will check it out. I am sure you have some cool shots from it, but will stop in and see it.

• United States
27 Jun 10
Well you don't have to go anywhere to look at the photo. It's right here attached to this discussion! Let me know what you think :) Thanks

• United States
27 Jun 10
Oops sorry, I guess that falls in some sort of feedback. I missed it on the post. ON the other hand, It is a very nice, and exotic bird. The photo could use a little contrast such to allow a richer combination between the bird's colors, greens and yellows. I noticed a little over exposure and extra lighting from the right. I wonder if using a filter may have been an option to allow those complements. I would think blurring background would have given the focal point more accentuation and vibrance.

• United States
27 Jun 10
Thanks for your suggestions! I will try a blurry background on it and see how it looks. I thought the green in the tree was a good contrast to his blue and yellow though. And you are right about the extra lighting on the right, I actually cropped some of that off, but didn't want to crop it all off. Wish I could make those leaves look as dark as the ones on the left! lol Thank you!



• United States
28 Jun 10
I don't think I was all the way zoomed in on this one (I may have been though, and just don't remember! lol) But you are right about me needing a better camera! Mine is falling apart on me! Thanks!


• United States
28 Jun 10
You know if you intend to be a photographer, you need a good camera and as I've learned over the years you also need criticism. I too am saving for a good camera. I like taking pics of birds too. I have a Kodak Easy Share and it's great for everyday stuff but to take a pic like you did it just doesn't cut it. I used to have a really good camera and dropped it in Colorado on vacation one year and ended my photography LOL, but as I say I want a new one and hopefully they will be on sale one day soon. You are doing great and just keep up the good work. hugs, quita


• Australia
5 Jul 10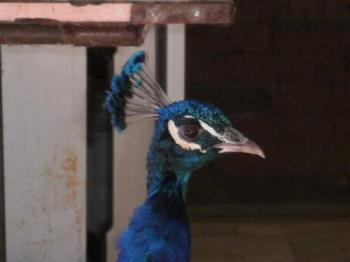 I love your parrot sweety...especially the way you made the foliage fuzzy. How did you do that. I was lucky enough to visit a wildlife park last week and got some great close ups of one of the peacocks strolling about. Actually my niece took the photos for me. I was a tad disappointed with the background but there was not much we could do about it.

• United States
6 Jul 10
Oh yeah, I've got lots of pictures of peacocks too, but I'm not sure I've gotten any as close as your picture there! Peacocks are very beautiful and exotic, and you caught that with this picture! Thank you, I'm glad you like my photo. I made the background fuzzy with a free photo program I downloaded. If you want me to send you a message about it let me know. You can do a lot of things with photos with it.

• United States
6 Jul 10
Okay! I sent you a message with a link to download the program. Let me know if it works for you and if you like it!!! Oh! And I forgot to mention in the message, you can crop photos with this program...so you can crop this peacock picture so there is less of that background you don't like!!!


• United States
26 Jun 10
I simply love photography and nature is one of my favorite subjects. I also think your picture is good enough to try and sell to a nature magazine, it's gorgeous! The colors are perfect, he/she looks perfectly natural in the setting, and you can even see all the marks on his/her beak. Very pretty picture and I do hope you try to market it.

• United States
26 Jun 10
Wow! Thank you for the suggestion Kash! I may have to do that

Do you sell photos to any nature magazines? Any suggestions as to which one(s)? Thanks!!!



• United States
26 Jun 10
Your Welcome, and oh how I wish I sold photo's to magazines, lol! I have a really, realllllyyyy old digital camera that I use for my Ebay pictures, and my first part in my description on Ebay is "Sorry about the pictures," haha. I use to have a 35mm Canon that I took pictures with years ago, and that's how I became interested in photography. I just really played around alot and then got my daughter interested. Wellll, you should see her pictues, they're beautiful and she has a personal photo album that she keeps with her favorite shots in it. Now she has them all on her computer. I always wanted her to follow through into photography, but it's hard because she has to work so many hours. Long story, but her interest is still very much in photography. Maybe someday I'll become rich and I can have her quit her job and pursue this, that would be my dream. I know Pyewacket sells photo's, you might want to ask her where to go. I'm not sure who is good and who isn't. Or, haha, you can start a discussion on that and see what happens.

I'd be interested myself to see who does what here on myLot with photography selling. I think there is a few places where you just download your photo's you want to sell and leave them there until someone buys them. Pretty nice but I'm at a loss as to what websites. Good luck and hope you find something!

• United States
26 Jun 10
lol ooo I see. I wish I had a better camera, mine is king of falling apart right now. At least it still takes good pictures though! It would be nice to do something you love full time, but it just stinks when you can't make a ton of money with the thing you love. I have hundreds and hundreds of photos on my camera, photos of nature, family...whatever! lol Thank you! I should start a discussion. I haven't had a lot of luck with my photos and websites, so finding a real magazine to sell my photos to would be awesome!



• Australia
27 Jun 10
I really like this photo...the parrot with it's colors brings life & color to the picture. The parrot looks peaceful & looks like it's in it's own environment. I really can't think of much more to say but I REALLY like the photo.

• United States
28 Jun 10
Thank you

I'm glad you like it. He probably is really peaceful in his own little environment! He has a lot of branches and boards to move around on (not to mention the trees!)



• United States
26 Jun 10
I'm actually interning at a zoo and this parrot is in one of their open areas. The birds have trees, perches and little barrel houses---no cage. But they are really good about staying where they're suppose to :) Sometimes they wander onto the zoo path but someone will be around to put them back! lol I agree that animals who have been around people long enough know what camera's are! lol Thanks