Oil spill in CHINA, another accident or??

Canada
July 21, 2010 5:39pm CST
Well first it was BP, then we had a small oil spill here in Quebec, Canada. When we had ours, I thought hey, can it be an accident or are they trying to mess up the ocean all over the world? Well I think I have my answer now. There was an oil spill in China. Yes someone is trying to mess it up real good all over the world. No wonder sea creatures are dying all over. Watch it people, soon there wont be one inch of clear water anywhere. What do you think of all those messes......are they accidental or ??? http://www.bbc.co.uk/news/world-asia-pacific-10710888
4 responses

• China
22 Jul 10
Oh, my friend, it was in Dalian, Liaoning Province. I'm from Liaoning Province too, my hometown locate only 300 hundred kilometers away from the place where oil exploded. I started a discussion three days ago about this oil spill. Officers said that the oil cleaning is nearly accomplished, and it worked well. But unfortunately, a fireman slipped into the sea when recollecting the oil and was drowned. He is the only one who sacrificed because the accident till now.


• China
23 Jul 10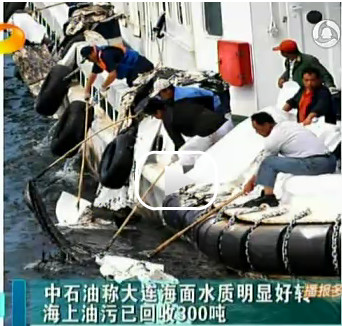 Yes, it is said by our government that they decided to clean it all up! But I don't know about the protein, From the videos I saw that it is all manual, I put a screen shot below. We have no advantages except population, so there's something impossible for Canada government, but China government can easily mobilize thousands of people to accomplish it.

• Canada
25 Jul 10
Yes I know you have the manpower in China and we dont here in Canada. Strange, I heard about this "protein" that could sort of "eat up" the oil. THey said they should share this information with the US.......but now nobody is talking about it anymore. How strange!! I saw on the news this evening that you still have a LOT of cleaning up to do and it was mostly done by hand. Good Luck, lest hope they manage to clean it up and save the wildlife also. Thanks


• Philippines
22 Jul 10
well it was weird that a lot of oil spills are happening at almost the same time around the world but i think it is all a coincidence.

• Canada
22 Jul 10
You're telling me!! I do wish its only coincidence or else we're in deep trouble. Im sure going to think otherwise if another happens in the next months. Thanks for sharing.

• United States
22 Jul 10
I think that Texas Lady is correct. People or companies are greedy and they get careless about how they do their work, thinking that making huge profits compensates for any trouble they cause. They just do not accept that damage like this has very long lasting effects.

• Canada
22 Jul 10
Greed will be the end of mankind!! We have a tv show here this coming Friday about the mess Exxon did. I heard about it but dont even know when or where it happened, so Im looking forward to Friday to watch it. They say its still not settled!?! As for the one that just happened in China. I dont know, but I find it strange that all of a sudden all these oil spills start happening here and there. Its like they want to make sure ALL the oceans all over the world will be contaminated. Maybe its my hormones haha!! Thanks for sharing!!

• United States
21 Jul 10
Herro MagicalBubbles I saw oil spill, oh not another discussion, then I saw that one of my friends started it. So my input. I don't know who the company is where the spill is in China. I do suspect that the BP catastrophe in the Gulf was carelessness and greed. I would suspect that, regardless of the company, carelessness contributed to it. Is the company going to pay for clean-up or the country of China? I've also seen spills in Africa. The company's are not paying for clean-up. I'm sure...hold on, I'm going to do a mylot search. I found spills in Philippines, Lebanon, the Exxon-Valdez. I know there are many more, I only went five pages into the search. The majority of the results were the Deep Horizon. I think the bottom line is carelessness and greed. Prosperous mylotting

• Canada
21 Jul 10
Hi TexLady, Yes greed is part of it Im sure. Im getting seriously worried that life as we know it might come to an end if they keep on wrecking our oceans. Thanks for going through the trouble of doing a search!!