Summer Holidays - Home or Abroad - Have You Taken Yours Yet?


July 31, 2010 7:51am CST
I just returned from a week's holiday in the West Country, last Friday. It was my first time away in over two years, and really enjoyable. I found a lovely Medieval Cottage, which was built in the 1500s, in a little village called Butleigh... a couple of miles from Glastonbury, which is one of my favourite West Country places. The cottage had a four poster bed, a copper bath tub in the bedroom and an ancient kitchen with a stone sink, and uneven flagstone floor. There was a big inglenook fireplace, with a woodburning, working range in it, but it was a bit hot for a fire! lol. I visited Cheddar Gorge, Wells, Glastonbury, Boscastle, Tintagel, Minehead, Lynmouth, Exmoor and Seaton on the Jurassic south coast. Most of the time, the weather was good, but when I arrived in Tintagel, the heavens opened, so there was absolutely no chance of getting to the Castle ruins. The same in Boscastle, so no photos of those places. The sky was black and it teemed down! All in all though, I really enjoyed my time there... was able to wind down and refresh, and slow down my lifestyle a bit, despite all the visiting. lol. I had a fish and chip meal on the seafront, at Minehead, which was really enjoyable, and I even saw the Lifeboat go out there. Glastonbury Abbey put forth some Medieval peasants and fayres... it was great... very nostalgic. Have you had your Summer Holiday yet? If so, I would love to hear about it and perhaps see some photos. Do you holiday at home or abroad. I prefer home because of the history here and all the ancient sites and buildings. Please share your story.
9 responses

• United States
31 Jul 10
At the beginning of our summer we went on a visit to help celebrate the first birthday of our youngest granddaughter. Providing we can arrange proper finances we will travel to see my husband's family later this month. We have had a financially difficult few months. There are many things to see stateside, and we have family scattered all over, so at this time we do not go abroad.

•
31 Jul 10
Oh, how wonderful. I'll bet your granddaughter is very amusing and loveable at the moment. If you want to go, you'll find a way to visit your husband's family. My energies are with you, urging you on. I certainly hope your financial situation improves, so that you're able to do such things. The U.S.A. is a huge place and yes, I'm sure there are many things to see, but sometimes it involves a lot of travelling. Our li'l ol' island is only the size of one of your States! lol. However, it's crammed with history, due to the ancient invasions from Europe, which I love. It doesn't really matter which part of the country you travel to, there's something. The West Country is one of those places.. it's the home of Arthurian legend, which I love. :)

•
31 Jul 10
Summer holidays must be fun. Too bad I'm currently at work in this time of season. Good luck on you anyway! =)

•
7 Aug 10
It's nice just to get away and relax a bit, Shockrayz! As I said to Elix, I'm not working now but I would have hated to work all year and not have a break sometime in the year. By the way, are you on my FB Friends List? It's the profile pic! I think I might have met you through Bloodhunters? Brightest Blessings and thank you for your contribution.

• Shingle Springs, California
31 Jul 10
Today is the first day of the rest of my vacation. :-) I expect to be doing a little camping, but first I have to go with my daughter to her new school on Tuesday and pick up school things. Smack dab in the middle of our week. lol So for three days we will be home and just being lazy, maybe doing a few fun things around here. Then we will take off for a short camping trip. I'm thinking of going up the coast to Redwoods National Park, though Mt. Lassen is also a possibility. Your vacation sounds lovely. I haven't been in the UK since 1983, but I loved all the historical buildings, etc. too. We have a lot of history here too, but not nearly as old. Gold rush towns mostly...

•
7 Aug 10
Camping is fun and it sounds plausible in the States. Here, unfortunately, the weather is a little more inclement, so camping can be quite uncomfortable if you choose the wrong time. That's why I chose a cottage! lol. I hope you enjoy your break! Thank you for your contribution and Brightest Blessings.

• Shingle Springs, California
8 Aug 10
Oh I've been rained on while camping here. Anything can happen up in the mountains and on the coast. But a cabin has its merits too! :-)


• Gold Coast, Australia
31 Jul 10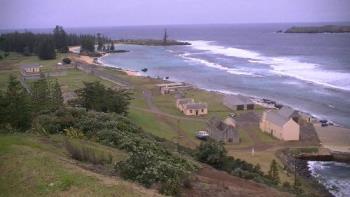 It is winter here right now so I have not taken my summer holidays yet this year. (Unless you count the one that I took last December and January for 3 weeks!)

I have however just returned from a week long trip to Norfolk Island in the South Pacific ocean which is a place with amazing history just like your destination. Norfolk Island's human history does not go back anywhere near as far in time as that of England, but it still has a brutal and extremely interesting convict past as well as ties to the famous "Mutiny on the Bounty." There are ruins that are over 200 years old and a lot of the preserved buildings are close to 200 years old. Hearing the tales of the old days was very fascinating for a history buff like me. I loved the place although it was quite cool being on an island in the middle of the ocean in winter. Very windy!

I have visited the UK before and I loved the historical sites around London, Hastings and in Scotland that I visited. Other highlights in the way of history for me were Windsor Castle and Stonehenge. I will add a photo below that I took on Norfolk Island.


•
7 Aug 10
WOW... the photo is beautiful! It looks so relaxing there. Are you in Australia by any chance? I live not too far from Hastings. That's steeped in history, through Saxons and Normans. There's not much left of the Castle, but Battle, the next town, which is named after the Battle of Hastings, is quite interesting too. Stonehenge is one of my favourites, and I adore York and Glastonbury. There are so many places covering all British countries. Thank you for your contribution and the photo, and Brightest Blessings, my friend.

• Gold Coast, Australia
7 Aug 10
I am in Australia Darkwing. I visited England in 1998 and we did go to Battle and visited Battle Abbey and the site of the Battle of Hastings. It is such an important part of England's history!

It has always fascinated me as I grew up next to a town called Hastings in Australia. It was named after the English one obviously and every year they have a festival which is called Hastings Day which is is celebrated at the same time of year as the battle took place all those years ago! I have a memory of going to lunch at a restaurant or pub at Beachy Head near Hastings too and the kitchen caught on fire while we were there, so we had to evacuate and have lunch elsewhere!



• Canada
1 Aug 10
I haven't had my vacation yet but I've been going out and doing a few things around home. I'm going down home to see my family soon. My sister just had a baby so I'm going down to see her and my new niece.

•
7 Aug 10
Hello Darkwing. It sounds like you had a wonderful time, there are some beautiful places to visit in the West Country. It's a shame your visit to Tintagel was spoiled by the weather though. We're going abroad in a couple of weeks, just for a week but it will be nice to get away. Last time we holidayed in the UK was a year ago, we went to the Lake district and had a lovely time but the weather let us down, that's why we chose to go abroad this year.

•
7 Aug 10
Hi Autumn! I've never made it to the Lake District but I've always fancied going.. may be next time around. My Son and his family went to Marton Mere, near Blackpool, to stay this week, and they're going to visit the Lake District. I have a great time, thank you and I hope you do too. Where are you headed?

•
7 Aug 10
Hi

The lakes are beautiful but you would really need to go in June to stand a chance of having a week of good weather. We're going to Majorca, just the right flying distance for me because I get bored if I'm on a plane too long


•
8 Aug 10
Yes, that's about the only time of the year we can guarantee any sort of decent weather in this country! lol. Majorca, huh? Well, have a great time... do attend a hog roast, and visit the caves. You're bound to have better weather there.... I think! Enjoy!!!

• India
15 Aug 10
Summer holidays in India are in April-May. This year we didn't go anywhere:( Last year we visited 2-3 places in India. Kanyakumari, the southern most tip of India was VERY hot and I didn't enjoy it one bit. But liked the beach and watching the sunrise and sunset. Coorg was cooler and we had a good time there. The greenery...the drive up...the cool air...waterfall....that was really good:)

• India
31 Jul 10
I have never visited foreign countries. I have visited some places in my country. I think it is always great to go abroad, visit people, and meet new people. I also like different foods of different different places. It always feels great to visit places. Sometimes I just lie down in my place when I feel lazy on an holiday or sunday.

•
7 Aug 10
I have visited a few other countries, including Germany, where I lived for three years. However, I prefer to visit places in England. We have some beautiful, historic places, and I'm quite interested in my heritage. If I need a break at home, I go sit in the garden, on my lounger, and read a book. It kinda helps break the routine. Thank you for your contribution my friend and Brightest Blessings.


•
7 Aug 10
Yikes! That's a raw deal. I'm not working now but we still get paid holidays, based on the amount of service we've given to a company, up to 4 weeks plus Bank holidays in some cases. I don't think I'd manage working all the time without some sort of holiday during the year. Brightest Blessings my friend, and thank you for your contribution.